ARGENTA
Throughout 2017, Argenta Mayor Cindy Luedke and the village board have been waiting for the property tax freeze to thaw.
"We are holding our breath," she said. "It limits what we can do."
Despite their worries, maintenance and renovations continued at the water plant with upgrades to the electrical system and the building. The village also was able to purchase a generator for Village Hall and water tower.
"We've been working on the water plant, but it is an old building," Luedke said.
In 2017, the village of Argenta saw the opening of two businesses. Jenkins Auto Services is a family-owned business offering full-service preventive maintenance and automotive repair.
Bargenta is a new bar that features pool and live music .
The community hosted its first Ice Festival. "We are now in the process for planning another festival for 2018," Luedke said.
The event is scheduled for February. The mayor said organizers are hoping to make it bigger and better.
"Last year was a little warmer than we would want," Luedke said. "We are hoping for around 35 degrees."
The festival will have children's games that involve the ice. Organizers are hoping for more ice sculptors to be part of the event.
Nearly 30 vendors will be selling their items indoors. Wine tasting and food vendors also will be part of the activities.
FORSYTH
Forsyth is one of those lucky villages that enjoys a broad sales tax base, thanks in part to its location. U.S. 51 and Interstate 72 sees the highest volume of road traffic in the Decatur area.
For a retail-heavy town, 2017 was a standout year, according to Andrew Zupkoff, Forsyth's community and economic development coordinator. Some 13 new businesses opened their doors this year.
"What I like is kind of the diversity of the business we added this year," Zupkoff said. On top the new national chains to come on board, including TJ Maxx, Hibbett Sports and Casey's General Store, local businesses have cropped up as well. "We have a new yoga studio, there's Sure Fire Motor Works on (U.S. 51)," just a name a few, he said.
Not only does the variety boost local quality of life, Zupkoff said it helps a retail-heavy village have a more steady revenue stream. "With the ebbs and flows of retail, you can kind of take a hit if (something bad) happens in a certain industry."
Zupkoff is also bullish on Forsyth for the coming year, after spending much of 2017 working on a new TIF district for the village.
With the Hickory Point Mall, Zupkoff said officials hope a commercial district with developer incentives will help bring a grocery store to the area, and create more "daytime traffic," a buzzword in business development circles.
The idea, says Zupkoff, is to create destination businesses in Forsyth, like a restaurant not available anywhere else in the Decatur area, to get people from all over the area to wind up in the area. "The idea being they'll then stop at the mall or go to Casey's, so it's kind of a cumulative effect."
HARRISTOWN
The big news in Harristown – and Niantic -- is the impending United Regional Water Co-Op, which will serve Niantic, Harristown, Illiopolis, Latham, Mount Pulaski, Broadwell and Elkhart.
Harristown Mayor Evelyn Deverell said this has been in the works for over a year.
"All of us have old water plants," Deverell said. "Most were built in the 50s and 60s, so to build a new water plant is very expensive. A company called E.J. Water out of Dieterich, that does a lot of water co-ops, brought the idea to Illiopolis and they started having meetings and trying to get other communities involved."
The co-op is in the final planning stages and is waiting for paperwork and the federal government's OK in regard to help with funding for the project to go forward, she said. The hope is to have it up and running by August 2019.
In preparation, she said, Harristown has installed new water meters and made improvements to the water valves.
"It's not very glamorous, but it has to be done," she said.
Harristown is also looking forward to more development in their tax increment financing district at Wyckles Road and West Main Street. She hopes to know more details by spring.
The village has been working toward more community involvement and activities that will draw residents, and has had some success, Deverell said.
The Fourth of July celebration, with two live bands and fireworks provided by the Harristown Fire Department, was a success and she hopes the event will be bigger this year. In addition, the Fall Festival, in its first year, was a success in spite of cool, rainy weather that day. Santa visited the village hall in person on Dec. 10.
"Harristown is very spread out," Deverell said. "We have five separate areas, so we're trying to get more of a sense of community."
LONG CREEK
Road improvements were the main focus for Long Creek in 2017.
It's been an overall quiet year, said village President Cheryl A. Smith. She said they have been focused on patching up the village's roughly 13 miles of road. They hoped to start work on Firehouse Road and Mount Zion Road, but a set-back has pushed that work to 2018.
Smith said they are also continuing to contact the Illinois Department of Transportation about putting stop lights at East Route 36 and Salem School Road, though they have been told the amount of traffic is not enough to go forward with the project.
The village also is prepared to make improvements to Corman Park, with Smith saying they plan to install exercise stations around the walking trail.
All in all, Smith said she and other officials are hopeful they are doing the work necessary to improve the community.
"We believe we've done a lot for the village of Long Creek and that it is a nice community to live in and bring your business to," Smith said.
MAROA
The city of Maroa had a big year in 2017. For a football town, it would be remiss for Mayor Aaron Meador not to start the list of accomplishments with Maroa-Forsyth's runner-up showing at the state championships.
"I always say, 'The boys put us on the map,'" Meador said.
But for the small city north of Decatur, Meador says it's a big deal when five new businesses open in one year, including a new craft beer shop, called Full House.
"It's a destination. If you want a pineapple cider beer, you're not going to be able get that at any bar in Decatur. It's kind of our own cool little special place," Meador said.
Still, 2018 may bring Maroa bigger changes for households. Meador indicated city officials and residents have been working more aggressively with Frontier, an internet service provider, to expand its high-speed service in the village, and to offer an alternative to the two satellite TV options for residents.
"The whole (city) of Maroa gets interrupted in a thunderstorm — yeah, it's kind of annoying," Meador said. "Who would've known Maroa doesn't have a cable company?"
Contract talks with Frontier over the past year have expanded the number of available ports for high-speed internet in Maroa, due to be available for residents in March, according to Meador. Cable TV packages should be on the market come summer, Meador said.
MOUNT ZION
For Mount Zion, 2017 was a year of long-discussed projects coming to fruition.
Not only did the year end with the official groundbreaking of a new 1-million gallon water tower in the southern part of the village, but the village board also approved a plan that would replace its outdated recycling program with one more in line with what is done in Decatur.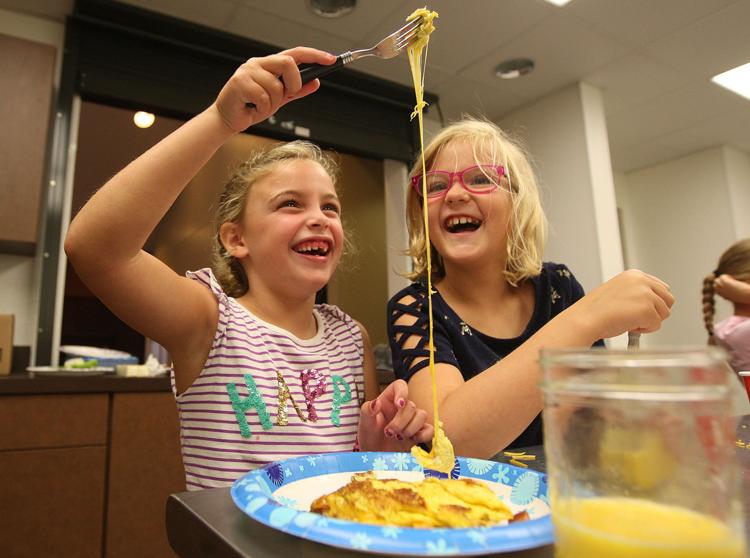 "Sometimes it takes awhile for all the pieces to come together, but eventually they do," said Village Administrator Julie Miller.
Work on the new water tower near 430 S. Illinois 121 started in the fall, and officials are hopeful that it can be completed by the end of 2018.
To pay for the $2.9 million project, the village came to an agreement with the Illinois Environmental Protection Agency, which will allow the village to borrow up to $3.62 million. The amount would paid over a 20-year period at a current interest rate of 1.86 percent.
The new recycling plan, approved by the village board last summer, will go into effect this month. It will allow all residents to receive a 54-gallon single-stream recycling totes, at no cost to them. All residents have to do is contact their garbage haulers, and they will receive a tote. The garbage haulers will absorb the cost of the totes and offer them for free for customers.
Miller said updating the village's recycling program has been requested by new and prospective residents for years. The hope, she said, is that the new program will address the concerns raised by resident who want to recycle.
With revenues projected to grow for next year, the village board lowered its tax levy for the coming year. Residents with a property valued at $150,000 should expect a decrease of about $5 from the village portion of their tax bill, Miller said.
OREANA
Mayor Aaron Keathley was encouraged by the progress Oreana in 2017.
During the year, the village purchased a new snow plow and two speed limit signs to post around town. They made updates and improvements to the park and brought back the summer park program for the first time in years.
"More than 100 kids participated in the four-week long summer park program which featured games, arts and craft, field trips, as well as demonstrations from the local fire and police departments," Keathley said.
One of the most significant additions to the town was the Christmas parade which was organized by two Oreana residents and featured more than 50 participants.
"While this was Oreana's first Christmas parade and maybe only the second parade of any kind, it certainly won't be the last," Keathley said. "We are looking forward to organizing more family-friendly community events in the future."
The village staff, board, and administration saw changes throughout the year.
Long-time public works employee Bill Vaughn retired from full-time employment. He will now work part-time as needed. Austin Welker serves as full-time public works employee.
"Austin has worked side-by-side with Bill over the last several years as a part-time assistant," Keathley said.
The village had a few additional changes after the unexpected deaths of Trustee Dave Ward and Treasurer Michelle Fleming.
"The board welcomed two new faces in Trustee Aaron Donath and new Treasurer Sherry Koszesza," Keathley said.
WARRENSBURG
The village president of Warrensburg could use an emergency number he could call for a quick cash advance: about $20,000 or so would do it.
Looking back over 2017, President Corey Maloney estimated that is the sum of money the village has to come up with to cover its share of police and other calls handled by the new Central Illinois Regional Dispatch Center.
Previously, under the old dispatch system, Warrensburg didn't have to pay. "That is a $20,000 burden we weren't really equipped to handle," said Maloney. "It's a yearly fee, it goes off calls for service, and so next year it could be the same or it could be even more. I know $20,000 is somewhat chump change if you will, but $20,000 to our budget in a small town of 1,500 people is very significant."
It's an ill wind that blows no good, however, and one revenue bright spot coming on line for the future are fees generated from wind turbines near the village that are part of the Radford's Run Wind Farm. Maloney said it won't be a huge windfall, less than $10,000 a year, but every little helps.
The village believes long-term salvation lies in generating more commercial and residential development, and it's working on that. A new tax increment financing district is in place and it's hoped that will be the hook to stimulate growth, especially commercial activity.
"We are trying to push for some small town stores like Dollar General and a laundromat and others to get established in the village of Warrensburg," said Maloney.
The village is working on quality of life issues, too, and is busy building its new summer sweet corn festival -- now in its second year -- into a major event.
"This coming year we are increasing to a full family-oriented function with concerts, activities and helicopter rides and all kinds of stuff," said Maloney.
"Maybe someday we can make it as big as the Apple & Pork Festival in Clinton," he added.