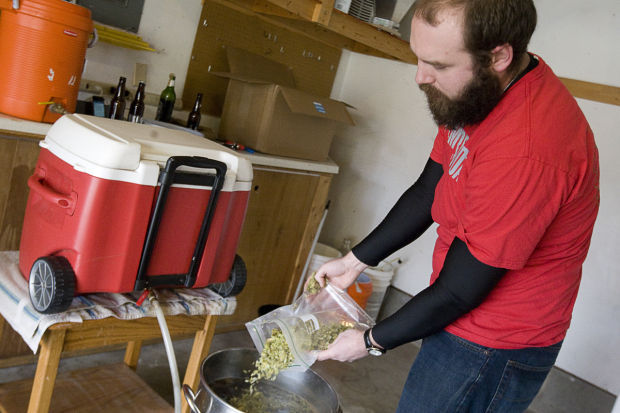 DECATUR — It's 6 a.m. on a cold Friday in November, and John Sherrerd is busy in the garage.
He's not on his way to work; today is his day off from the railroad, where he works as a carman. Instead he's awoken before sunrise to start on a labor of love, cleaning his large, stainless-steel kettle and sanitizing food-grade hosing. Shortly after, he'll begin filling a cooler with pounds of crushed malted barley and carefully measured levels of hot water. And by the early afternoon, he'll be well on his way to producing 5 gallons of homebrewed beer.
Sherrerd is a homebrewer, and a passionate one at that. As an advocate for Decatur's expanding homebrewing community and a member of D'Brew Crew, the city's local homebrewing club, he's made brewing and drinking craft beer into a major hobby. He brews 5 gallon batches every one or two weeks on average, distributing the bottles to friends, co-workers and pretty much anyone who wants a taste. Giving beer away is half the fun and an incentive to brew more.
"I'm a really obsessive-compulsive guy by nature, so I've just become completely engrossed with brewing as a hobby," he said. "Whenever I have downtime, I'm thinking about the next recipe I'm going to make. My wife isn't even into beer, but thankfully, she supports my hobby."
The proof of Sherrerd's commitment is in the beer itself, which is crafted with loving care and close analysis. He makes all styles but says his favorites range from India pale ales to Belgian ales and German lagers.
Brewing only a few gallons at a time also allows Sherrerd and other homebrewers to experiment readily with new styles and ingredients that might not often be found commercially. One need look no further than Sherrerd's Russian imperial stout recipe, which includes additions of molasses, cocoa powder and tiramisu-flavored coffee.
"Now more than ever, homebrewers have access to the same quality ingredients as pro brewers," he explained. "Brewing on this small scale, I can even use higher-quality special ingredients that would be too expensive for a commercial brewery."
Sherrerd is by no means alone in his hobby. There are homebrewers sprinkled throughout Central Illinois, despite the absence of a dedicated shop selling homebrew equipment in Decatur. Many order their ingredients online, although with the upcoming opening of a Friar Tuck Beverage in Forsyth, the same ingredients should soon be available locally.
That will be none too soon for the homebrewers who banded together to form D'Brew Crew. After meeting at members' homes for several years, the club has settled into regular monthly meetings at McGorray's Golf & Grille, hosted by fellow homebrewer Charlie McGorray. The restaurant owner has been brewing for 12 years, with almost 100 batches to his credit.
"I started on a whim when I was still working for the fire department," said McGorray, a Decatur native whose great-great-grandfather once operated the Decatur Brewing Co. until it closed in 1934. "I just enjoy the creativity of it. Like an artist can paint something on a canvas, brewers can make their beer an expression of themselves. And Decatur has produced its fair share of brewers. Adam Avery went on to start Avery Brewing in Boulder, and Tim Wadkins, who lived two doors down from me, helped start Victory Brewing out in Pennsylvania."
Of course, few brewers produce professional-quality beer on their earliest attempts. Sherrerd said his high expectations still lead to him dumping the occasional batch because flavors are off. His friend and partner in brewing, Micah Koll, also had a rocky start with the hobby.
You have free articles remaining.
"I actually hated my first batch," Koll said. "I thought it was awful. I probably wouldn't have made another, but I had a second kit, and that one turned out a lot better. Soon after that, I was brewing regularly."
South Shores resident Scott Fisher is an example of just how quickly brewing can grow into a favored pastime. The engineering manager began five months ago and already has built an advanced, three-tiered brewing system in his garage that uses gravity to drain from a hot water container to secondary containers for grain-steeping and boiling. The final product is accessible just a few feet away, dispensed from a converted refrigerator where friends can enjoy an India pale ale or rye ale on tap.
"Once I pick a hobby, I go all-in," he said, carefully monitoring the temperature of his latest brew. "I'm an engineer by trade and went to school for engineering, so naturally, I like to tinker with stuff. The coolest part is that when you're brewing, you feel like an alchemist because you're taking a handful of grains from the field and making beer from it with no training."
As with Sherrerd and Koll, Fisher has had his share of bad batches but like the others, it never led to discouragement. Instead, he's quick to identify what went wrong and turn each mistake into an opportunity to perfect his craft.
"If you know why a batch is a disaster and you can attribute it to something you did wrong, it's just a learning experience," he said. "I'm wasting like $20 or $30 in grain, which is no big deal. You just try again, and soon you're making great beer."
As in so many other hobbies, the level of passion often leads homebrewers to dream of opening their own commercial breweries. Sherrerd has spent several years looking into the possibility of a small brewery in Decatur but doubts he will be able to follow through.
"I wish I could be the one to make it happen here," he said wistfully. "It would be my dream to open a craft brewery, but in the present, it's not a reality. My wife is seven months pregnant, and my brewing partner is starting his own family. There are tons of legal loopholes to jump through and federal regulations to meet, not to mention the startup money. It would take at least $250,000 to open a brewpub."
McGorray also has doubts about a craft brewery opening in Decatur, but one thing he's certain of is that interest continues to grow. Since McGorray's Golf & Grille opened in 2010, he's been a firsthand witness to the explosion in demand for craft suds.
"When we first opened the doors, I was told by some beer distributors that this place wouldn't work," he said. "I heard 'It's a Budweiser town; it's a Miller town.' But since then, I've been thanked numerous times by one of the distributors in Peoria, because there's been a 400 percent increase in the sale of craft beer in Decatur. That's just in the last three years."
Whether he's ever able to "go pro," Sherrerd is happy to have a hobby that provides satisfaction and a product he can share with friends. He's confident in his abilities to the point in which he believes his best homebrew could go toe-to-toe with most commercial beers.
"The difference between an India pale ale brewed in Colorado six months ago, sitting on a store shelf, and another I just bottled fresh 10 days ago is unbelievable," he said. "At the end of the day, even if I don't open up a brewery, I know I'm making world-class beer in my garage."