DECATUR — The number of Decatur shootings recorded for the first six months of this year is the lowest reported since 2013, a sign police and community leaders say is encouraging even as they continue efforts to reduce violent crime.
"We're excited about it, but we're also hesitant," said Decatur police Chief Jim Getz. "We're not off celebrating, because we're still having shootings."
Twenty-six shootings were recorded between Jan. 1 and June 30, according to Decatur Police Department data the Herald & Review obtained through a Freedom of Information Act request. That's a decline of 33 percent compared to the 39 shootings in the same time frame in 2018.
The statistics are broken down into "attempts" to shoot someone and "hits," when a person is struck by a bullet. This year, 14 attempts and 12 hits, including three fatal shootings, were reported in the first six months. It's the lowest number since there were 22 reported shootings — 12 attempts and 10 hits — in 2013.
Data for the period ending May 31 shows property crime is up nearly 5% from the first five months of 2018, but overall violent crime is down 10% for the same period. For the calendar year in 2018, the department reported nine homicides and 90 total shootings — 34 hits and 56 attempts. This year, there have been seven homicides so far.
"We're definitely not happy with these seven homicides," Getz said, encouraging residents and those close to victims to cooperate with police. "It's sad that people don't value life like they should."
Seven homicides
Arrests have been made in four of the seven homicides, all of which were classified as murders, police said. A warrant has been issued in a fifth case. Investigations continue in two other murders in which no arrests have been made.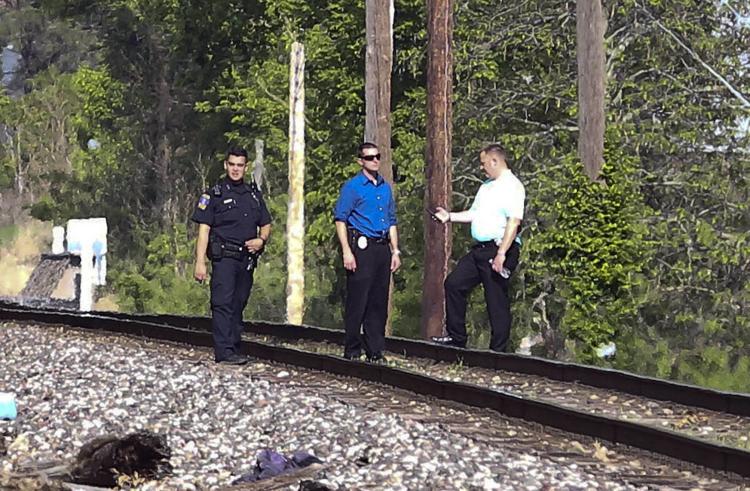 On Feb. 11, police found the cold, lifeless body of Ta'Naja Barnes wrapped in a soiled blanket in her Decatur home. Her 22-year-old mother, Twanka Davis, and mother's boyfriend, 25-year-old Anthony Myers, are facing charges in the case and are set to appear in court again in September.
Marcel Whitfield, 32, suffered fatal gunshot wounds April 7 in the parking lot of a bar on North Woodford Street. Cody Burries, 30, was arrested the following month in Tennessee and charged with the murder. He is set to appear in court Sept. 9.
Suave L. Turner, 28, died from a gunshot wound to the chest May 30. Turner died at the hospital after being dropped off in a private vehicle. During an inquest earlier this month, police said the driver of the car saw the shooting, which happened at Martin Luther King Jr. Drive and Division Street. But the witness did not have information about a suspect or motive, police said, and the investigation continues.
Police also are continuing to investigate the stabbing death of Darrell Boey, 36, who bled to death from a single stab wound to the groin. His body was found on the front porch of a house in the 1900 block of North Church Street, where Boey had been staying. Blood trail evidence showed he had been stabbed around the corner on West Peoria Avenue, police said.
You have free articles remaining.
Demetrius D. Ford, 27, was found shot to death July 14 in a house in the 1400 block of East Hickory Street, marking the city's seventh homicide of 2019. Police have issued an arrest warrant for 26-year-old Kronterial N. Bond, who is considered "armed and dangerous."
Anyone with information in any of these cases should contact police (217) 424-2711 or Crime Stoppers at (217) 423-TIPS (8477).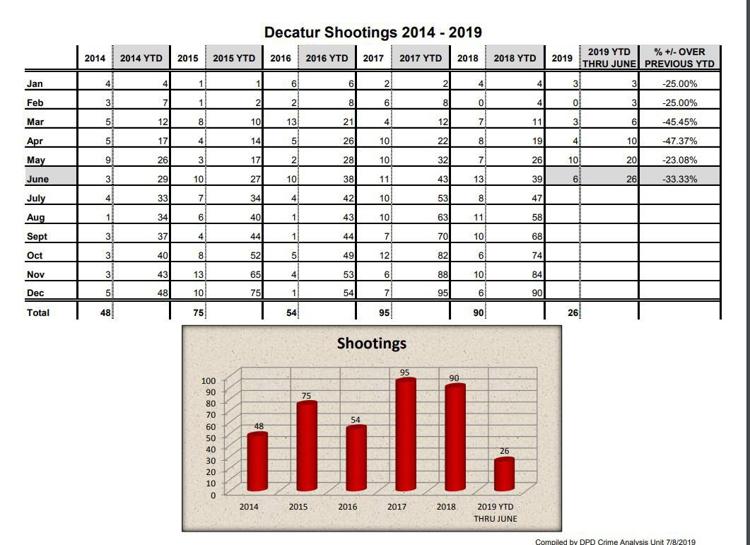 Another death this year was ruled a homicide by a coroner's jury. Brittany Shelton, 23, died at the scene of a crash early Feb. 16 on Greenhill Road, where she was walking and struck by a vehicle driven by her boyfriend, 27-year-old Sidney Flinn. Reconstruction experts estimated his truck was traveling between 55 and 60 miles per hour. He has pleaded not guilty to charges of aggravated DUI and reckless homicide.
Homicides reported by the Decatur Police Department to the FBI's Uniform Crime Report are first- and second-degree murders only, said Senior Crime Analyst Kim Chervinko.
Targeted approach
Steps are being taken to keep the numbers trending downward. Getz said police are able to identify suspects who sometimes talk openly about carrying illegal weapons. Most Decatur residents are good people, he said, and those committing serious crimes are typically repeat offenders.
"We have a very good idea, based on investigations and detective work, who is carrying the guns, and that is who we target," he said. "We are going out there, looking for them and getting them off the streets."
Sgt. Chris Copeland said the lower rate of violent crime and shootings is encouraging. The department as a whole has taken proactive steps, including targeted enforcement. "Efforts appear to be showing results," he said.
NAACP Decatur Branch President Jeanelle Norman, who spearheaded the effort, said the group has been working on a list of recommendations for local agencies. She said updates will be released next month.
Norman praised the Decatur Police Department's efforts, crediting their hard work as a partial reason for the reduction in violent crime. "They've been doing an excellent job," she said.
Norman, Getz and others agree: The goal is for the number of shootings to be zero.
"Any one shooting, any one violent act is too many," Mayor Julie Moore Wolfe said. She said she was pleased with the positive trend and hoped it would continue, but acknowledged that circumstances can be unpredictable.
"Every community wants to be crime-free," Moore Wolfe said. "We're realistic enough to know this could change at any moment."