DECATUR — Police on Thursday said the number of violent and property crimes in Decatur last year showed declines from 2017, but community leaders say there's still plenty of work to be done. 
Police Chief Jim Getz released data showing drops in the following areas in 2018 compared to 12 months prior: 
Homicides (10 percent)
Sexual assault (42.31 percent) 
Robberies (20.75 percent)
Aggravated assault and batteries (14.91 percent) 
Additionally, for property crimes, burglaries were down 15.46 percent in 2018, thefts were down 15.66 percent and arson was down 23.33 percent. Motor vehicle thefts increased 16.30 percent in 2018. 
Getz said the department compiled data based on reports completed throughout the year. He declined to provide complete statistics on the crime trends, saying they will be made available for the public to see in the coming days. 
"The officers should be commended for their hard work in bringing these crimes down," Getz said in a statement. "The citizens should also be commended for taking steps to help the city become a safer and more secure place."
The data was released as separate efforts are being developed to address a series of violent incidents.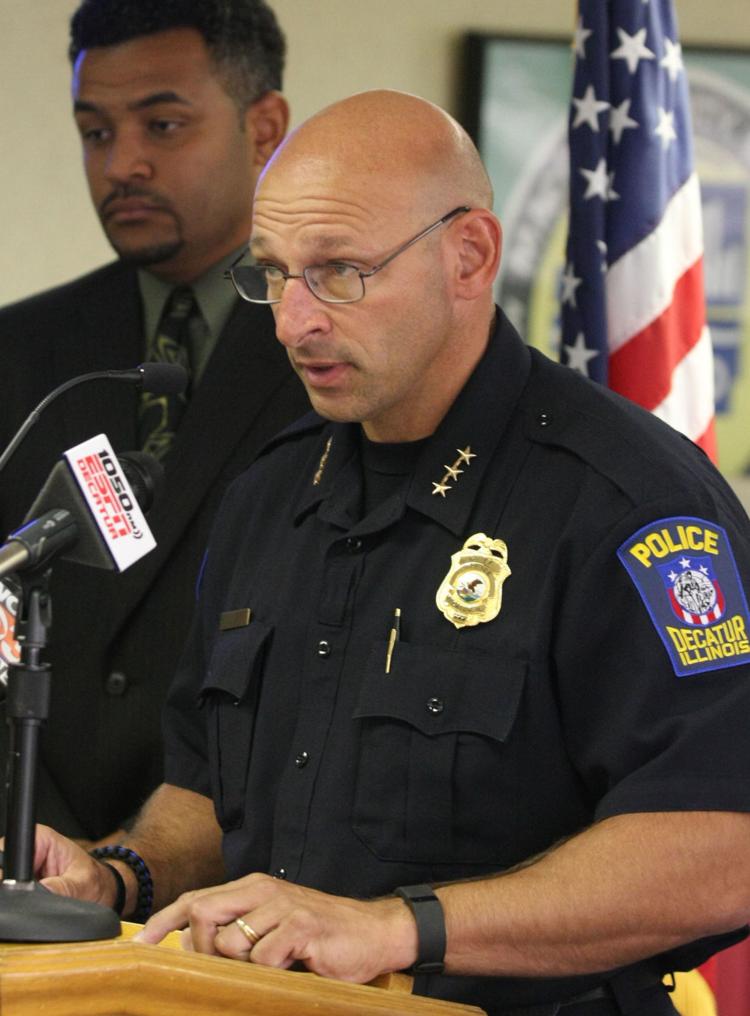 The NAACP Decatur Branch is spearheading an effort called the "Blue Ribbon Committee on Safety and Re-Connection to the Community," which will be announced during a news conference Monday morning at the Decatur Civic Center.
NAACP President Jeanelle Norman said the group has been in the works for months and will aim to develop and share action plans to combat violence in the city.
"We don't just want these to sit on someone's desk and collect dust," Norman said. "We want them to go out and be executed."
Norman said that community involvement will also be key in bolstering the blue-ribbon committee's actions once it goes to work.
She could not immediately provide more information on who will be a part of the committee, as the complete list will be revealed on Monday, but she said it will focus on exploring outreach opportunities in three main areas of focus: the home, education and community.
It is Norman's wish that anyone who hears of the committee's efforts will be inspired enough by its future work to step up and lend a hand to make Decatur safer. That includes encouraging some people to shed the notions that they'll be labeled a "snitch" if they report a crime or cooperate with the police, she said. 
"We want the entire community to be above losing lives due to violence," Norman said. 
The need for a community conversation about violence also motivated Mayor Julie Moore Wolfe and the Rev. Courtney Carson to plan and co-host "Manning Up: Restoring Hope for Our Future." The free event will be 6 to 8 p.m. Thursday, Jan. 31, in the Decatur Civic Center. 
Guest speakers include Mark Vargas, Washington Examiner contributor; Julius Bailey, a professor of philosophy and author of "Racial Realities and Post-Racial Dreams" and Aliyah Houston, a student at Dennis School and statewide award-winning orator. Music will be provided by Tebe Zalango.
Carson, a Decatur school board member, is director of essential skills and community relations at Richland Community College, which has several skilled trade programs which he will provide information on at the event. He'll also introduce a new community mentor program.
People who attend who are qualified in the areas of welding and metal fabrication will be able to connect with employers in those fields, Carson said, and possibly leave with a job, and those interested in those fields but not yet trained can sign up for the training and get paid while they learn. Several community pastors and education leaders will also be at the event, and parents who want their children to have a mentor will be able to get one there. 
"We've done so much good work as a community, but I believe we've kind of dropped the ball somewhere," Carson said. "There's a huge disconnect between leadership and the people and we must bridge that gap." 
With the celebration of the birthday anniversary of the Rev. Martin Luther King Jr. on Jan. 21, Carson said, people need to be reminded to not just admire King's legacy, but put his words into action, much as churches should remember to honor Jesus every day, and not just on Sunday.
"These great men of God are willing to do the work, and they have been doing the work," Carson said of the clergy who will be at the event. "It's a sad deal when there's more integration in the nightclub on Saturday night than there is in church on Sunday." 
The information released Thursday by police is different than what the agency submits to the city council each month. That report says 10 homicides were recorded at the end of the year in both December 2017 and December 2018 — remaining flat, as opposed to a decrease. 
Detective Sgt. Steven Carroll said that there's a distinct difference between a homicide and a murder. He said the police are limited in the way violent deaths can be classified: accidental, unknown, suicide, homicide and natural.
"Homicide is a medical term," Carroll said, "not a charge. It's a term that's used on the death certificate."
Eleven violent deaths were reported in 2018, but several are not being prosecuted as murders in Macon County Circuit Court. 
Flesch pleaded not guilty to charges of involuntary manslaughter, being a felon in possession of a weapon and aggravated unlawful use of a weapon on Dec. 19. 
Carroll said the wounding by stabbing and subsequent death of Decatur man Robert Randall on May 24 was listed as a homicide but was not a prosecutable homicide. He said Randall was involved in a violent struggle with another man, and it appears the other man killed him in self-defense.
This death was marked as homicide, in that it was not natural, suicide or accidental, but there was no murder case to prosecute here, he said. 
The police statement on Thursday said the department will continue to "work very hard and remain proactive in reducing crime in 2019."  Getz said Thursday afternoon that he will speak at the announcement conference for the committee on Norman's invitation. 
"I think it's a great idea; getting the community involved and making it a safer city," he said. "That's only the hope is that people will get involved."
Tony Reid of the Herald & Review contributed to this story.
Contact Jaylyn Cook at (217) 421-7980. Follow him on Twitter: @jaylyn_HR
Sign up for our Crime & Courts newsletter
Get the latest in local public safety news with this weekly email.