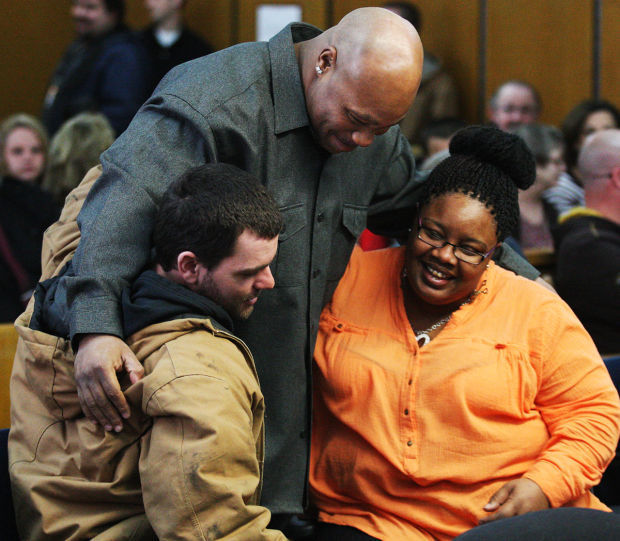 DECATUR – As she reflected on her more than a decade of substance abuse, Shannon Coefield held back her emotions as she realized how far she has come.
"Look at me now: I got pride, and I got respect for myself," she said. "Today, I know I am somebody."
Coefield and 11 others came together Friday afternoon at the Macon County Courts Facility as the first graduation class of the county's Hybrid Court, a specialty court that manages drug and alcohol abuse cases through comprehensive supervision, drug and alcohol testing, treatment and sanctions/incentives.
In a packed courtroom, the first dozen came up to the podium and had a chance to reflect on where they once were, as they were handed a degree, as well as a photo of themselves when they first entered the program more than a year ago.
Participants must have attained at least one year of continuous sobriety, complete substance and/or alcohol abuse treatment, work full time or perform community service and be involved in sobriety-based self-help groups
Judge Thomas Little, who oversaw the proceedings, said he was moved to see so many people turn their lives around.
You have free articles remaining.
"You really feel like you're making a difference in their lives," Little said.
Hybrid courts have been popping up nationwide in an effort to manage drug and alcohol abuse cases and to save money in legal fees and incarceration costs. Savings for those who complete the court can range from $3,000 to $13,000 per person.
Hybrid Court is funded by grants from the Illinois Department of Transportation Division of Traffic Safety, and the Bureau of Justice Assistance Office of Justice Programs.
The savings for the state and county seemed like the furthest thing from most people's minds Friday, as the focus was instead on those who have been able to preserve over addiction problems and reconnect with friends and family.
Three graduates have obtained full-time employment, while the rest have worked part time or engage in temporary work. Three attend school full time, while several attend part time.
None have been charged with any new offenses since entering Hybrid Court.
The program is funded to contain 60 participants, 40 from the drug court and an additional 20 from DUI court. Little said the graduation he was hopeful the program would continue to be funded and that more people could come into the program and get the help they need.