DECATUR – Sixteen days after Abraham Lincoln was nominated as a candidate for president in Chicago, leaders of the Republican Party asked an accomplished photographer to create new pictures for his campaign.
Lincoln said he was too busy to make the trip to Chicago, so Alexander Hesler packed up his box camera and made the trek to Springfield, where he snapped four photos of the beardless politician in the Old State House.
Of the portraits Hesler produced from that sitting on June 3, 1860, Lincoln said, "That looks better and expresses me better than any I have ever seen; if it pleases people I am satisfied."
A 30-by-40-inch framed digital reproduction of this well-know image will be hanging in courtroom 3B of the Macon County Courthouse.
The portrait is a gift of Mark Sorensen, past president of the Illinois State Historical Society. The society owns positive plates that historians believed were made from the original negative glass plates used by Hesler, considered one of the finest portrait photographers of his day.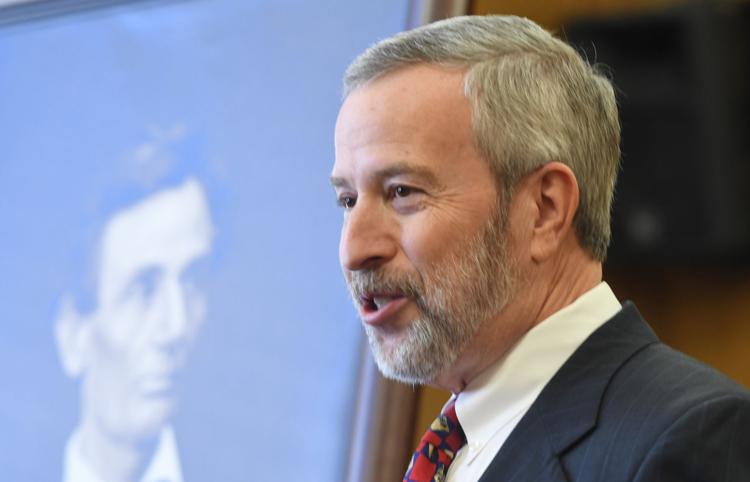 A.G. Webber IV, presiding judge for Macon County, told the audience in the courtroom gallery at the presentation ceremony Friday afternoon that when Sorensen called him to offer him the portrait, he thought about it for about a millisecond.
Although many people like to claim a connection to Lincoln, the residents of Macon County can rightfully "claim him as their own," Webber said, adding that his character was formed while he practiced law on the Eighth Circuit, which included the Decatur courthouse.
"I think it altogether fitting and proper that we should honor him by hanging his picture in the Macon County Courthouse," Webber said.
Dressed in his typical dark suit coat, vest and bow tie, Lincoln is pictured with a solemn expression, peering slightly to his left past the camera lens. He has a cord across the front of his white shirt, which Sorensen explained was attached to his reading glasses.
The prints that Hesler made were so popular that about 10,000 of them were sold during Lincoln's campaign.
William Herndon, Lincoln's law partner and close friend, was also pleased with Hesler's portraits. He said that no other artist ever caught that the "peculiar curve of the lower lip, the lone mole on the right cheek, and a pose of the head so essentially Lincolnian," according to a magazine article by Sorensen.
Historians believe the original glass plate negatives were sold to another Chicago photographer, George Ayres, in 1865. In the 1880s Ayres made glass plate positives from those plates. The negatives changed hands several times, and were broken in transit in 1933.
The positive plates were found in 1952 by an Illinois Lincoln collector, King Hostick. When he died in Decatur in 1993, he left them in his will to the Illinois State Historical Society.
The society has begun a campaign to place one of those portraits in every courthouse in Illinois. Macon County is the second or third courthouse to receive one.