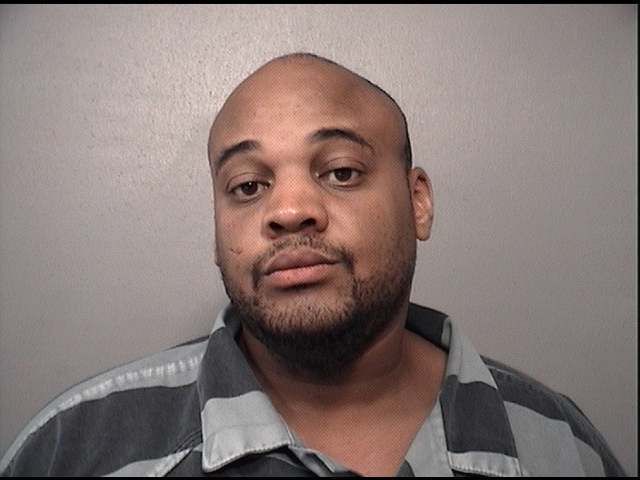 DECATUR – Michael A. Carter, a 35-year-old Decatur man who was being housed in federal custody in the Macon County Jail last month, died as a result of a complication of diabetes, according to an autopsy.
A coroner's jury, deliberating for about an hour Monday morning, declared Carter's death accidental.
The jurors released a statement, after listening to testimony from an Illinois State Police agent, the county coroner and members of Carter's family.
"We would ask that the medical procedures of the Macon County Jail be reviewed and critiqued by qualified members of the medical profession," the jurors' statement said.
Rodney Slayback, a special agent of Illinois State Police Zone 5, said the agency received a formal request to investigate following Carter's death July 18.
Carter was brought into the jail July 13 and later sent to the medical pod. Under questioning by Macon County Coroner Michael Day, Slayback said Carter remained in the medical unit until the morning of July18.
On that day, as medical personnel were preparing to send him to a hospital, Carter was returned to the general population for federal inmates.
He was originally going to be taken by regular inmate transport to the hospital, Slayback said. But because he was a large man, it was decided to take him by ambulance at a later time. As a nurse at the jail talked with a doctor on the phone, taking steps toward transporting Carter to the hospital, he was taken to a new cell.
"During that time Mr. Carter went into medical distress," Slayback said.
When first responders arrived, they found him in his cell, unresponsive. He was taken by ambulance to Decatur Memorial Hospital, where he was pronounced dead at 12:35 p.m.
Slayback said jail medical personnel were aware that Carter was diabetic. He said that Carter had an "elevated blood sugar level" and he was given medication to try to control it.
When Carter was sent to a regular cell on July 18, correctional officers checked on him, Slayback said. However, it is the duty of medical personnel, not correctional officers, to administer medical care.
Slayback said that his responsibility was to conduct a criminal investigation, to determine whether Carter had been violently assaulted or involved in an altercation. He said he was not assigned nor qualified to draw medical conclusions.
"I'm a detective; I'm not a medical doctor," Slayback said.
Day asked him if jail staff members cooperated with him in his investigation.
"I had access to all employees that had contact with Mr. Carter," the detective said.
Day said the autopsy, performed at the McLean County Morgue, showed that Carter died as a result of diabetic ketoacidosis, due to an underlying condition of diabetes. The condition develops when the body does not produce enough insulin, according to a Mayo Clinic informational website.
Sheriff Thomas Schneider said there is a limit to what he can discuss in connection with the case, due to possible litigation. He said all medical services within the jail have been contracted out to Decatur Memorial Hospital.
"We contract out the medical facility within the jail to DMH," Schneider said. "They have doctor, nurses, entire medical staff."
Schneider said he immediately contacted the state police to conduct an investigation into Carter's death.
"We appreciate the many hours put forth and the investigation conducted by the Illinois State Police  and the Macon County Coroner's Office," Schneider said. "Although the intial investigation has been conducted, the investigation is still ongoing, as we continue to conduct our own internal investigation to make sure that all policies, procedures and proper conduct were followed." 
Schneider said he sends his condolences to Carter's family members for the loss of their loved one.
Two of Carter's relatives and his fiancee testified at the inquest.
Sheila McGee, Carter's mother, said she spoke to the jail nurse on July 17 at 3:28 p.m., after receiving a call from his fiancee.
"I related to her that Michael was reporting he was distressed, vomiting, confused," McGee testified, adding that her son never said he was sick unless he really was sick. "She explained the doctor was coming that evening."
McGee said she asked the nurse to send him to the hospital so he could receive insulin intravenously.
"I think if he received the treatment he needed, he'd be with us today," McGee testified, adding that she did not know that for certain.
Quachee Parson, Carter's fiancee, said he called her July 14, saying he was not feeling well. She went to see him two days later. He told her they were going to remove him from the medical unit. On Friday, he called her, saying he was having trouble breathing.
"He was gasping for air," Parson said.
She said her son was growing up without his dad because of negligence.
Carter was taken into federal custody on charges of attempted distribution of cocaine and discharge of a firearm during and in relation to a drug trafficking crime.
According to the criminal complaint in the case, Carter was selling kilograms of cocaine in Decatur, with wholesale value of $35,000 each. While acting as security during a drug transaction, he allegedly shot a a man with a .40-caliber handgun near East William Street and 23rd Place on July 21, 2013. Carter's accomplice during this transaction was sentenced to 20 years in federal prison Jan. 9.
Sign up for our Crime & Courts newsletter
Get the latest in local public safety news with this weekly email.