DECATUR — The leader of the NAACP Decatur branch called Tuesday for a blue-ribbon committee to look into causes of the city's rising murder rate after its 10th homicide this year.
With the shooting death of Marvin T. Murphy, 39, on Christmas Day, the city had more than doubled its 2016 homicide total and tied with 2011 for the greatest number of murders in the past decade.
"Now some people will say these shootings are spontaneous and there is nothing you can do," said Jeanelle Norman, longtime president of the branch. "But whatever the situation is, it behooves this city to have some type of study so that we can assess, with more accuracy, exactly what is happening."
Mayor Julie Moore Wolfe said she would be willing to work with Norman to see how such a committee could take shape.
"I think she and I need to sit down and figure out what this needs to look like and how we can make it truly effective," Moore Wolfe said Tuesday night. "I have so much respect for Dr. Norman and, if there is anything we can do to fix this, we have to try."
Other community leaders on Tuesday called for exploring solutions that included greater sentences for those convicted of violent crimes, stricter gun laws and more community involvement.
The remarks came as detectives continued to investigate the murder of Murphy, who was found by police at a residence in the 1600 block of North 32nd Street around 9:30 p.m. He was taken to Decatur Memorial Hospital and pronounced dead at 10:58 p.m., Macon County Coroner Michael Day said.
Police did not reveal the circumstances of the murder. Detective Sgt. Steve Carroll said the department had called in extra manpower and described the investigation as "ongoing and intense."
"We're working multiple leads, and we're working new leads as they come in," he said.
Wider discussion
Decatur Police Chief Jim Getz said his officers have a solid track record of bringing killers to justice, but he said the courts must hand down sentences that keep persistent violent criminals off the streets.
"I'll be honest with you, I'm not satisfied with some of the sentencing that is coming down for these crimes," Getz said. "I think sentences need to be tougher. That is what keeps our community safe, and safety is what keeps people moving into Decatur and keeps people from moving away."
The police chief also said that statistics show many of those being killed or hurt were involved in criminal activity, especially drugs.
Getz was not commenting on the latest murder. But in general, he said, violent crimes involving random, innocent victims are rare. "If you are going to Walmart to go shopping or going out to a restaurant to eat or visiting a family member in town or whatever, it's highly rare that you would be the victim of crime," he said.
Norman works closely with Getz as a member of the Area Leaders Educators Response Team (ALERT), which helps to disseminate accurate information in the wake of major events like police-involved shootings. She said the chief had a point.
But she said people indulging in risky behavior do not explain all of Decatur's violence. She pointed to the case of Decatur motorist Rafael Graham, 70, who survived multiple gunshot wounds Oct. 16 after apparently being targeted at random in a hold-up.
"He was just driving down Monroe, and he gets shot," said Norman. "So not every shooting is drug- or gang-related."
Norman said the police deserved praise for continuing to do an "excellent job," but she said it is time for wider community involvement to help them, such as the proposed commission.
"We have to work at this because eventually Decatur is going to be defined for something we don't want to be defined as," she added.
While ready to discuss the idea, Moore Wolfe was under no illusions about how hard the committee's task might be.
"Setting up a committee would not be the hard part," she said. "The hard part is really effecting change and figuring out what is really causing this (the shooting violence) and really fixing it."
'A matter of faith'
Pastor and community activist the Rev. Courtney Carson has frequently spoken out in the wake of gun violence and on Tuesday renewed his call for tougher gun laws.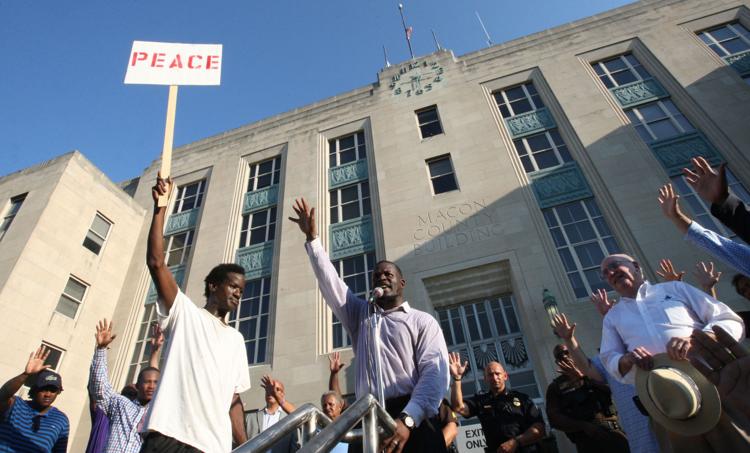 He said weapons are too readily available to criminals, and communities such as Decatur and Chicago will continue to bear the brunt of gun deaths until that availability changes.
"We need more common-sense gun laws," said Carson, a member of the Decatur school board. "I believe we would then live in a safer place."
He echoed Norman's call for more community involvement and more outreach efforts from churches and role models working to turn lives away from crime. "The most criminal-minded individual can come out of that hell-like condition," he said. "I think it's just a matter of faith."
Carson invited people to attend a multi-denominational service at 10 p.m. New Year's Eve at Antioch Missionary Baptist Church. He said the theme is "unity" and the service will address community violence.
Arrests in most cases
Of the murders being investigated this year, police have made arrests in the majority of the cases.
Two other cases are active, but detectives said at inquest hearings that they had no witnesses and were searching for leads in both:
James M. Basse, 40, of Decatur, was found in the 1400 block of East Wood Street on Sept. 15 dead of multiple gunshot wounds.
Adrian T. Chatman was found dead in the 800 block of West Decatur Street shortly after midnight on Sept. 26.
Not living in fear
Residents of North 32nd Street, living just a few blocks from the Christmas Day murder scene, said Tuesday they weren't going to let this killing, or Decatur's rising homicide rate, overshadow their lives.
Retired special education teaching assistant Naomi Culter moved into her home in September. She said she was shocked to find out there had been a shooting death close to the cozy ranch with the big backyard that suited her perfectly, but she won't allow the news of the shooting to chase her away.
"You can't control where bad things happen or how they happen or who they happen to," said Culter, 66. "That is just life. You have to take the good with the bad and go with it."
Culter, who lives with her oldest daughter, Tonja Francisco, took the same philosophical view about Decatur's homicide rate. Culter believes Decatur is no worse than many other towns when it comes to crime, she said, and we can't permit crime statistics to rule our lives.
She does, however, take note of them.
"But do I feel unsafe here? No, I don't," she said. "What is the purpose of living if you are going to live in fear? If you do that, well, that's not living."
Francisco, 46, takes a similar view to her mother. "You get used to hearing about crime but you don't live in fear," she said. "That's not how to live your life."
Culter said that not letting crime get you down doesn't mean you don't feel for the victims of it and the lives it affects. And she said crime that stains the joy of what is supposed to be the happiest time of the year seems particularly tragic.
"Death like this is sad anytime, but even more so on a holiday," she added. "I guess the devil is always around, testing us."