DECATUR – When Adam Walter looks back on his career as a U.S. marshal, there is no way he could remember all the dangerous fugitives he helped to capture.
But his office at the end of a hallway in the Macon County Law Enforcement Center, largely emptied out with just a few days remaining on the job, still contains a bulletin board crammed with wanted posters, ID cards and other mementos of some of his biggest catches.
He still has a vivid memory of capturing a 220-pound man with the street name "Magic," who had already served one prison term for attempted murder.
"Here's a credit card from Chris Reed," Walter said, handling one of his favorite souvenirs. "My first big case. He killed someone at the Bass Place bar in the parking lot in 2005. He fled to Tennessee. We caught him in Tennessee. He got 50 years in prison. This guy was an enforcer for a gang."
During the manhunt, it was determined that Reed's card was being used at a Decatur gas station. When Marshals arrived at the station, they found the card on the ground.
"So I hung onto it," Walter said. "It took about four months of working every day to find him, but it was worth it. That's when I learned, for a bigger case, it's really fulfilling to work as hard as you do and get them into custody, not just for the victim's family but for the community."
Walter, 48, a special deputy U.S. marshal for the past 11 years and member of the Macon County Sheriff's Office for 20, retired from law enforcement, effective Tuesday. Although he planned to stay on for several more years, to work alongside his longtime partner, Lorne Sturdivant, he turned in his badge to save other officers from layoffs in a time of budget crisis.
His final day on the job was Monday, exactly 25 years after he began his career as a Decatur park ranger in 1992. Walter has been involved in arresting thousands of suspects who have committed a wide range of serious offenses and parole violations.
"I have arrested more than 50 for murder and attempted murder, for my cases alone, not including assisting in other communities such as Springfield," Walter said.
Walter said it was an extremely difficult decision to make, to walk away from a job he loved, the successful partnership he enjoyed and the law enforcement community.
"This has been my family, just like my blood family," Walter said, his voice cracking. "They were all there for me, and I'll never forget any of them."
Just five days earlier, Walter and Sturdivant, 48, spent a full day tracking down fugitives together in Decatur. Walter worked from a list of those for were wanted on county warrants. Sturdivant, a city detective assigned to the Street Crimes Unit, worked from the Decatur Police persons wanted list.
The dissolution of this partnership, which began in 2006, when Sturdivant became a part-time deputy marshal, is being marked in law enforcement circles as a tremendous loss for Macon County and the U.S. Marshals Great Lakes Regional Fugitive Task Force. Sturdivant, a full-time marshal since 2011, will continue to serve, as the only Decatur-based task force member.
Macon County Sheriff Thomas Schneider said it was admirable for Walter to volunteer to retire so younger patrol officers could remain on the force.
"It doesn't surprise me at all," Schneider said. "He made a decision to benefit the department. We lose a very valuable employee. He has done a lot for public safety locally and throughout the state of Illinois."
Schneider said it will be a sad day when Adam retires.
"This crime fighting duo is one of the finest in the nation when it comes to catching fugitives," Schneider said.
In addition to his main function in apprehension, Walter has been serving as team leader for the sheriff's Special Response Team, which tackles challenges such as hostage situations.
"He developed his team, developed that culture," Schneider said. "He puts together all their training. Adam personifies professional law enforcement, leading by example by going out and doing his job 110 percent every day."
Schneider said Sturdivant is also an outstanding officer, who "was all about catching the bad guys, ever since I knew him."
The sheriff hopes to reinstate the marshal position in his office at some point.
"That is one of the most important positions. It has to be filled," he said.
Walter and Sturdivant say they will never dissolve their friendship, which began 30 years ago when they met as freshmen at their first summer practice on the Millikin University football team. As seniors on the defensive unit, they helped their team go undefeated in the regular season.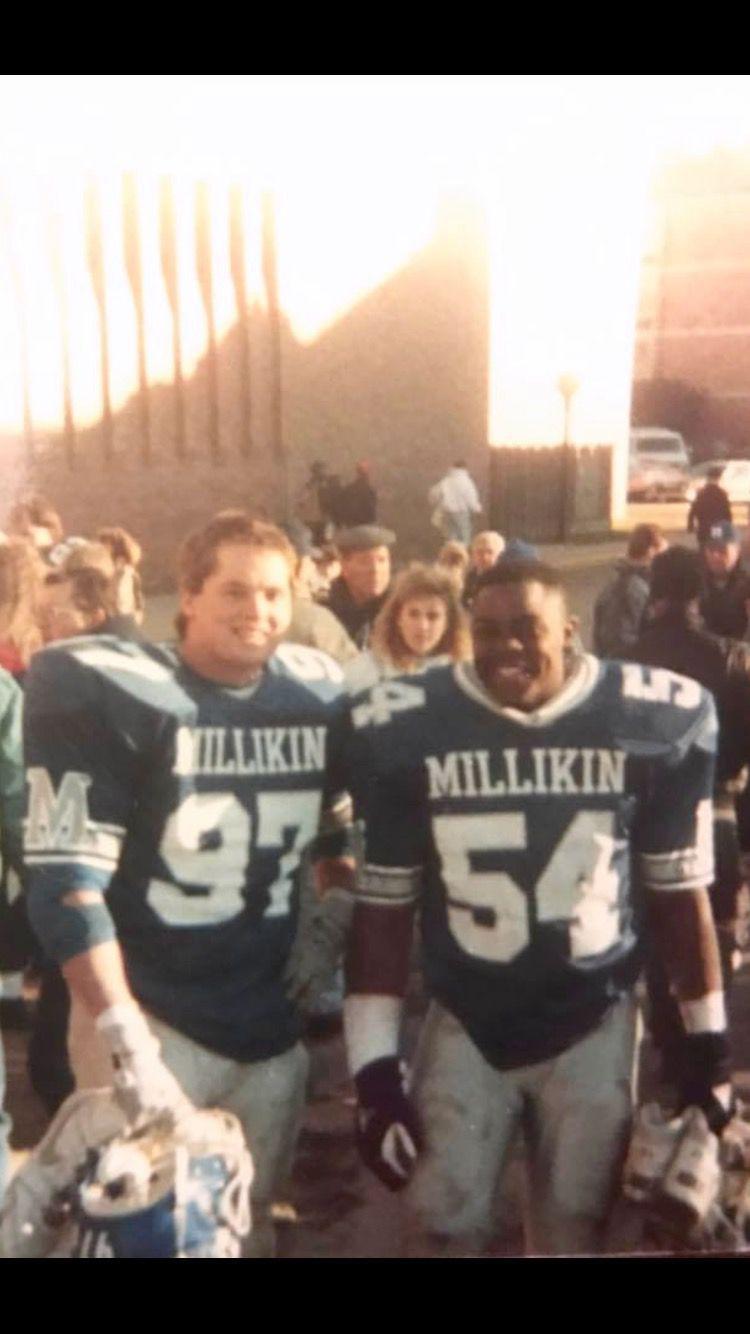 "We thought we were going to work another five years together and walk out at the same time," Sturdivant said. "Unfortunately, that didn't happen. Physically, we won't be together anymore, but this is my brother right here. I've got love for him in my heart and we are always going to be together."
Their uncanny ability to apprehend fugitives can be attributed to their dedication, depth of knowledge of offenders and their abilities to gain the trust of relatives and acquaintances.
The marshals dig into a large bag of tricks of the trade, but Walter said they mostly rely on "lots of good, old-fashioned police work," interviews and surveillance.
Walter began his career as a man-hunter while executing arrest warrants as part of a unit with the sheriff's office in the late 1990s.
A Decatur officer since 1992, Sturdivant worked as a liaison detective at public schools in the 2000s, while working part time as a deputy U.S. marshal. He was appointed a full-time U.S. marshal in 2011. They have been together almost every workday ever since.
"It's very rare that just one of us makes an arrest, unless you just happen to see someone walking by and you jump out with him," Walter said.
It is not easy for Sturdivant to talk about the breakup of the partnership. In addition to all the challenging situations they have faced together in the Decatur area, they have also worked together throughout the state, seeking suspects in unknown neighborhoods, including a massive recent operation in Chicago involving some of the state's most dangerous fugitives.
"Adam was the one that brought me on," Sturdivant said. "I was working in the schools. He was working warrants. I would work with him and his partner, just to keep busy. In the summer, I would go back to a desk to work cases, so I really dreaded summertime because it tied me to a desk."
Sturdivant talked his way into serving warrants with Walter during the summers. When Walter began working for the marshals, he began talking to his supervisor, Bob Doty, about Sturdivant.
The entire Central Illinois Task Force came over to work an apprehension case on a suspect who was wanted for multiple armed robberies in the city. Doty invited Sturdivant to ride with him, to check out some leads. Sturdivant was nervous, because he wanted to live up to the positive recommendation by his friend.
"So we went to an apartment complex on the north side and pulled into the parking lot. We weren't even there five minutes, when the fugitive came out of the apartment building," Sturdivant said.
The two men jumped out of the vehicle with their weapons drawn and took the suspect into custody.
"We got the guy into custody in less than five minutes while the rest of the guys were eating breakfast," Sturdivant said. "I don't believe in luck, but I do believe in divine intervention. That solidified me getting on the team."
That suspect, then 27, was convicted of weapons charges and sentenced to 14 years in prison.
Early the morning of Aug. 5, 2011, seven weeks before Sturdivant went full time, he was called on to take part in one of the task force's significant achievements.
"I got a call from a command officer at the sheriff's office that night," Walter said. "He said I need you to come out on this murder. We've got a double, possibly a triple homicide in Harristown."
"I immediately called the task force. I told the supervisor to call everyone in," Walter said.
The suspect, Tim Giles, then a Marine recruiter, was armed with firearms and knives "So we had six of them here within an hour and a half. They were all Springfield guys and me and Lorne."
The two local marshals drove separately toward Moweaqua, where Giles' father lived, each carrying other marshals. Nobody was home at the Giles house, but Sturdivant spotted a van speeding away when the driver saw him and gave chase.
The driver, Giles' father, eventually revealed that his son had just jumped out of the van and might be at a nearby house. Marshals spotted a truck pulling away from that house, Walter gave chase, and Giles was taken into custody.
Sturdivant said that was another example of being in the right place at the right time, with divine help.
"It just goes to show how important this task force is for this community," Walter said. "Because it would have been difficult for a patrol officer to perform that function, because they were busy investigating the crime itself."
Doty served as team leader with the marshals in Springfield until he transferred to Spokane, Wash., in 2008, where he serves as an agency supervisor.
He said Walter was an extremely proficient investigator, who took on the tough cases and saw them through to the end.
"He was very thorough on investigations," Doty said. "I had a great time working with him. He was a good partner to have. He always had your back."
Doty remembers the time they chased the murder suspect nicknamed "Magic" from Decatur to Tennessee. He was also wanted in connection with a 1996 case in which a 40-year-old mother of four was murdered during a carjacking.
"We did numerous homicide cases together," Doty said of Walter. "He was one of the best investigators I ever worked with. He is very soft-spoken, with a good demeanor."
Doty said Sturdivant is also a top-notch investigator.
"Lorne has an excellent memory for faces and names. Both of them will not give up, if it means staying up all night to watch a house or interviewing someone multiple times. Whatever it takes to catch a fugitive those two would do it."
Doty said Walter and Sturdivant could catch any fugitive, they are that good. They have prevented innumerable crimes by locking up thousands of criminals.
"They're very easy to get along with, very friendly. Just don't make them mad," he said.
He said members of the Decatur community have no idea what they will be losing when the duo is no longer working together.
"Eventually, you can replace somebody and put them in the position, but you can not replace an Adam Walter," Sturdivant said, his voice filled with emotion.