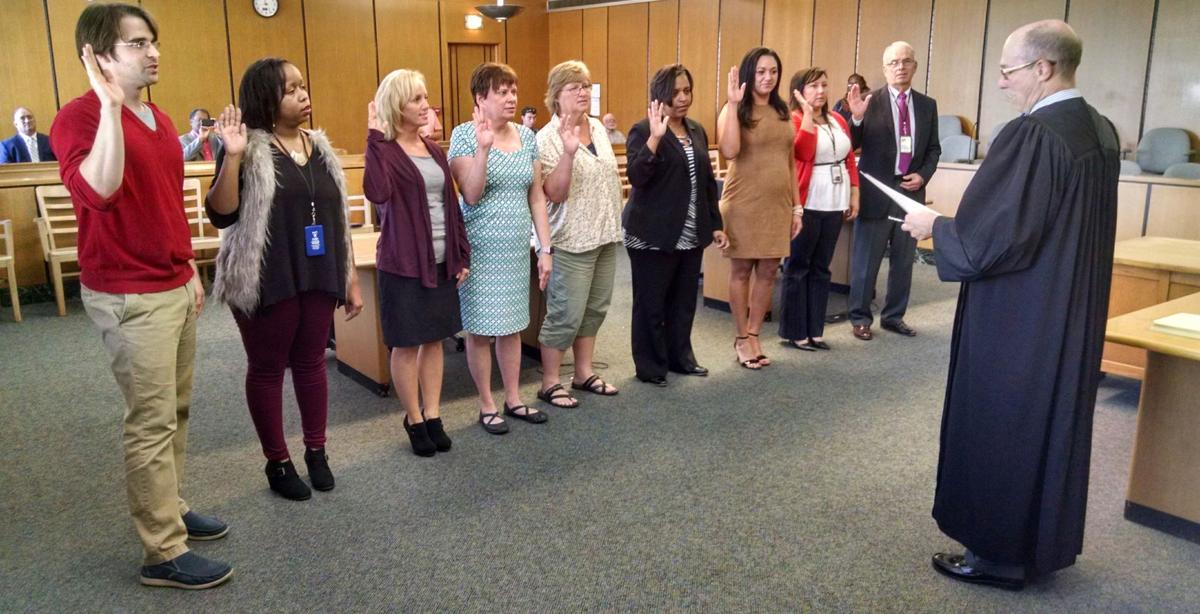 DECATUR – A swearing-in ceremony this week for nine new court appointed special advocates reflects the new director's vision to serve more abused and neglected children than the volunteers have in the past.
Among them were two new advocate supervisors, in addition to Steve Miller, who started work July 5 as the program's fourth leader over the past 12 years.
Miller said the original plan was to simply replace Jennifer Garrett when she left after about a year as an advocate supervisor and then hire a third supervisor in January, but the quality of two applicants persuaded the board to hire both Decatur women Sept. 1.
They are Katie Bohland, 30, who was a patrol officer with the Decatur Police Department for the past 4½ years, and Raynesse Coleman, 37, who most recently worked as a family advocate for Decatur's Family Advocacy Center.
Bohland has a bachelor's degree in law enforcement/justice administration and in sociology from Western Illinois University, and Coleman has a bachelor's degree in human services from Millikin University.
In addition, Miller hired Carol Metcalfe, a special advocate since March and previously a home interventionist with Youth Advocate, in the new position of part-time administrative assistant.
You have free articles remaining.
Wednesday's ceremony gives the Macon County Court Appointed Advocate Program 69 active volunteers, up from 64 earlier this year.
"My goal is to retain volunteers longer and grow the program," Miller said.
He said an increase to three advocate supervisors, counting veteran Camille Cochran, is necessary for that to happen.
Also among volunteers completing training and sworn in by Associate Circuit Court Judge Thomas Little was Marlo Butler-Jones, 45, of Decatur, an assistant warden for the Illinois Department of Corrections.
The others include teachers Diane Orr, 46, and Justin Sudkamp, 30, both of Decatur. A first-grade teacher at Muffley School, Orr said she has seen the need for special advocates first-hand during her eight years with Decatur public schools.
Sudkamp, a substitute teacher who previously worked as a customer service supervisor for Kmart, said being a child advocate is something he's wanted to do for a long time.
Also sworn in was Luz Catalan, 43, a stay-at-home mom from Forsyth, Laury Hubrich, 53, of Waynesville who works as a paraprofessional in special education at Clinton High School, and Tera Niebuhr, 45, of Brighton, who is seeking a position as a Head Start teacher with plans to relocate soon to Mount Zion.
"Children need consistency," Niebuhr said. "If I can be that one person in a child's life, I know I'll be doing something positive."