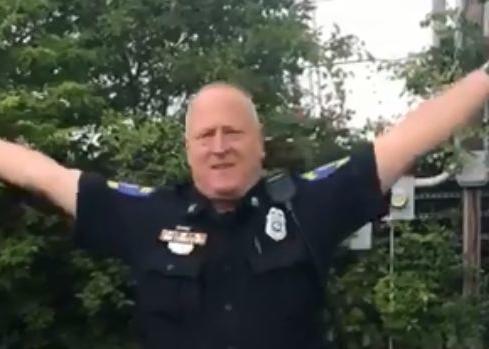 DECATUR — The dance moves of newly retired Decatur police officer Cory Barrows are now internationally known, thanks to his wife Lisa Simpson-Barrows and some help from the internet.
After 30 years of service with the Decatur Police Department, Cory was set to retire Aug. 6.
Cory said he has been doing this certain funny dance for years each time the 1984 Kenny Loggins song "Footloose" plays at a wedding or a party. This gave his wife an idea, but she knew it would take some persuasion.
Lisa spent about a week convincing her husband to do his signature dance when he would sign off for the last time with the department. Since one of the couple's sons, Max, is at a camp in New York, Lisa wanted to send him the video of Cory dancing.
"I didn't want to actually do it," Cory said. "My wife suggested it because she thought it would be funny to share."
Lisa and Cory's other son, Gage, followed the soon-to-be retiree around Decatur during his last day on duty. Gage came prepared. He had the song "Footloose" ready, just in case his father followed through.
The suspense built until Cory surprised his family and complied with his wife's request at the last minute. Lisa said it was semi-planned but also a surprise.
In the video, which the Herald & Review wrote about on Wednesday, Cory is shown signing off for the last time, telling dispatch: "It's been an honor and a privilege."
And then: "But first I'm going to cut loose," he says, before breaking into dance.
Lisa on Tuesday posted the video on her Facebook page, from which it was shared by the Decatur Police Department. Soon, it was appearing on Yahoo! News UK, the Polish newsmagazine Wprost and television stations around the world, including Fox News Channel. Headline News featured the clip on its "Heroes in Blue" segment. The ABC News Facebook post of the video has more than 1,500 comments — and 3,400 shares. 
Although the video received over a million views worldwide, a part of the dance was missing.
"I usually go down and do the splits, but I didn't do it with all the equipment," Cory said.
Maybe he would have also ripped his pants?
You have free articles remaining.
He said signing off for the last time was emotional.
"I think making a sign-off video the way I did made it a little easier for me to handle," he said. Most of videos officers make are pretty serious, and he wanted to have fun with it.
Lisa said she probably cried more than Cory did. She joked that she doesn't know if it's because her husband retired from a job he loved and was so passionate about or because she will be around him constantly.
Decatur police Chief Jim Getz said Cory held back tears during his retirement ceremony at the department because he was so passionate about his job.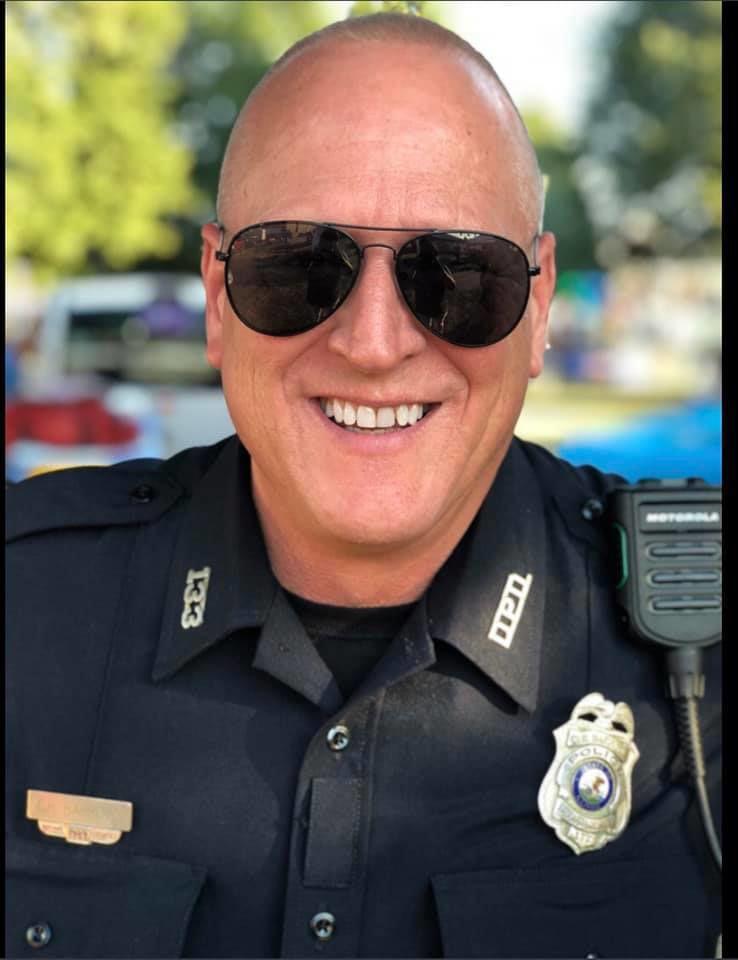 The video has been showing Decatur and the police department in a positive light, Getz said, surprised to have seen it on so many media outlets across the world. The video has received recognition in Bangladesh and Switzerland, to name a few places.
"We just wish Cory the best," he said. "Thank you for 30 years of service."
On behalf of the department, Getz said they hope the next chapter of Cory's life is as good as the past 30 years.
Lisa said as well as sending the video to their son Max, she was also going to post the video to her Facebook page for other family members and friends to see.
The Barrows had no idea the video would explode with positive comments and make its way to "Inside Edition," "Entertainment Tonight" and around the world.
"I'm overwhelmed," Cory said. "It's incredibly humbling when that many people reach out and are nice."
There was also a contest on Lisa's Facebook page as part of Cory's retirement. The Barrows gave a $50 gift card to someone who found the officer in town and took a photo with him, and a $30 gift card went to someone who shared, liked and commented something nice about police officers.
Rather than giving a ticket to the last person Cory pulled over, he gave the man a $25 gift card.
But now it's time for the former officer to enjoy retirement.
"Being retired is fantastic," Cory said. "I'm glad I made it 30 years (with the department)."
Lisa said Cory loves to bake and cook, so she said she's sure he will be spending time doing those hobbies. Cory got a new a T-shirt recently that reads, "Busy Doing Nothing," which he said is exactly what he'll be doing.
Kennedy Nolen covers public safety for the Herald & Review. Contact her at (217) 421-6985. Follow her on Twitter: @KNolenWrites