DECATUR — A special prosecutor is deciding whether to pursue charges of official misconduct against members of the Macon County Sheriff's Office who may have been involved with property sales that violated state law.
The case stems from a complaint, investigated by Illinois State Police, that a sheriff's deputy made unlawful purchases of homes in foreclosure sales. The sheriff's office conducts these sales, at which foreclosed properties are sold by a public auction, and state law forbids sheriff's deputies and other employees from buying foreclosed properties in the counties where they preside.
Speaking exclusively to the Herald & Review, Lt. Kris Thompson, the Macon County Jail superintendent, confirmed that he has been interviewed last month by state police investigators. Thompson said he runs a private business buying and selling homes and strongly denied any wrongdoing on his part or anyone associated with him.
Property records obtained by the Herald & Review from the Macon County Recorder's Office show that Thompson has purchased multiple homes sold by the sheriff's office in recent years. At least four were later resold by Thompson for a higher price.
Thompson responded to questions from the Herald & Review through his private attorney, Steve Jones. In a statement, Jones said Thompson has run his side business for 14 years buying, renting and selling family homes, always acting as a private citizen on his own time and using his own money.
"All judicial sales transactions are a matter of public record and are actually held in a courtroom," Jones said. "Kris has always taken possession of the properties he has purchased in his own name. In all the judicial sales Kris has participated in, he was always on his own time and he was never on duty when the sales occurred."
Initial complaint
Kroncke's motion calling for the special prosecutor, filed last month in Macon County Circuit Court, cites a complaint received from a "Ms. Jones" that described unlawful foreclosure sales by the sheriff's office.
The motion continued: "The anonymous letter listed various real estate purchases, from December of 2017 to July 2018, allegedly made by a deputy employed by the Macon County Sheriff's Department," it said.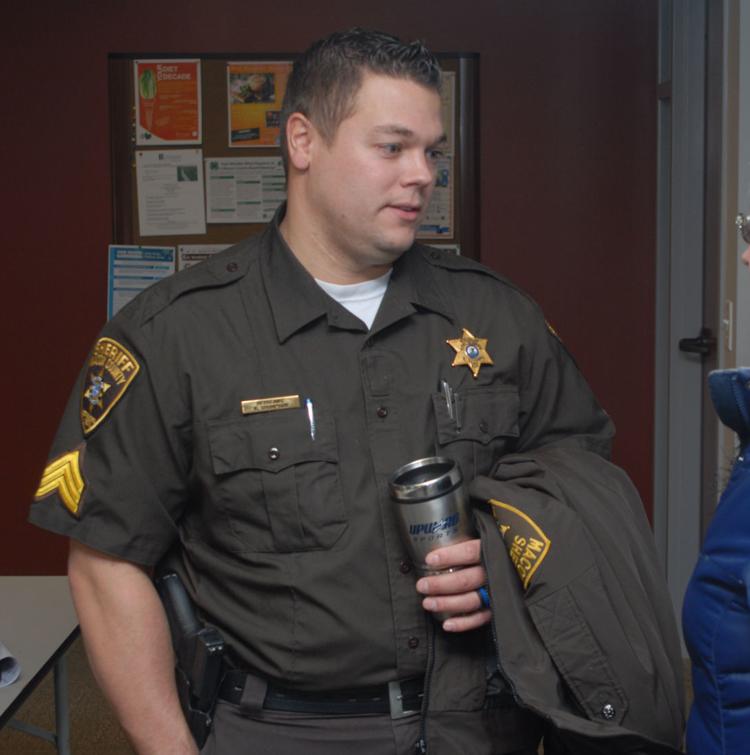 "Several current and former employees of the Sheriff's Department were allegedly involved in the real estate transactions, in violation of 55 ILCS 5/36026, which prohibits sheriffs and deputy sheriffs from purchasing real or personal property at Sheriff's Department Sales."
It's unclear who else is involved in the state police investigation.
A court order date stamped March 26 granted Kroncke's request for a special prosecutor, and said the "subject matter of this case involves the offense of official misconduct." The court requested the Illinois Office of the State's Attorney's Appellate Prosecutor appoint an attorney to review the state police report and make a determination.
The director of the Appellate Prosecutor's Office, Patrick Delfino, declined comment.
Jones said Thompson had bought properties on "numerous occasions" at what he described as judicial sales, which are conducted by the sheriff's office through a judge at the Macon County Courthouse.
Thompson, through Jones, said he was unaware of any law that would bar him from participating in such sales: "Furthermore, Kris was never made aware of any issue of him purchasing property at judicial sales as a private citizen and on his own time, by anyone else involved in these sales," Jones added.
The Herald & Review has filed a Freedom of Information Act request seeking the state police report of the investigation.
'Complicated situation'
Greg Mattingley, a retired attorney and member of the Macon County Board, said he had heard nothing about the investigation until contacted by the Herald & Review. "The only thing I can say is, if it occurred (illegal real estate sales) I am certainly disappointed," he said. "And I would like to see the findings of the investigation, most definitely."
Mattingley also wondered about the legal ramifications if some sales were were ruled to have been made illegally and those properties have since been sold on again to unknowing buyers. The statute forbidding foreclosure sales to sheriff's department personnel also states that all purchases contravening the law "shall be absolutely null and void."
"If a sale is ruled legally null and void, then that means it never occurred, period," said Mattingley, who stressed he was not an expert on real estate law. He said illegal sales could expose a messy bunch of legal complications, although title insurance might protect innocent buyers who suddenly find their house sale wasn't done legally.

"But it's a complicated situation," added Mattingley.
County Board Chairman Kevin Greenfield said he had heard something about the investigation but can't understand why it's such a big deal. "These are public auctions and I thought everybody had a right to bid on them," he said.
Greenfield said he was unaware of the law banning officer participation in sales but doesn't believe prosecutors should come down too hard: "Let's just say to the boys 'Let's not go do it again' and we all go off on our merry way, you know?" he added.
"Our officers are the most reputable people I know and they would not intentionally have done it (broken the law)."