DECATUR — Crews got a fire at Decatur Foundry under control in less than 30 minutes Sunday afternoon and no one was injured, according to management.
CEO Tom Young said he was notified around 1:30 p.m. about the fire at the business, 1745 N. Illinois St. He and Human Resources director Todd Ray said none of the foundry's roughly 125 employees were working Sunday. 
Flames and heavy smoke could be seen coming from the building shortly before 2 p.m., but firefighters had gained control of the blaze within half an hour of arriving. Deputy Fire Chief Rich Pruitt said the first alarm call had come in at 1:09 p.m. and crews had arrived to find flames bursting through the back of the building and the roof. 
"So we made it a second alarm and got additional units here," added Pruitt. "We had six units, including Tower One." 
The cause of the fire is not yet known and was under investigation Sunday evening. The building is one of 12 on the campus of the foundry, which dates back more than 80 years, according to Ray, who said he could not remember another fire at the site. The large warehouse-like building where the blaze was contained, known in the company as the "Black Building," uses electrically heated sand to make molds for shaping iron castings used to manufacture pumps, valves and other equipment for the water industry. 
With the foundry shutdown for the weekend and no one on site, Ray said firefighters had to cut a lock on the main gate to gain quick access to the fire. "Like we said, no one was working and that is why we are even more perplexed that this fire happened," added Ray, who is part of the Decatur company's Safety Team. "I report to the CEO and he wanted me here as soon as possible," said Ray, who had not seen the fire damage inside the building by late Sunday afternoon. 
"We have got to wait for the (fire) inspector to go in before we can go in," said Ray. 
He said employees should report for work as usual Monday, although he said employees who work in the Black Building maybe called off. 
"The main thing is that no one was hurt; that is the most important thing," he said.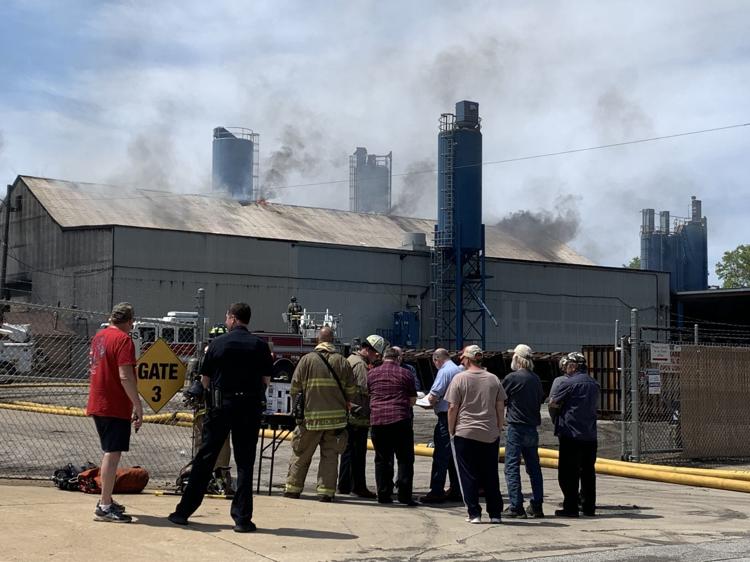 Staff Writer Tony Reid contributed to this report.