DECATUR — Describing a recent spike in Decatur gun violence and murder as "unacceptable," the city's police chief told council members what he intends to do about it while also safeguarding the lives and civil rights of those who find themselves confronted by police.
Chief Jim Getz, like many chiefs in other cities, is trying to contain a rising tide of gun violence on one hand while also dealing with a nationwide focus on in-custody deaths and alleged police brutality on the other. 
First, in combating the violence, Getz outlined a multi-pronged effort to react to armed trouble more quickly and apprehend those responsible.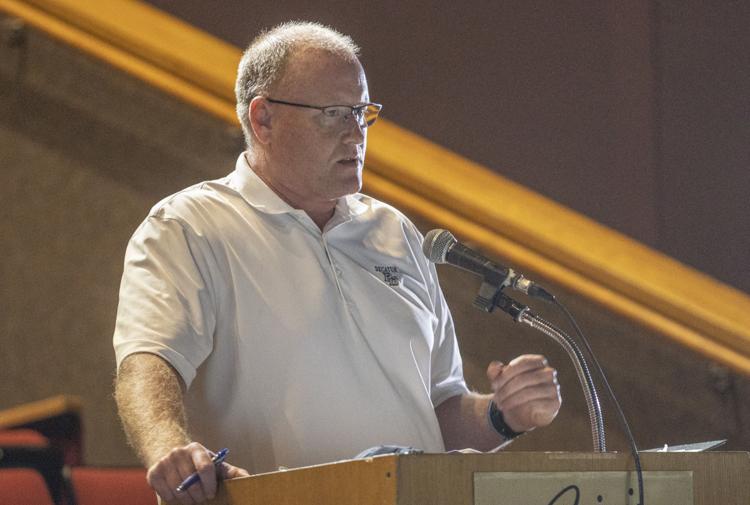 "We have used our community action team — this is a group of officers trained above and beyond what our normal officers are trained to do," said Getz, addressing a wide-ranging Monday evening city council study session that looked at increased violent crime and the issues of police training, recruitment and tactics among other topics.
Getz said these specialist officers gather intelligence and tips and target known trouble spots and known trouble-makers, especially those operating in violent gangs.
"... We are not just going out and randomly picking on people," the chief said. "We know who the shooters are, we know who the gangs are, and we are going to focus on those folks until they put their guns down."
A Herald & Review analysis of recent sworn police affidavits involving arrests where weapons and illegal drugs were seized bears out what Getz said. Police have high-crime areas and key suspects under surveillance and are ready to move quickly when they see crime happening, hear gunshots or believe trouble is about to start.
But it's only one of many approaches Getz outlined to council members. He said he had tried reaching out through community contacts for a gang cease fire and plans were underway to fund a weapons buy-back program to get more guns off the streets. 
Advanced technology is another weapon the police are trying out. A briefing document prepared for Monday's meeting by Getz and City Manager, Scot Wrigthton, said the city will begin "deployment of surveillance camera equipment in selected neighborhoods" in 2021 to see if such gear is effective in reducing crime. Getz told the councilors "you are going to cut your crime rate with the widespread deployment of such cameras." 
The briefing document said police are also monitoring the effectiveness of "Shot-Spotter" technology to track and pinpoint sources of gunfire.
"It is extremely expensive and its track-record so far in directly preventing gun violence is unconvincing," said the document.
"But we will continue to monitor the use of 'shot-spotter' technology as it is deployed elsewhere."
And council members were told surveillance technology now cuts both ways to assure police accountability, too. Getz outlined the deployment of "officer-worn-cameras" along with new high-definition in-car cameras that will give a more independent and detailed record of what happens in citizen-police encounters of all kinds.
The briefing document for Monday's study session said Illinois has passed laws giving widespread public access to the footage produced by police body cameras. "Effectively, this means that the local police department has very little discretion in deciding those situations where OWC videos can or cannot be released to the public…" the document adds.
Getz and Wrighton also say that as well as having their actions monitored, Decatur Police officers are undergoing rigorous training to help them do the right thing in all situations. Right now, officers receive 560 hours of training at the Macon County Law Enforcement Training Center in Decatur. And since 2017, the department has provided more than 95,000 hours of training in some 2,660 training opportunities given to serving officers.
There has been an emphasis on "de-escalation training" to try to avoid the use of force in difficult situations. And by the end of this year or early in 2021, the document authored by Getz and Wrighton said officers will receive new tactical training to help them control suspects who try to fight or resist arrest, the idea being better training reduces the need to resort to a "higher levels of force" in making arrests.
As federal moves continue towards what Getz and Wrighton describe as rising standards for law enforcement conduct, both said the Decatur Police Department is already well prepared and getting better.
"Whatever the new transparency and accreditation standards look like, we believe the DPD will compare with them favorably," the document assured councilors.
Nationally, scrutiny of law enforcement has increased in the wake of police shootings of George Floyd in Minneapolis and Jacob Blake in Kenosha, Wisconsin, prompting calls for defunding. 
The work of Getz was praised by Jeanelle Norman, Decatur NAACP president, who also spoke at Monday's meeting. She suggested another step forward, however, would be having officers live in high-crime neighborhoods, but Getz wasn't so sure about that one. 
The chief said he has heard similar ideas work well in some cities and not so well in others. He said the police get a lot of threats and cited one example of a recently arrested attempted murder suspect with surveillance video  identifying officers private vehicles on his cell phone. 
"I don't think you would have any officers who would be willing to do it," he said of the neighborhood housing idea. "Not with the threats made towards officers and just the hatred towards the police right now." 
---
---
Recognize these Decatur places? Take our aerial photo quiz
Contact Tony Reid at (217) 421-7977. Follow him on Twitter: @TonyJReid
Sign up for our Crime & Courts newsletter
Get the latest in local public safety news with this weekly email.