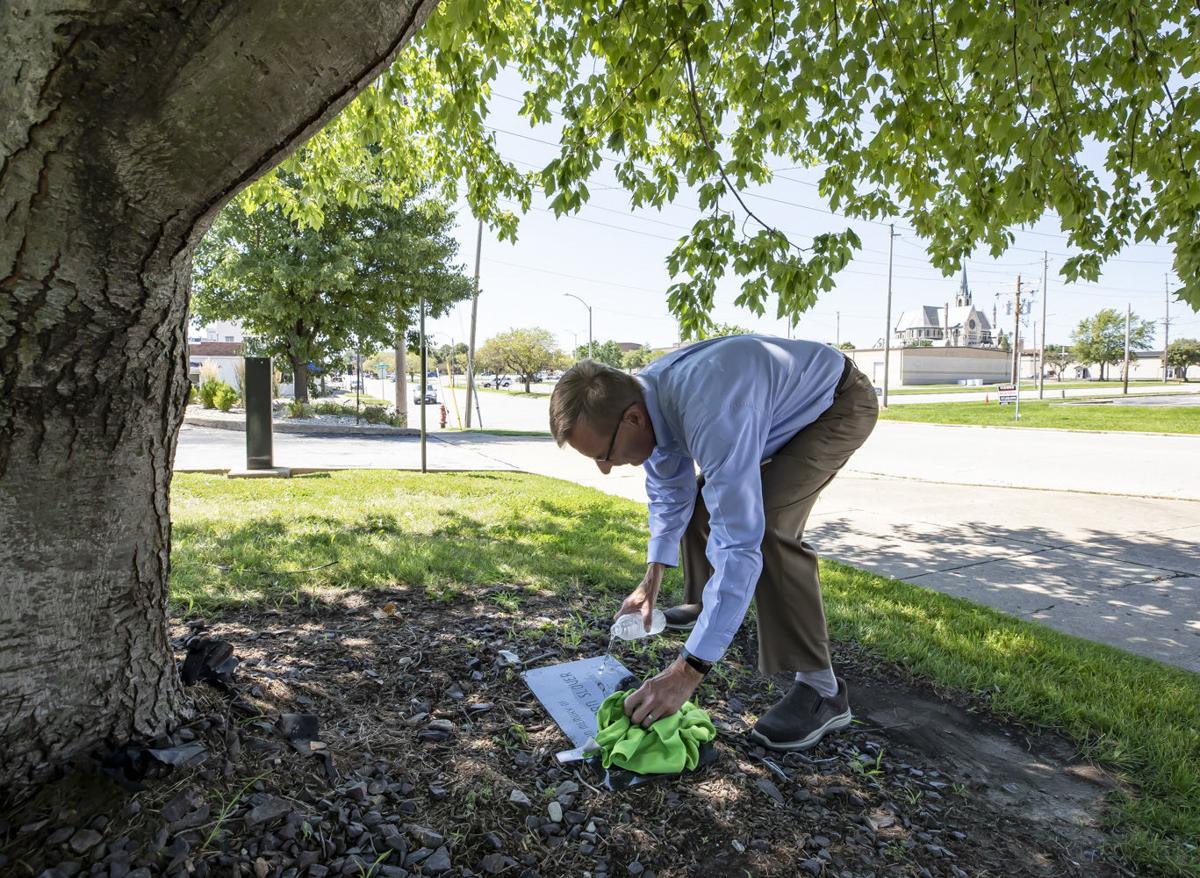 As editor of the Decatur Herald & Review, George Althoff had covered many crime stories, but never one like the murder of 23-year-old Karyn Hearn Slover.
"This one was different," he said. "She was one of our own."
Slover was a Herald & Review advertising representative, and Althoff faced the challenge of directing coverage of a murder victim known and adored by everyone in the newsroom. His recollections about the case are part of Oxygen's "One Deadly Mistake," which airs at 6 p.m. Saturday. 
Footage taped at the time showed Althoff walking down the steps from the newspaper front doors to the parking lot; that was the route Slover took on the evening of Sept. 27, 1996, the last time her friends saw her. She was going to pick up her then 3-year-old son, Kolten, who was being looked after at the home of Michael Slover Sr. and Jeannette Slover, the parents of her former husband, Michael Slover Jr.
Her dismembered body was found dumped in garbage bags two days later in Lake Shelbyville. She had been killed by being shot seven times in the head.
After a lengthy police investigation, her former husband and his parents were charged with her death and convicted in May 2002. Michael Slover Sr. and Michael Slover Jr. were both sentenced to 65 years in prison; Jeannette Slover was handed a 60-year sentence. The convicted Slover family members continue to maintain their innocence.
Although Karyn Slover worked in advertising, Althoff said most of the newspaper's employees knew each other thanks to an open office that encouraged people to mingle between departments.
He said she had signed with a modeling agency shortly before her disappearance and was excited about the opportunity and how it could lead to a better life for herself and her son.
"I knew her professionally," Althoff said. "She was very outgoing."
It was Althoff's task to lead a newsroom that was grieving yet still had a monumental story to report. The challenge was compounded by the fact that a Herald & Review employee was one of the initial suspects (he was later cleared).
Despite the personal connections, Althoff said his reporting team handled the story with "a high level of professionalism — excellent, detailed coverage."
The story attracted both state and national attention. Althoff said the investigation involved "very intriguing cutting-edge forensics work," including one of the first cases in which police examined dog DNA.
The case was still unsolved when Althoff was promoted to his publisher position in Winona, Minnesota, in 1997. He never lost interest in the story and stayed in contact with reporters in Decatur to monitor developments.
"There was a time when people thought nobody would be brought to justice," he said.
Althoff said local law enforcement never gave up. He credited "great police work" that traced a piece of broken concrete to the killers. 
Althoff said the return visit to Decatur brought back a lot of memories.
"She was a very personable lady," Althoff said. "Everybody in the workplace loved Karyn."
Tony Reid contributed to this story.
---
A gallery of Decatur-area photos from the past