DECATUR — Mary Anne Tirpak dreamed of being a writer.
But the fate of the 21-year-old Decatur student with the ready smile and good grades was to be at the center of her own murder mystery story that remains unresolved almost four decades later.
The body of the Millikin University senior had been found in an abandoned house in the 1100 block of East Marietta Street on Aug. 22, 1981, by a police officer pursuing a suspect in an unrelated matter. The theory of Decatur police detectives at the time was that Tirpak had been killed in the college's former Richards Treat University Center before being found where her body was dumped. She had been bludgeoned to death and had a fractured skull.  
Richards Treat had been the last place she was seen alive on the night of Aug. 7, watching cartoons on cable television in a basement recreation area.
Her death had been sensational news at the time, cracking the secure world of a private school and allowing the worst of all nightmares to pour in for both students, and their parents. Public interest was intense. When a judge at a preliminary hearing for the man accused of killing the student was asked by the defense to close the proceedings to the public, several TV and radio stations objected, along with this newspaper, and the public's right to know won the day.
Fast forward to 2018, and the Mary Tirpak case hasn't been front page news for a long, long time. But on the 37th anniversary of her brutal death this month, the Herald & Review looks back.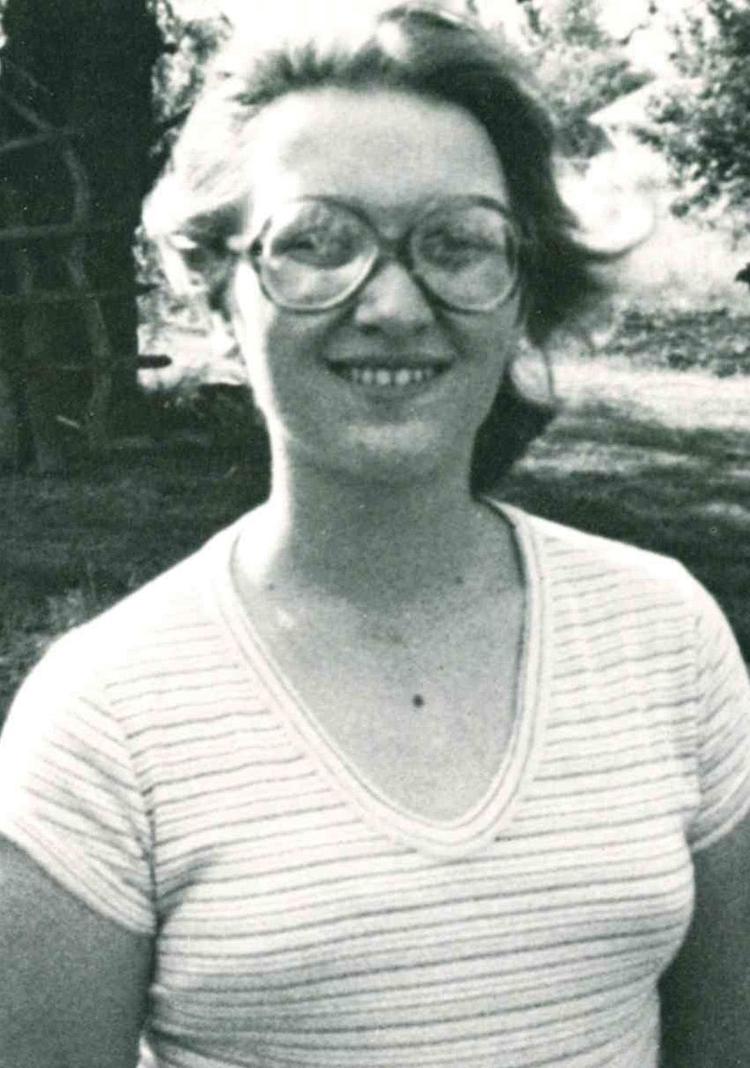 Case never closed
Decatur police have never forgotten Mary Tirpak, and keep trying to solve her slaying. Their latest major effort came as recently as 2010 when officers brought modern forensic science to bear with a re-examination of the suspected death scene at Richards Treat (since demolished).
The effort didn't find anything, although Detective Sgt. Chris Copeland, who was not part of the original investigation, said it wasn't as much of a long shot as it might appear. "Oh, it was possible for trace evidence to still be there -- even after that long," he said.
Police even tried to locate the murder suspect's vehicle so they could reprocess it for clues, perhaps an even longer shot, but "could not locate it anywhere."
That suspect, Armstead Green III, had been a janitor at Millikin and had never ceased in proclaiming his innocence. He had worked at the Richards Treat building and had been seen close to where Tirpak was watching television. Green, then 32, was even seen cleaning the floor in that area at 4:30 a.m. the morning after the student vanished, telling police he had returned to finish cleaning chores he'd missed on his previous shift.
Suspect hairs had been found in his car and an eyewitness, Steven L. Bond, had later told police he had seen Green carrying a body into the East Marietta Street house.
Green had been arrested and charged with Tirpak's murder by Aug. 27, 1981. "They had some pretty significant circumstantial evidence and, through further investigation, they were able to shore up the case," said Copeland, who has been rereading the police files. "And then, before it was able to be presented for prosecution, it kind of started falling apart."
At preliminary hearing for Green on Oct. 29, Macon County Circuit Court Judge Donald W. Morthland heard the hair evidence could not be identified as an exact match for Tirpak. No witnesses could place a still alive Tirpak and Green together and the advanced state of decomposition of Tirpak's body had made the gathering of other evidence difficult.
Morthland ruled there was probable cause to believe Tirpak's death was a crime but added "there was no probable cause established that Green Committed the offense," in the words of then Herald & Review crime reporter, Judy Tatham. A jubilant Green was released from custody and walked out of the courtroom a free man. It's understood he has since moved out of the area and efforts to reach him for comment for this story were unsuccessful.

The only man who did serve any prison time in the case was Steven L. Bond, then 22, the witness who told detectives he had seen Green carrying a body into the house where Tirpak was found in the basement, hidden under a mattress. Bond had never been called as a witness at the preliminary hearing, however, and was arrested the following day after retracting his statement, claiming it was a "pack of lies."
Bond pleaded not guilty to obstruction of justice and was tried in January 1982. Detectives told the jury they knew Bond had had been spoken to by Green's family members, one of them a convicted killer, and they believe he was frightened into retracting his evidence.
In a shock move, Bond rejected the advice of his attorney and, interrupting his trial on the second day, entered a plea of guilty. He was sentenced to 18 months in prison.
You have free articles remaining.
Copeland said all that had been a tough break for police and the prosecution. But with or without Bond's testimony, he believed the results of the Tirpak case might be very different if the tragedy had happened today.
"I think we would be in a better position to have actually solved it and gotten a conviction," he said. "And that's because of the advances in forensic technology."
Looking back 
It's an opinion shared by the man in charge of the case at the time, former Decatur Police Chief Patrick Vaughan. He's convinced police investigations were on the right track to begin with, but forensic science in the early days of Ronald Reagan's first presidential term couldn't deliver the goods to back up the case -- police at one stage even exhuming Tirpak's body to try and gather more evidence.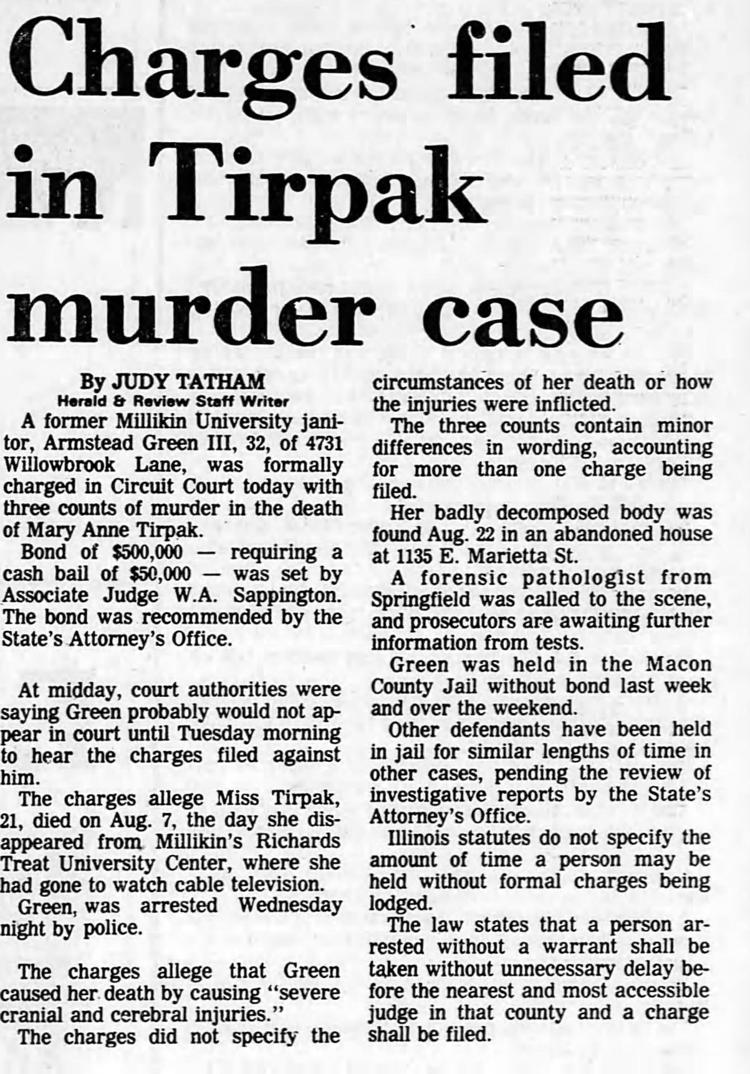 "Yes, with the amazing advancements in areas like DNA analysis we have now, we would have been in a better position," said Vaughan, 79. He said some luck wouldn't have hurt, either. "You always have to have a little bit of help and a few breaks as you go in these cases," he added. "And we just didn't get them on this one."
He said there are always crimes that stay with you as a policeman, and Tirpak's murder was one of them. He said people often ask him about the external public pressure to get results in such cases, but he said police know what is at stake and feel their own keen sense of urgency. "The loss of such a lovely young girl," he said. "Yeah, we generate our own pressure to get those things resolved."
And when it can't be resolved, there is only the memory left to cherish of a bright soul whose name still echoes down Millikin University's halls with the Mary Anne Tirpak Memorial Scholarship, created in her honor.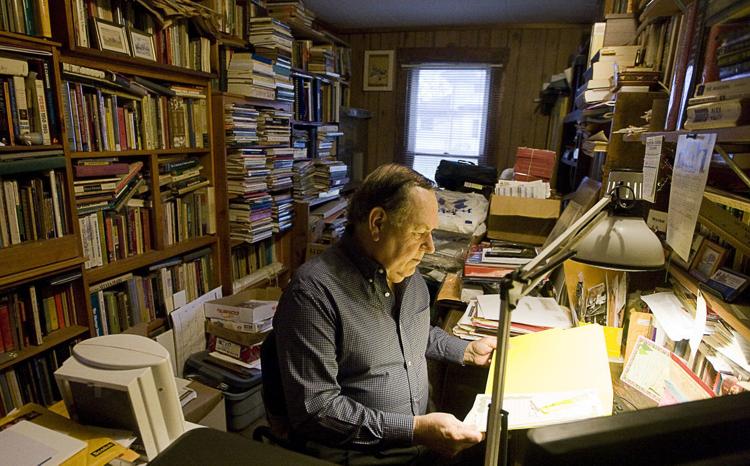 Millikin spokesman Dane Lisser said it awards undergraduate students who are majoring in English, music (another Tirpak passion) or some field in the fine arts. Retired professor Dan Guillory, a prolific author and former chairman of Millikin's English Department, remembers Tirpak fondly.
"She was just this very buoyant and sweet person, and she was in fact taking a creative writing course with me the summer she disappeared," he said, the memories flowing back. "I remember both Mary and her brother, Michael, I guess they were what you would today call 'geeks': very studious, very conscientious and very committed to their work, exactly the kind of students you want to cultivate."
Brother and sister
Michael C. Tirpak was born a year before his sister and was majoring in art at Millikin a year ahead of her. He said it's never easy for family to talk about the savage death of a loved one, and his 89-year-old mother, Mary Joan Tirpak, doesn't want to resurrect painful memories by reliving them today (Michael G.Tirpak, his father, died in 2005 at the age of 84.)
But the brother who loved his sister does want the world to remember who she was, and what happened to her, and mark the loss of a valuable human being. He recalls the creative girl who loved Disney and Hanna-Barbera cartoon characters and was clever enough to write her own compelling fanfiction about them.
"And she wrote her own songs, she wrote poetry, she played guitar and she was a writer and musician and she hoped to write children's books," said Tirpak, 59.
"Brothers always have a sort of brotherly way of treating their sister but now I wish, especially in our college years when we were maturing and should have known better, I always wish I could have shown my appreciation for her. I wish I could have shown my gratitude for her and treated her more tenderly."
But there are plenty of good memories, too, although always with the knowledge of that final darkness that snuffed out the light of a beautiful person and changed her family's view of the world forever. Tirpak likens it to the mass awakening to the horror of terrorism the nation suffered on Sept. 11, 2001.
"The Tirpak family experienced our 9/11 20 years earlier," he said.
"What happened to my sister didn't completely change the way we live, we didn't board up our house or shoot trespassers or anything but, for the first time in our lives, we became conscious that bad things don't always happen to the other guy and that, sometimes, you are the other guy."
---