DECATUR — A requirement to show ID when purchasing particular items is not a new concept.
But for years, an opioid prescription could be picked up from a pharmacist without ever having to show one, a loophole that U.S. Rep. Rodney Davis, R-Taylorville, hopes to close with new legislation.
Davis, flanked by local law enforcement, health care and elected officials, unveiled the plan during a stop Monday afternoon at the Macon County Law Enforcement Center. The proposed legislation would require those picking up an opioid prescription to show identification to the pharmacist, who would then enter it into a log. That will make it easier for law enforcement to track those who abuse the system, Davis said.
"For me, this is common sense: If you're going to pick up an opioid prescription, which we know is a highly addictive drug that is a huge problem in our country, then you shouldn't have any problem showing your ID," Davis said.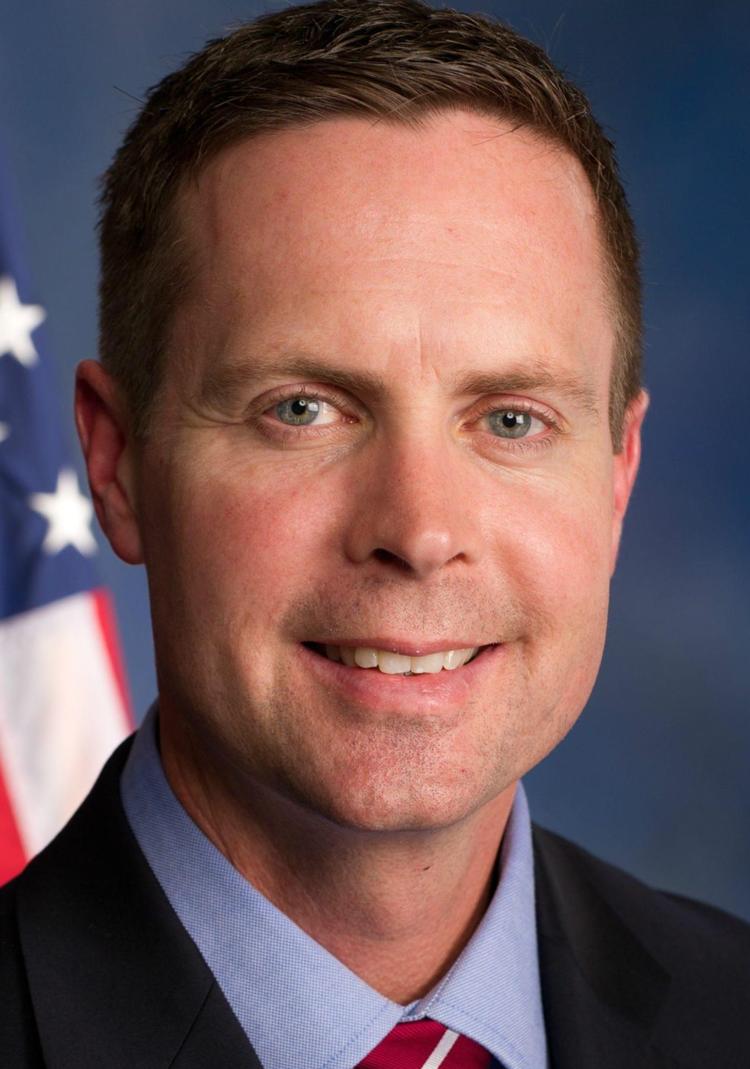 Those picking up opioid prescriptions lawfully, including family members, will have no problems under the bill, Davis said. He compared it to the current requirements to buy medication containing pseudoephedrine, which were implemented in 2005 to fight methamphetamine production.
The idea for the legislation came from conversations Davis had with the Normal Police Department, when he was told about a situation last summer in which several shoppers from Chicago were able to pick up more than 300 opioid pills at several Walgreens in the Bloomington-Normal area.
"Pharmacy shopping," as the illegal practice is called, describes when people take the same prescription for opioids to multiple pharmacies and fill it repeatedly.
The proposed legislation is an effort to deter the practice and give law enforcement more information on those abusing the system.
You have free articles remaining.
Law enforcement officials such as Macon County sheriff's Lt. Kristopher Thompson praised the proposal, saying Monday that drugs like heroin, fentanyl and opioids are like a "serial killer" taking the lives of residents.
"This bill is a proactive measure that will deter illegal narcotic use and distribution," Thompson said.
A report released last week by the Centers for Disease Control and Prevention showed the opioid crisis has only worsened, especially in the Midwest. A 70 percent increase was documented last year in the number of hospitalizations due to opioid overdoses. Illinois saw a 66 percent increase last year in emergency room visits due to overdoses.
Numbers for Macon County were not available, according to the Macon County Health Department.
The legislation is part of the multifaceted ways to handle the opioid epidemic, said Jill Crum, director of behavioral health at HSHS St. Mary's Hospital.
Along with legislation, Crum said it is vital for those suffering from addiction to know there is help available and to understand there is no stereotype attached to those who need help.
But Monday's announcement was a step toward making sure that opioids stay in the hands of those who have been prescribed them by medical professionals, Crum said.
"We must do everything we can to keep opioids in the hands of those who they are prescribed to," she said.