DECATUR — While next year's Decatur city budget does not propose any tax increases, several businesses are set to see fee increases for their licenses.
The Decatur City Council approved a budget Monday that projects $67.1 million of expenditures in the general fund, with $67.5 million in expected revenue.
The total budget, including debt funds and categories outside the general fund, is nearly $173 million. The current year's budget totals $160 million.
But while the balanced budget earned some praise by council members, there was no excitement from them or those in attendance about the numerous fee increases that will also go into effect as of Jan. 1.
Among the changes was a $200 rise in the liquor license, which will go from $2,000 to $2,200 after being approved by a 5-2 vote. Councilmen Bill Faber and Pat McDaniel voted 'no'. The increase was slightly down from the initial proposed increase to $2,550, a number that council members such as Chris Funk resisted.
"I don't like it, and I'm struggling with it … but I think considering inflation and wages and everything else has gone up exponentially, I think I can support a 10 percent increase," said Funk, noting the changes that have occurred since the license cost was last amended in 2002.
The fee does not apply to Class N, P or F liquor licenses.
The video gaming terminal fee was also reduced from its initial proposal. The council approved a plan by a 6-1 vote to raise the fee from $20 per terminal to $250. The original proposal presented to the council was to raise the fee to $380 per terminal. Faber was the lone 'no' vote.
After hearing from several business owners about the financial pain that would be caused by the fee increases, McDaniel suggested the council go to $250 per terminal as a way to alleviate some stress on owners while also allowing city to cover costs related to issuing licenses.
There was no change to the proposed fee increase for "amusement devices," which includes items as varied as pool tables, shuffleboard and electronic amusement devices, not including video gaming machines. The council voted 5-2 to change the fee to $40 per machine, up from the original $20 per machine. Funk and McDaniel were the two "no" votes.
The original fee structure also included a discount for locations with more than 25 machines, as every machine after 25 was only $15 each. The new fee would be $40 per machines with no exception.
Other fee changes includes a new $400 one for hotels; a fee for sign hangers went from $30 to $75; a fee for "vehicles for hire" went to a flat fee of $100 per vehicle, up from a fee that charged $100 for one to three vehicles, with $50 for each additional vehicle; "vehicle for hire" driver licenses went from $25 to $80; a mobile home park license fee went to $450, up from $100 plus $1 for every mobile home lot in the park; an ambulance fee went to a flat fee of $400, up from $100 plus $15 for each medical transport vehicle; a construction and excavation in streets fee went from $30 to $75; and a fireworks permit fee rose from $25 to $300.
A proposal to increase fees for second-hand stores, auction houses and rummage rooms from $50 to $425 was rejected by a 3-4 vote.
The council tabled a fee increase for "places of amusement" after members expressed confusion on what constitutes such an establishment. The fee would have been increased from $100 to $550.
Business owners addressed the council throughout the meeting, asking them to reconsider some of the fee increases. They said that raising several fees at once, specifically those related to liquor and video poker, would immediately damage their ability to turn a profit.
"This is a triple whammy," said Kim Miller, owner of the Bourbon Barrel of the several fees that would affect her business.
Others, such as Karen Hawkins, owner of Bizou, suggested the board look at other ways to raise the money rather than increase fees on the businesses that hold the 182 liquor licenses distributed in the city.
"It is unfair to impose an additional financial burden on just 182 residents of the city of Decatur," she said, suggesting they rather implement smaller fee increases on a larger group such as those who have dog licenses.
City Manager Tim Gleason said after the meeting that the sole goal of the fee increases was to help cover the costs related to issuing licenses or permits.
"This is not meant as a revenue generator," he said.
Public Works director Rick Marley described the necessary work and the rate increase necessary to cover the work.
The city would need to increase the sewer rate each year until 2023, with the rate going from $.94 per 100 cubic feet, or about 750 gallons, this year to to $1.59 per 100 cubic feet in 2023. The rate is expected to increase by 15.96 percent in 2017, with another 13.76 percent increase in 2018. The increase would then reduce each subsequent year until its a 2.5 percent increase in 2022 and 2023.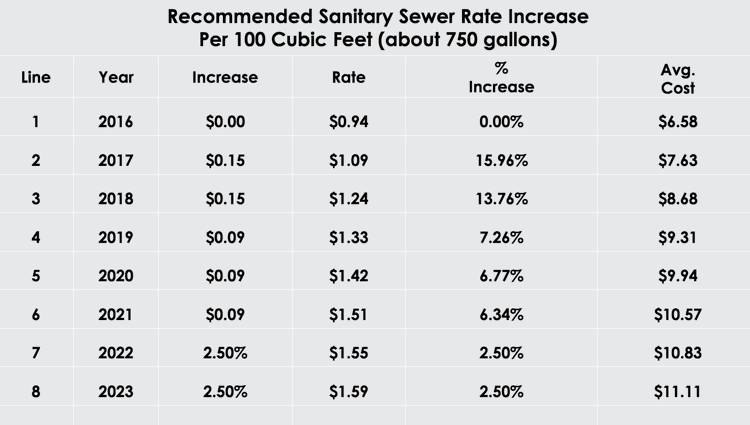 While the average cost for households is only expected to increase by about $4.53 during this time, Mayor Julie Moore Wolfe said the rate would impact businesses, restaurants and larger companies that use more water.
Per an agreement with the EPA, the city must take steps to address sewer issues such as increasing sewer cleaning and de-rooting, reducing basement backups for residents and eliminating inflow connections. Known problems and deferred maintenance are expected to cost the city upwards of $70 million, Marley said.
But with a federal agency involved, officials said the city doesn't have much say in the matter.
"We have to play bad guys, but we also have a federal judge with a mallet behind our head," McDaniel said of the increase.
Gleason said the rate increases will come before the board at its next meeting on Dec. 5.