DECATUR — Though Pattie Hayes, 62, has lived in Decatur her entire life, Saturday was her first time attending an event to mark Kwanzaa, the holiday that celebrates African-American culture.  
"I'm hoping a learn a little more history about things I don't know," said Hayes, who is African-American. "I thought this would be good exposure. It is always good to know your history."
Organizer Ada Owens has been involved with the local Kwanzaa celebration for 10 years. Each year, Owens said, she is introduced to people who have never attended the annual festival.
"They come and visit and learn about Kwanzaa," she said. "The group dynamic has changed. It is more diverse."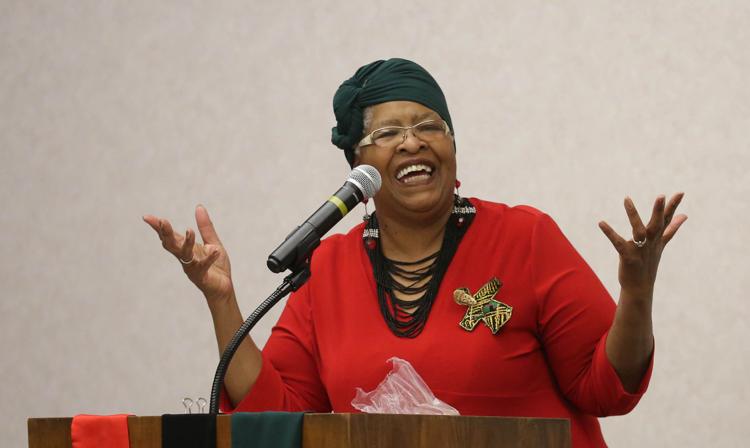 After the ceremony, Hayes said she enjoyed hearing about the holiday's focus on unity. "It's not just about African-Americans, but everybody," she said.
Owens said the principle or the heart of Kwanzaa can be applied to any group. "We don't discriminate," she said.
Maulana Karenga, professor of Africana Studies at California State University-Long Beach, created Kwanzaa in 1966 to celebrate African culture.
It draws its name from the Swahili phrase, "matunda ya kwanza," which means "first fruits." The observance began Wednesday, Dec. 26, and continues through Tuesday, Jan. 1.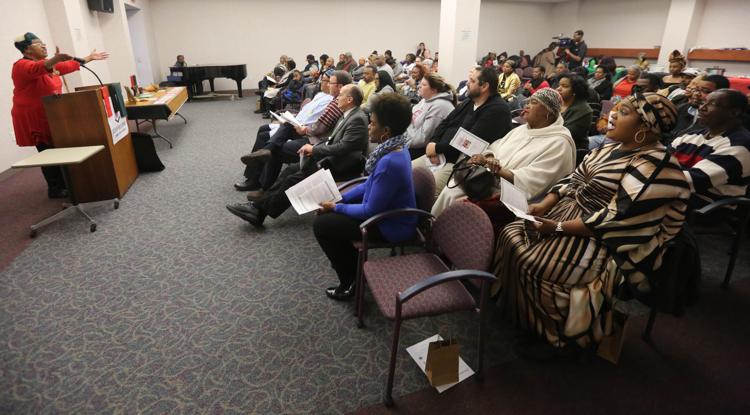 Evenlyn Hood, founder of the African-American Cultural and Genealogical Society, said Kwanzaa is not a religious observance and does not replace Christmas. The celebration honors African cultures of family and recognizes seven principles including unity, self-determination, collective work and responsibility, cooperative economics, purpose, creativity and faith.
Owens invited Carmeka Coe, a registered nurse and a nurse practitioner, as guest speaker for the celebration. Coe, 43, spoke about the health concerns for the African-American community. "We can pull together and maybe overcome some of those problems," she said.
Along with Coe's speech, the ceremony had music, prayer, poems and an introduction of the seven principles of Kwanzaa. Guests tested various foods for the remainder of the afternoon.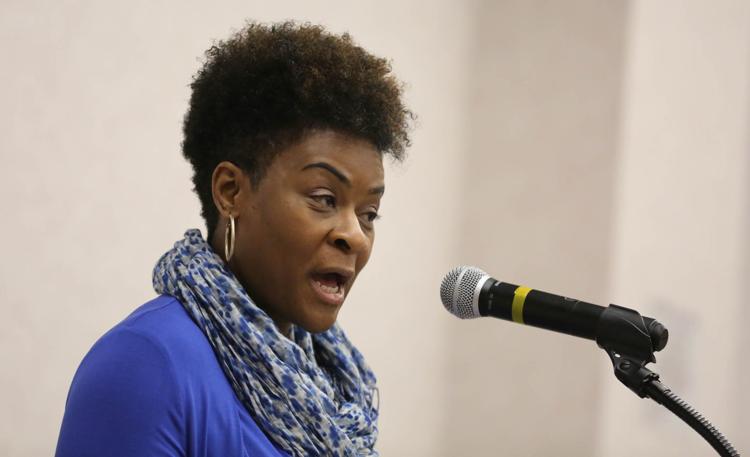 Anthony Davis, 28, played piano throughout the event. His grandmother brought him to Kwanzaa events when he was a child. "But I can't remember much about it," he said. "I know it is an African-American celebration, but that's really all."
Davis remembered the music, since that has always been his focus in life. "And there was food, but there's always food," he said.
After Saturday's ceremony, Davis said he remembered some of what was taught from his childhood. He was able to echo some of the principles, such as unity and self-determination. "That is something we have been trying to do," he said. "The things they were saying, it confirmed a lot of stuff about faith."
Throughout her years as a member of the board that organizes Decatur's Kwanzaa event, Owens said she has witnessed the slow progress of a strong African-American center.
"We are to build a community and be participants, a community that is inclusive, if we can get people to just move," Owen said. "But I'm patient."