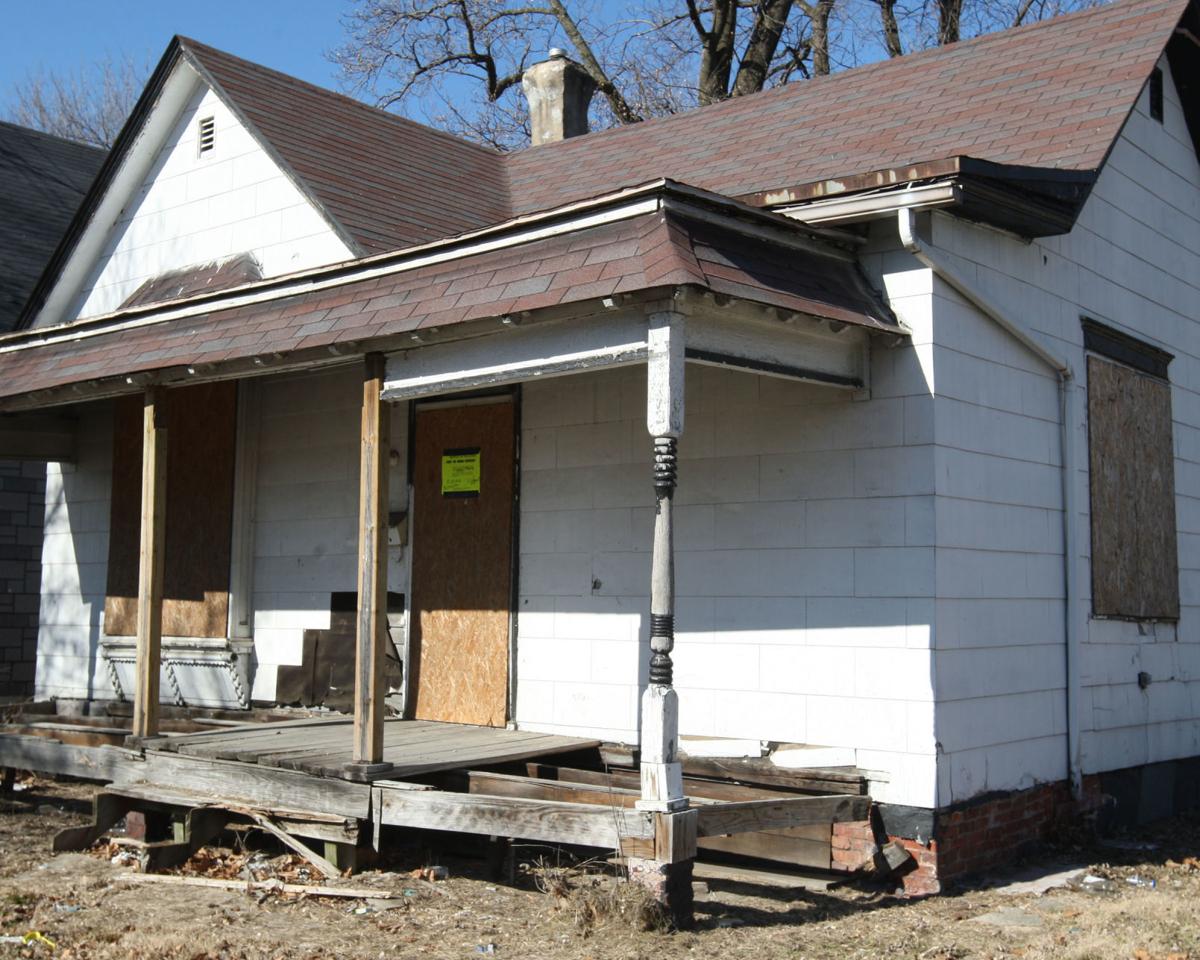 DECATUR — City council members on Monday moved to tear down 24 vacant properties on the city's demolition list, a major component of ongoing efforts to revitalize core neighborhoods. 
The batch of houses was recently put to bid in three groups after clearing legal and environmental reviews, according to a city document. The groups were bid on an individual property basis and as groups with potential savings. One of the houses, 1372 E. Condit St., was first identified as unsafe 10 years ago. 
"It is so hard to keep up with the growing demolition list," Mayor Julie Moore Wolfe said. "But after years of not being able to do much because of a lack of funding, it is exciting that we have been able to accomplish more this year." 
City leaders have said newly available funding, including state grant money and a $2 million donation from the private foundation of former Macon County Sheriff Howard G. Buffett, have allowed them to move faster to tear down the homes. The average cost to demolish a property is $15,000. 
Deputy City Manager Jon Kindseth said the city has successfully completed 26 demolition cases this year, and more are planned for November.
Hutchins Excavating will demolish 22 of the properties for $227,832. Anderson Backhoe Service, a minority contractor, will demolish two properties for $20,150. The total savings from all of the bids combined is $17,111. Six of the houses do not require asbestos removal, which is one of the most costly aspects of demolishing properties. The remaining houses will require asbestos abatement.
Councilman David Horn said while the progress is exciting, the demolition list continues to grow and the council should keep in mind how to handle this when they discuss neighborhood revitalization. 
"Even if we were to complete 50 demolitions by the end of this year, the number on our list will be higher at the end because there are 237 properties declared as unfit for human habitation, and we've boarded up 128 houses," Horn said. 
Councilman Chuck Kuhle said the progress this year was not possible in the past because of a lack of funding. 
City records show that four properties were demolished in 2018, 10 in 2017, 1 in 2016 and 15 in 2015. 
"Tearing these homes down is a positive thing," Kuhle said. "It has been a long time since we've done this many houses in one year." 
Brush College Road project
The city continues to move forward with the extensive Brush College Road improvement project that would carry traffic over Faries Parkway and adjacent Norfolk Southern Railway tracks.
Council members on Monday voted unanimously on three resolutions regarding land acquisition for the project. Properties at 1940 N. Brush College Rd., 3925 E. Faries Parkway and a vacant lot to its immediate west were approved for purchase at a cost of $450,000 total. Funding would come from state motor fuel tax proceeds, officials said. The money would also cover finding new buildings for the current owners.
The expenditure would be reimbursed in full by a State of Illinois Jobs Now! Grant awarded to the city in June 2018 by the Illinois Department of Transportation, according to city documents.  The money comes from the Illinois Competitive Freight Program.
"We plan to purchase more properties for the project in the future," Kindseth said.
The full scope of the Brush College Road project includes multiple components: the overpass at Faries Parkway; an overpass just a few blocks south to take vehicles over a Norfolk Southern-owned rail yard; and a state project to widen the intersection with East William Street Road and expand Brush College Road from two lanes to four lanes, officials have said.
The current phase of work is estimated to cost about $40 million, while officials previously put the cost of the full project at more than $80 million. 
The city is currently working with the Illinois Commerce Commission to gain final approval for $12 million in Grade Crossing Protection funds, according to a city document. 
The council has also approved several other city projects that will use state motor fuel tax funds, which Public Works Director Matt Newell said would increase this year after the gas tax increase in July. Newell previously said the city normally receives around $2 million and could see an increase of more than 60% this year.
In other business, the council also approved 7-0 to purchase three new 2020 Ford Interceptor utility vehicles for the Decatur Fire Department which would replace four 2008 Chevrolet Trailblazers. The three vehicles cost the city a total of $152,310 and they would be delivered in 120 days. 
The purchases of new machinery to fix potholes were also approved by the council in a 7-0 vote. A 2019 P2 DuraPatcher which costs $64,279 and a DuraPatcher T1 Emulsion Transport Trailer which costs $24,984 will be used for maintenance repairs that bond with existing pavement surfaces and last considerably longer that the city's current street patching methods, according to a city document. 
Also in a unanimous vote, council members approved two resolutions regarding tree removal. JT's Tree Service will remove dead and dying trees on streets and boulevards throughout the city. According to a city document, the trees were attacked by emerald ash  borer, an invasive species first found in Macon County in 2012. It will cost $96,520 to remove the dead trees. An additional expenditure of $139,000 was approved by the council to remove brush and trees along the William Street Road embankment on the south side adjacent to Lake Decatur, in drainage ditches on East Garfield and north of the former Firestone facility between 22nd and 27th streets. 
Contact Analisa Trofimuk at (217) 421-7985. Follow her on Twitter: @AnalisaTro
Get local news delivered to your inbox!
Subscribe to our Daily Headlines newsletter.