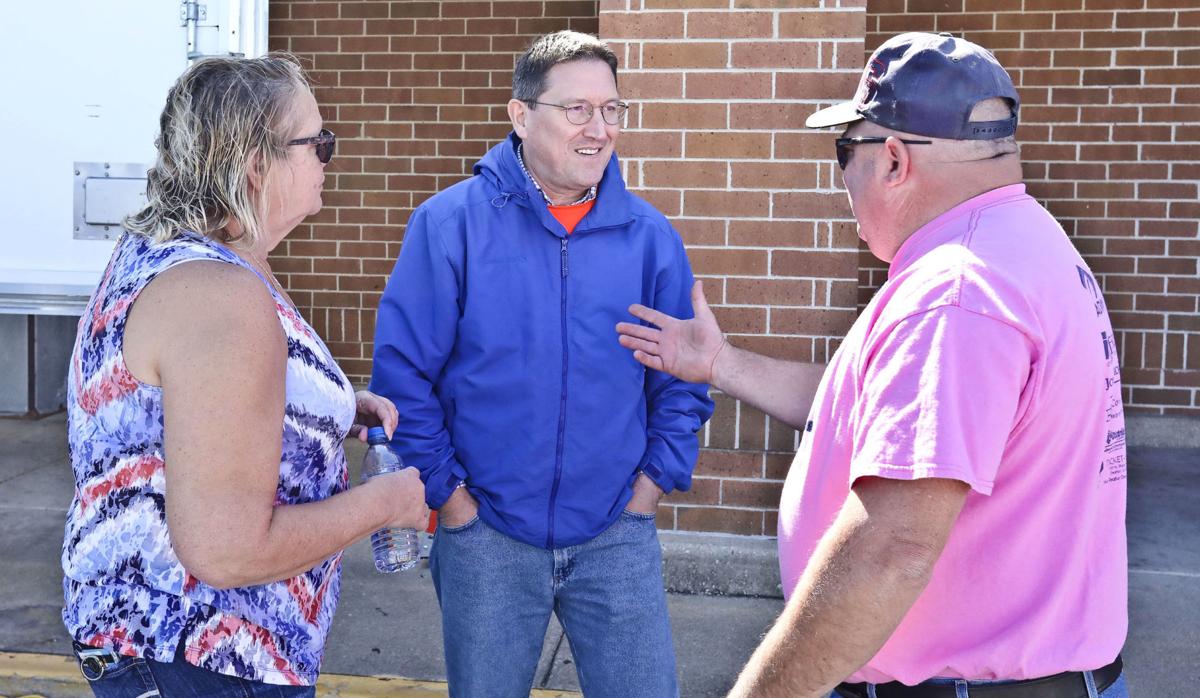 DECATUR — Brian Pierce, 55, was volunteering during the 2018 WSOY Community Food Drive, just as he had every year since it began. Emptying a minivan of boxes, he collapsed. It was a heart attack. 
"I don't remember a thing after that," he said. "The next thing I know, I woke up in an ambulance and had to have a surgery."
Brenda Burwell and Kenny Burns were also volunteering that day. They went into action. 
"He was not alive," Burwell said. 
Burwell was a nurse for 18 years, but is now a microbiologist at Tate & Lyle. Burns is a Long Creek firefighter. The two immediately began performing CPR.
The award recognizes a volunteer that showed exemplary service during the food drive, now in its 18th year. It's named after the owner of station owner Neuhoff Media who died in 2012.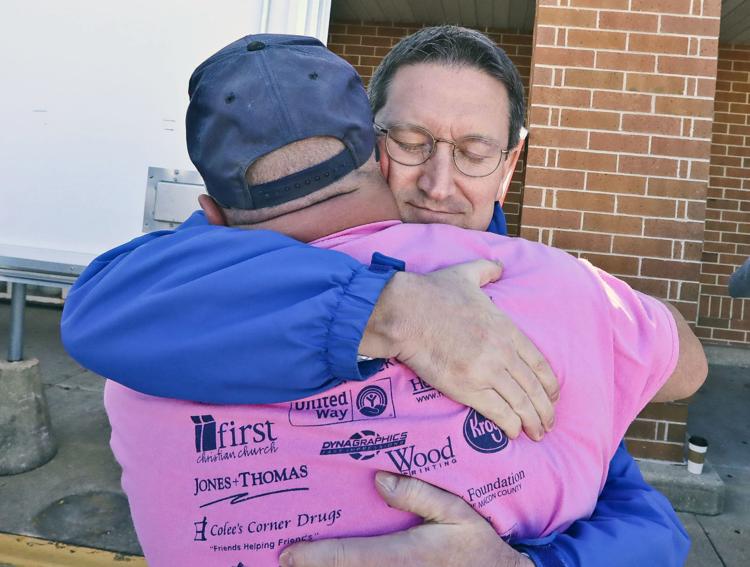 On Friday, each of the volunteers hugged Pierce. "I couldn't wait to see them," Pierce said. "I had never meet these people until today."
The fact that Pierce was there at all was something of a miracle. He had a heart attack in the left main artery and was told the area was 100 percent blocked. "The doctors only said that only 10 percent survive," Pierce said.
You have free articles remaining.
He believed he was in the best shape of his life. "Co-workers said that I was unusually sweaty," Pierce remembered. "But I didn't really notice."
Organizers of the event were unaware of the excitement going on in the parking lot of the Airport Plaza Kroger at the moment. 
That was a miracle as well. 
"He could have volunteered at any time," said Brian Byers, vice president of development at Neuhoff Media. "But he was there at that time. If he were at home alone, he would have died. It would have happened no matter what he would have been doing."
It was a life-changing experience on numerous levels. 
Pierce is employed with Consociate Health, a company that promotes health and wellness programs with other businesses.
"And one good thing we got out of all that happening is our management, they had us all take CPR lessons and we also have an AED defibrillator in our office," he said. "So it's good to know how to do CPR. You never know when it's going to come in handy."
Both Burns and Burwell were surprised by the attention and the award. "I told him, 'You look better than the last time I saw you,'" Burns said. "It's nice to be recognized, but that's not why we do it. We do it for the love of our brothers and sisters."
Pierce said he is doing well now. "I could be eating better, but I'm exercising every day," he said.
He returned to the food drive again this year, although he didn't do much lifting.
"Nobody wants me to," Pierce said. "They don't want to recreate last year."
Contact Donnette Beckett at (217) 421-6983. Follow her on Twitter: @donnettebHR