DECATUR — The future for some families is not always clear, especially for children with special needs.
A Decatur support group, Not Forgotten, brings families and educators together in a supportive environment providing resources for those with special needs, an opportunity share experiences, learn and enjoy time together. The group meets at 7 p.m. on the first Thursday of the month in Millikin University's Shilling Hall.
Trey Garver visits each month with his 11-year-old son, Jacob. Over the years, the family has made friends by attending the monthly meetings.
"Sometimes you get ideas, sometimes there's venting," he said. "They've informed us of the different resources in the community."
Although the parents welcome the social aspects of Not Forgotten, the kids seem to have the most fun. Jacob found a checkers challenger in Sky Chmiel during the most recent Not Forgotten pizza party.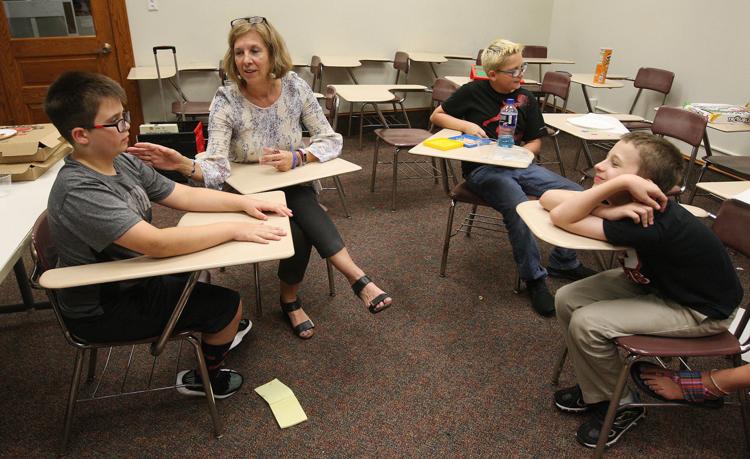 "I'm not good at checkers," Jacob said. "But I play at home."
Rebekah Harrelson founded Not Forgotten three years ago as a capstone project she undertook to complete her MBA at Millikin University.
"I brought the idea of having something for individuals with autism," she said.
Harrelson's son is autistic, and although she began the project with him in mind, the group soon expanded to include for children with other special needs, including Down syndrome, cerebral palsy and the hearing impaired.
"It is for any individual with exceptional needs," she said. "We just wanted anybody in the community to feel like they could come."
Each monthly meeting will have different activities, including speakers, workshops and getting out in the community. In the past, participants have visited the Children's Museum of Illinois and Fairview Park and hosted the Decatur Police Department. The holidays have had Santa Claus and a Thanksgiving dinner.
She spoke to the group about the individualized education program, or IEP, and the parents' role in their child's learning. An IEP is tailored to help each special needs child succeed in school.
"It is very informal," Horath said of meeting with Not Forgotten. "This organization builds up parent connectivity."
In addition to the families, Not Forgotten also brings together professionals, educators and students who contribute their expertise to the meetings. Attendance varies, and Harrelson estimated the largest number of families has reached 30.
No registration or fee is required, and Harrelson suggests families learn more about upcoming meetings from the group's Facebook page. Public awareness and determining the needs of families helped launch the group, she said.
"We knew there was a need," she said about special needs resources. "But we needed to get (the information) out to the community."
Millikin has provided facilitators and a sponsorship through marketing, printing, a venue and childcare, she said. During the adult meetings, students from the Millikin School of Education help the children have fun, Harrelson said.
Millikin senior Maggie Comerford volunteered to work with the children for the first time during the September meeting. Comerford is majoring in elementary education with a special education endorsement, and a professor suggested she volunteer.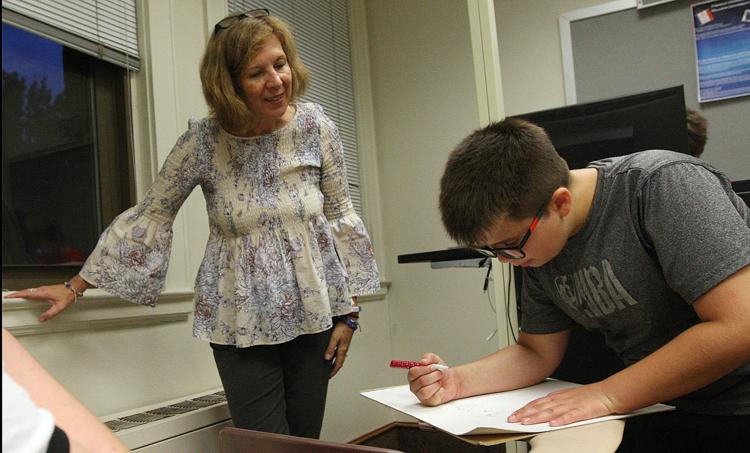 "I get pizza and get to play with the kids. It sounded like a good time, so why not?" Comerford said. "It's not like a structured environment. We let them be free and do what they want to do."
Since she will be working with families in similar situations, the event was ideal opportunity to gain more experience, she said.
"We don't get much exposure to special education classes, to learn the ins and outs and how special they are," Comerford said. "(At Not Forgotten) we get to see them in their environment, interacting with other kids."
The children's activities are geared toward their needs, according to Amy McLaughlin, a Not Forgotten board member, who said their Christmas party is a good example. The children play games and do activities, then approach Santa Claus when they are ready, with no waiting in a line.
"It is more relaxing and not so scary," McLaughlin said.
Although Not Forgotten allows the children to have a good time, the parents find a peace as well, reminded other families also understand their concerns and hopes.
"Parents can ask questions and work off of each other," McLaughlin said. "It really helps."
The professionals are often available after the meetings to answer questions from parents and caregivers. McLaughlin said the positive experience brings many families back each month.
"I'm one of them," she said. "I'm now on the board, because I knew what they were doing was important, and the kids seem to enjoy it."
Garver said his family appreciates the sense of community and the shared experiences of Not Forgotten.
"We are inclusive to other people with similar problems as well," he said. "They go through a lot of similar situations as far as getting help with schools and others."