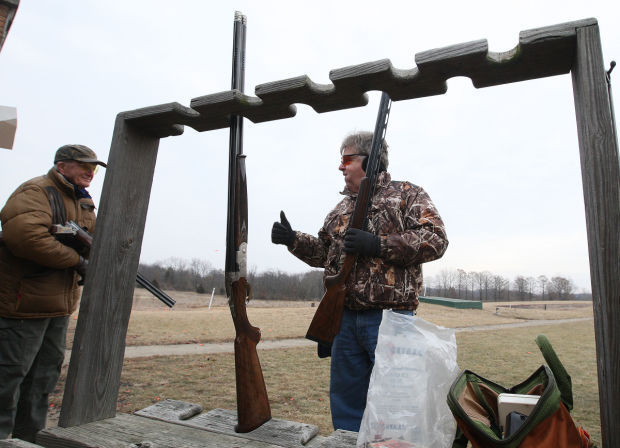 DECATUR — Some people like to blow off a little steam to start their new year on the right foot. Others like to blow off a box of shotgun shells for the same reason.
Wednesday afternoon at the 75-year-old Decatur Gun Club headquarters/clubhouse at the north end of Faries Park, dozens of local residents decided to celebrate New Year's Day with a little shooting. They gathered together next to the crackling fire, while pots filled with ham and beans simmered and coffee pots bubbled, discussing their hobby, their guns and the coming of a new year.
"People often come to the clubhouse on the weekend to do a little shooting and then just hang out here to socialize," said Tricia Harmon, the club's secretary and a member of its board of directors. "We do the Fun Shoot on New Year's Day because most people are off, and it's a good chance to reach out to any new people who are interested in checking us out for the first time."
You have free articles remaining.
The club, which boasts about 200 members, is steeped in local history. It has operated continuously since the 1890s, mostly in its current location. The building is reminiscent of an old family home, filled with photos, an antiquated soda machine and a grill for flipping cheeseburgers.
"I'm actually a relatively new shooter compared to most people, only in the last three years or so," Harmon said. "When I started dating my husband he got me into hunting and fishing and all that stuff, which led to skeet shooting. I was surprised how much I liked it. It's relaxing for me, but I enjoy watching my daughter and husband shoot even more."
The organization runs several skeet shooting leagues throughout the year and is about to begin its largest winter league. About 84 people will participate, spread through 12 teams that are separated into "American and National leagues," in the style of baseball.
Eventually the two best teams will meet in a "world series" of skeet shooting, but the prize is simply the opportunity to cook breakfast for everyone else. That's the kind of attitude the club radiates — simple, homespun and close-knit. Those who try it for the first time often find themselves hooked quickly.
"I started working here only two or three months ago and now I'm like addicted," said Cerro Gordo High School student Ben Breazeale. "I'm realizing it's not just a game but a way of life. It's more than a hobby to most of the people here. I think there's a deeper meaning to the guns, a connection to the old way of life, hunting and providing for yourself."