---
DECATUR — Phyllis Boey keeps the lawn in front of her two-story home well-maintained, with colorful flowers and freshly cut grass. Ornate metal butterflies and birds decorate the metal fence.
Standing in her yard, Boey's view to the west is of decaying, boarded-up houses. In the adjacent 400 block of West King Street are seven homes on the city of Decatur's demolition list — homes that have been deemed unsafe for people to live in and beyond repair. A sign on one nearby house reads, "House closed - drugs. Yours could be next."
"These houses need to come down," said Boey, who has lived in her North Edward Street home for 22 years. "They are awful to look at and send the wrong message about our neighborhood."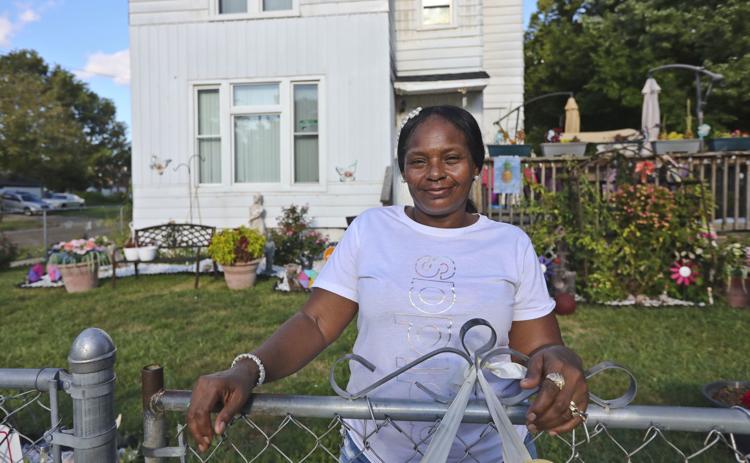 Nearly 200 vacant, dilapidated homes are on the city's demolition list, according to data obtained by the Herald & Review through a Freedom of Information Act request. The houses, often abandoned by absent owners, pose a threat to public safety, property values and quality of life, and have long been identified as a critical challenge by city leaders.
This year, newly available funding has spurred substantial progress, and officials are hopeful that a wide-ranging neighborhood revitalization effort will stem the tide. Twenty-six properties have been razed this year, nearly half of the 56 that have been demolished since 2015, city records show.
Still, the backlog is daunting, particularly considering the average cost to demolish a property is $15,000. Some have been waiting — and decaying — for as long as seven years.
"We've had one or two years where the city had to watch every dime and we were handcuffed by that," Mayor Julie Moore Wolfe said.
Decades of population and job losses led to abandoned homes in older residential neighborhoods that make up the city's core. Decatur isn't alone; vacancies nationwide spiked after the 2008 foreclosure crisis and the Great Recession. The number of vacant properties rose from 9.5 to 12 million between 2005 and 2010, according to a report from the Lincoln Institute of Land Policy. While the number has since dropped, there are still more unoccupied dwellings today than there were in 2000, the report said. Phoenix and Las Vegas vacancies have dropped, while other cities are at higher level. In some parts of Detroit and Cleveland, vacant properties now outnumber occupied ones, the report says.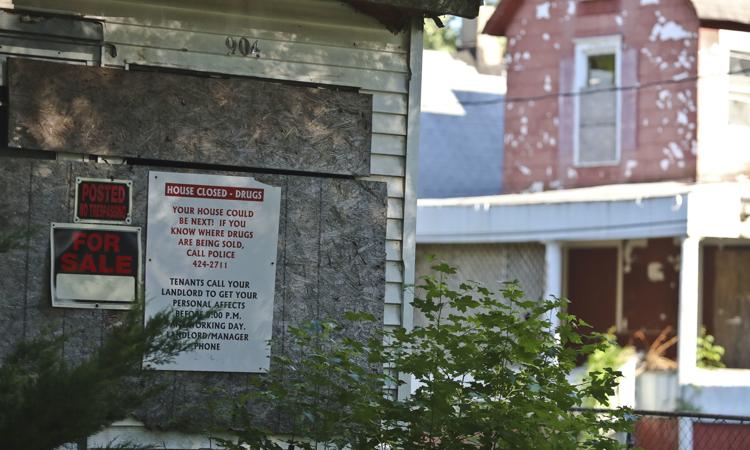 Records show that in 2016, the city demolished one home and added another to the list. By contrast, this year 89 properties had been added as of July 25. Susan Kretsinger, the city's neighborhood inspection administrator, said the list is fluid with properties being added and taken off daily.
She said the lack of progress in 2016 was likely due to a lack of funding.
"If we don't have any funding and none anticipated coming in, to just put properties on a list just to be there and ask the court for judgment when we can't demolish them is not an efficient use of our resources," Kretsinger said.
A portion of the funding for the demolitions comes from a grant awarded to the city by the Illinois Housing Development Authority, Kretsinger said. The city received $125,000 last year and $75,000 this year, and there are plans to continue to apply for the grant in the future.
Howard G. Buffett, the former Macon County sheriff and philanthropist who has donated millions to Decatur-area causes, also is contributing to the effort. Buffett's private foundation in 2017 donated $1 million to help with neighborhood revitalization. City Manager Scot Wrighton said the foundation made two requests: that the city provide a budget for the foundation to approve and that the city acquire all Macon County trustee lots. The lots fall into the hands of a county trustee after owners walk away, not paying taxes for a period of years.
"There are over 700 parcels scattered all over the city, some of which have troubled titles," Wrighton said. "We are almost done securing all of those."
Wrighton said over 90 percent of the $1 million will be used for future demolitions. The Buffett foundation this year committed to an additional $1 million for the city's efforts.
General city funds are also used for demolitions, Wrighton said.
"We are anxious to get down every dilapidated house in Decatur," Moore Wolfe said. "It's not going to happen all at once."
'Worst first'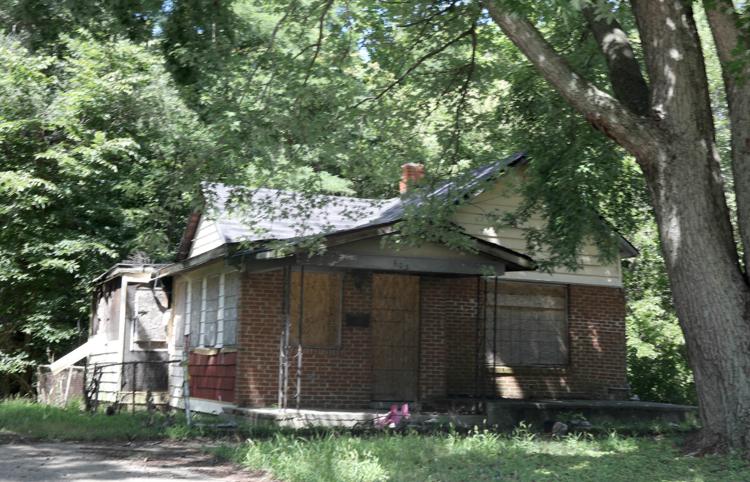 Properties are added to the demolition list after being assessed by neighborhood inspectors, who are charged with enforcing city codes. These employees patrol neighborhoods and respond to complaints, citing property owners for issues such as overgrown weeds and trash in yards. When an inspector deems a home dangerous and unfit for human habitation, it is turned over to the city's legal department.
Amy Waks, the city's assistant corporation counsel, said some homes on the list start out as property maintenance cases, meaning both the interior and exterior have maintenance problems, which worsen over time. If neighborhood inspectors determine that it would cost more to rehabilitate a property than to tear it down, it also could go on the list, Waks said.
For every property on the list, the city sends a letter to the property owner and any others with a known interest. This letter gives them 15 days to start addressing the code violations.
Some properties are not on the demolition list but have been deemed unsafe. Kretsinger said the city tries to work out a plan with owners to make repairs. In some cases, homes are added to the list after multiple unsuccessful attempts to contact the property owner.
Wrighton said properties aren't torn down immediately after being added to the list.
"Being put on the list means in our opinion they are delinquent or there is a safety issue and for some reason, we have tried and failed to get compliance from the property owner," Wrighton said. Before the property can be added to the list, the city has to pursue a judgment from court to tear it down.
You have free articles remaining.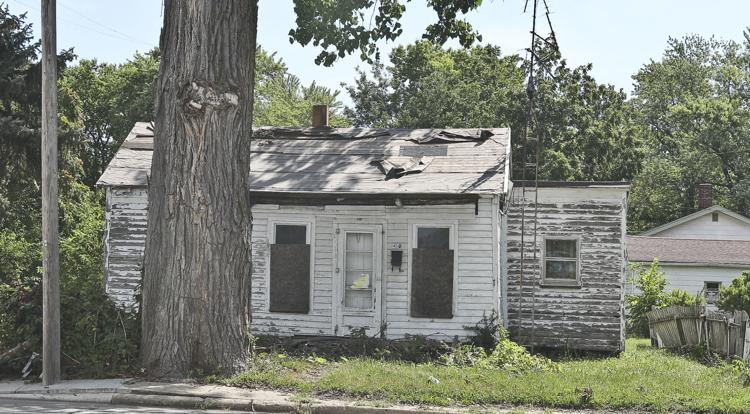 Properties on the list are prioritized by severity, officials said.
"Our ultimate goal is to get the worst of the worst down first," Kretsinger said. "Properties that are the most immediate threat to public safety and those that have severe fire damage are top priorities."
'Cancer' for neighborhoods
The Herald & Review in 2017 reported in a two-part series on the city's demolition backlog. At the time, there were over 100 potential demolition cases and city council members pledged to make the demolitions a priority.
Later that year, city officials launched a sweeping neighborhood revitalization initiative, which began with months of gathering feedback from residents and stakeholders. The effort to restore Decatur's core neighborhoods stalled because of changes in city administration, including the hiring of Wrighton, who started in March.
City council members have signaled that they're ready to hit the gas, holding several study sessions this year to discuss the project's direction. While they have stressed the need to make major progress on demolitions, officials also have said they wanted to create opportunity zone funding for viable investment projects, additional public lighting and surveillance cameras, and incorporate various forms of technology to better serve community members who use the city's transit system.
City Councilman David Horn has repeatedly called for a faster pace in addressing the neighborhood issues, including the need to tear down unsafe properties. He said last week that it's unclear how many homes will be torn down by 2020, and described the lack of progress as concerning.
"Until we can remove these houses, it is going to be difficult for us to achieve the neighborhood revitalization initiative for the city of Decatur," said Horn, who ran for mayor against Moore Wolfe this spring. "We need to remove this cancer from our neighborhoods."
Longtime Decatur resident Becky Lynch couldn't agree more. Her Lincoln Avenue home is surrounded by decaying, animal-infested houses. Her property sits down the street from two houses that were added to the list in 2012 and are still standing, and is sandwiched between two vacant homes, which are not on the demolition list but show clear signs of neglect.
"I have had to spend over $10,000 in repairs to my home," said Lynch, who said she has lived at the address for 22 years, "because animals that live under these houses around me make there way over here and cause all kinds of problems."
A fence patched up with boards and cinder blocks divides Lynch's property and a vacant house next door. Lynch said she has to secure the fence on a consistent basis with whatever materials she can find so that animals can't sneak through. Last year, the retired Mueller Co. machinist said she was forced to repair the foundation in the back of her house because of damage caused by raccoons, groundhogs and rodents.
She recently had her roof replaced because, she said, raccoons would jump from the houses on either side of hers, onto the roof and find a hole or try scratch through the surface.
Animals are not the only problem, Lynch said. Vacant homes can attract people, too.
"We see squatters going in those houses all the time," Lynch said.
Editor's note: This story is part of a series looking at the blighted properties on Decatur's demolition list and what the city is doing to ad…
Decatur police Detective Sgt. Chris Copeland said abandoned houses create a number of issues for law enforcement. This can include runaways hiding in vacant houses, as well as illegal activity taking place there.
"We've had issues with drug dealers using (vacant homes) for either storing drugs or selling directly out of the house," Copeland said.
Vacant homes can also become targets for arson, or fires accidentally set by squatters trying to keep warm in the winter.
The Herald & Review reported in January 2017 that a fire at 1228 E. Prairie Ave. occurred after the home had been on the city's demolition list for two years. A firefighter was briefly trapped while battling that blaze, which brought renewed attention to the issue.
Wrighton, the city manager, said another public safety issue occurs when people from the community attempt to help with repairs to the homes.
Nearly a quarter of the roughly 200 dilapidated homes on the city of Decatur's demolition list belong to out-of-state owners, records show. 
"The houses are not up to code, which means they are unsafe for people to enter or be on the property," he said. "We advise that people stay off of the property and allow the city to complete the work because it can be dangerous."
The vacant homes also may exacerbate another challenge that Decatur has faced since the recession: declining property values. Tom Brinkoetter, owner of Brinkoetter Realtors, said it is difficult to sell homes located in the same area as decaying houses. Their presence can drag down the value of surrounding homes.
"The neighborhood is a very important locational factor," Brinkoetter said. "A vacant property that has its roof falling in is an eyesore and not good for the market."
Kretsinger said the city plans to continue to demolish properties and add more to the list.
"If we continue to get funding, then the list won't go stagnant," she said. "We want to make sure we are taking down the most unsafe properties first."