"The smell, the sounds, things flying through the air, and the bull horns and angst, in a so-called quiet American city," said A.D. Carson, a 1997 Stephen Decatur High School graduate who has gained national prominence for his study of hip-hop.
Carson, who has a doctorate degree from Clemson University and began writing rhymes as a child, is starting as an associate professor of Hip-Hop and the Global South at the University of Virginia in Charlottesville this fall.
Last Saturday, he joined counter-protesters assembled in response to Neo-Nazis, skinheads and Ku Klux Klan members arriving after the city decided to remove a monument to Confederate Gen. Robert E. Lee. Heather Heyer, 32, was killed and 19 others were injured when the driver rammed a car into a crowd of demonstrators.
On the eve of the rally, hundreds marched through the University of Virginia campus holding torches and chanting racist slogans. The next morning, many looked like they were dressed for war as they made their way to Emancipation Park, said Carson, who also taught English at MacArthur High School.
"They had shields, they had helmets and they were ready to inflict harm on people," Carson said. "Whatever they say, they were out there to peaceably demonstrate — the way they showed up told a different story."
Carson said he was invited to give a speech at McGuffey Park near the city's downtown, and felt that being new to the area and UVA, he was more than willing to speak. Within a couple hours, the sights and sounds grew more gruesome, he said.
"I'm indoors right now, but they're still out there. More updates soon."

— A.D. Carson (@aydeethegreat) August 12, 2017
"I had a friend like earlier in the day (say), 'The police are unequipped to deal with what's going on over there, somebody's going to die.' And he left early because he just felt it was completely unsafe out there, and you know, he was correct."
Carson joins the UVA faculty as somewhat of a rising star in the academic world — he gained headlines last year for completing a dissertation in the form of a hip-hop album that explores rhetoric, American social history, and art. Last year, while at Clemson University, he witnessed intense protests after a banner honoring African Americans was found to have racially-charged items on it.
Carson said his mother, who lives in Decatur, is worried that his son has found himself in the middle of situations.
"I say often that my mom said to me that 'I know you can't be quiet, but be safe,' he said,  "so I carry that with me."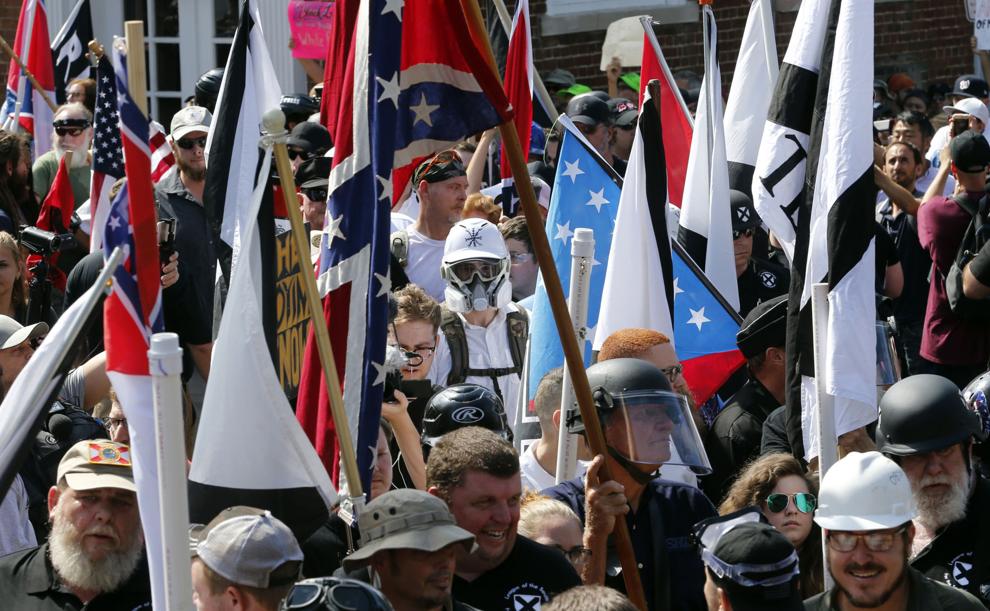 His arrival in Charlottesville came after the city for more than a year engaged in contentious soul searching over its Confederate monuments, a process that led to the decision to the Lee statue. The funky, cosmopolitan nestled in the rolling foothills of the Blue Ridge Mountains is known for being home to President Thomas Jefferson's plantation, Monticello, and the place where the Dave Matthews Band got its start.
The heart of its downtown is an open-air pedestrian mall lined with restaurants, bars and quirky boutiques. Tourists flock there not only for the history and culture but also to visit the wineries that dot the countryside just outside of town.
Charlottesville was easily overwhelmed by the numbers that showed up last Saturday, said Ed Ayers, a leading Civil War scholar who taught at UVA for decades. Despite Virginia's bloody part in the Civil War, Ayers said, the Lee statue does not have a significant historical connection to Charlottesville. The city "did not play a central role in the war at all, he explained, and the statue was not erected until the 1920s, when Jim Crow laws were eroding the rights of black citizens.
Charlottesville was just "a very clear symbol they could go to and have a protest," Ayers said.
The city is proud of Jefferson's university, a prestigious school with graduates that include prominent figures such as Robert F. Kennedy. But UVA is also a school largely built by slaves and where professors had ideological connections to the resistance movement that followed the Brown vs. Board of Education school desegregation decision.
The university did not admit black students until 1950.
Carson has a bachelor's degree from Millikin University and a master's degree from the University of Illinois at Springfield. He also still collaborates closely on music with Blake Wallace, a branch manager and loan officer at Staley Credit Union in Decatur. Wallace said friends and family back in Decatur watch Carson with awe as he's traversed through the events last year at Clemson, and now Charlottesville.
"He has a voice that's so respected, so prominent and strong — maybe he has purpose there, for him to be at these two places," Wallace said.
Wallace said when Carson gained attention for his dissertation, Decatur residents shared the news on social media with pride.
"He seemed like a badge of honor for Decatur for people here, and people are proud of what he's doing here," he said.
With classes beginning soon, Carson and Wallace said they're continuing to work on music as Carson makes his way in a highly-touted position at a prestigious school now at the center of the nation's attention.
"He'll definitely hold his own. I'm not too worried," Wallace said.