RELIGION
Decatur police chaplains nurture the spirit of those protecting our safety
DECATUR — Serving God can be an arresting experience.
It's all part of the journey for those who feel the call to become Decatur police chaplains. These volunteers believe a good way to 10-25 officers (radio 10 code meaning "to meet with") is by going for ride-alongs with them in their squad cars.
It's a street-level approach likely to bring the men of the cloth (all the chaplains, so far, are men) into contact with members of the public holding somewhat flexible views about transgressing the Ten Commandments.
"Sometimes people just want to talk," said the Rev. Dan Watkins, community life pastor at New Beginnings Church of God and a Decatur police chaplain for 12 years. "When you're in the work they are and you see some of the things they do, sometimes you just need somebody objective that you can talk to."
Watkins and the Rev. Dow Moses, a chaplain for 10 years, said it's not the chaplain's job to get involved in enforcing the law. "But if there was a traffic stop and I saw a gun in a car, or something that would be a threat to that officer, I'm going to say something," said Moses.
"But really, the rule of thumb is you do what you're invited to do: you got a domestic violence situation or a child hurt on a bicycle and — this has happened to me several times — the officer says 'Can you help calm that mom or that child down?' well, that's a skills set pastors are used to using on a regular basis."
Chaplains also are enlisted in hospitals, by the military and to say the opening prayer in Congress. 
For Decatur police chaplains, their focus also is the officers. Getting to know and win the trust of people guarding the gates of civilization and dealing with every form of cruelty, violence and viciousness people can inflict on each other isn't easy. It takes many ride-alongs, and it takes time.
"I've been a chaplain for 10 years and, to be honest with you, there are still some officers who always keep their distance," said Moses, 55. "And then there are others who will call you and say, 'You haven't rode with me in a while ... would you like to ride along again?' Typically, if you spend eight hours riding with someone in a car, you are going to get to hear and talk about the problems they are dealing with."
When relationships deepen, chaplains find themselves being asked to do everything from handle police family funerals to marriages. Moses said chaplains become part of the team, accepted into the blue family, and valued by many as a spiritual and counseling resource.
"It may take years, but many police officers do come to trust us, and talk to us as chaplains and as friends," said Moses. "We're here because we want to support and help police officers and show them that they are cared about. That is what motivates us to be police chaplains."
After Officer Robin Vogel was killed when a drunk driver struck her squad car in October 2005, Watkins and the other police chaplains at the time responded with extra support in the following months. 
"They know there's always a chance they could lose their life," Watkins said. "They know that. But when they see it and it's one of theirs — a lot of them wanted to talk.
"We did a lot of ridealongs and didn't say a word."
The first Decatur police chaplain was the Rev. Wayne Harvell, then pastor at Sunnyside Church of Christ, in 1984, according to Detective Sgt. Chris Copeland. Harvell recruited Copeland's stepfather, the Rev. David Gotcher, and the two lasted until the late 1980s when they moved to other states.
Since then, the program has attracted the attention of some of Decatur's most beloved pastors, including the late B.G. Nevitt, pastor of gtChurch, who died in a 2013 motorcycle accident. He went on to thoroughly blur the chaplain-police lines, however, by training to become an auxiliary police officer.
"I started doing this as chaplain and didn't know what it all entailed at first and fell in love with it," Nevitt said in a 2010 Herald & Review interview.
There are four chaplains now — Moses, Sam Baum, Dan Watkins and Eric Ginder — but there is no set number. Ginder, a former police officer himself and now pastor of Macon's New Life Tabernacle Church, was "kind of recruited" after Nevitt's death when we "just put the word out," according to Moses.
'The work of chaplains is very important'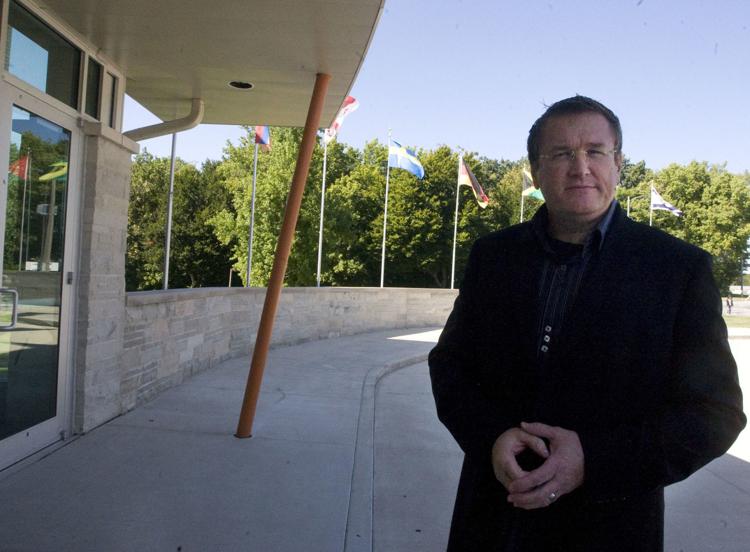 The police have a Chaplain Committee to coordinate things, and the committee is busy throughout the year getting up to all kinds of good works. There is an annual catered picnic for police families run by the chaplains and a whole holiday meal outreach schedule that provides free and sumptuous food when police are working — Thanksgiving, Christmas and so on — and many restaurants are not.
The chaplains' home churches often rotate as catering venues with Moses' New Vision Church — housed in a vast former factory that became a nightclub before it discovered God — a popular venue.
Money is raised to pay for the meals and Moses' wife Debbi, whom her husband describes as an angel of mercy when it comes to cooking lots of good food, fast, might serve up 100 pounds of ribs for that popular police picnic.
"Ours is a church focused on community outreach," said Debbi Moses. "And what better way to serve your community then to help the police department?"
The police department reciprocates right back by inviting the chaplains to be part of their world, too, and be a part of what matters to them. Chaplains are asked to come along with the popular shop-with-a-cop program that helps disadvantaged families, and the chaplains also get invites to the swearing-in ceremonies for new police officers, providing opportunities to meet new recruits from the get-go.
Lt. Brad Allen is the police department's third shift patrol commander who also finds time to be the department coordinator for the chaplain program. A 20-year department veteran, he could have stepped away from his chaplain coordination duties after handling them for many years, but is proud to state he didn't want to.
"The work of the chaplains is very important, very beneficial to this department," said Allen. "If it wasn't beneficial, I think it would have fell apart somewhere long ago."
DECATUR — Christine Hall Ossowski spent nearly three decades as an Eisenhower High School te…
Allen said all the camaraderie, counselling and food the chaplains — backed up by their home churches — bring to bear adds up to a rich table of support laid out for police officers. But it's always a buffet menu where policemen, and women, can take as much or as little as they like. Some are just grateful for a meal, others might need to sit and talk for awhile. To each officer his own, according to his needs, with no one keeping score.
"In all honesty, I don't know what percentage or number of officers every day that might go and reach out to one of them (chaplains) and ask them a question or want to talk to them about something," said Allen, 43. "It might be three or four a day or three of four a year. It's kind of an in-confidence thing, done amongst ourselves."
Every Decatur police chaplain brings their own skills and perspective to the job, and not all serve as pastors in their home church, like 76-year-old Sam Baum. A committed man of faith, however, he does a lot of outreach ministry work for his Resurrection Life Church and didn't resist the strong call to become a police chaplain when he first heard it 19 years ago.
"I had also been a Macon County Sheriff's deputy for 25 years," he added. "And I felt the calling to be a chaplain because I know a lot of guys need this, because a lot of things happen to them. I just knew this is what God needed me to do."
Macon County exploring chaplain
It is surprising for outsiders to discover the Macon County Sheriff's Office doesn't have a chaplain program for its deputies. There is a pastor, the Rev. Otis Livingston, who ministers to inmates in the Macon County Jail, but there is no volunteer chaplain service for patrol officers modeled like the Decatur police example.
One officer, Lt. Jon Butts, is praying that will change. And Butts cares about the issue so much he even wrote a thesis paper on it for the master's degree he just earned in organizational leadership.
He argued for something similar to the Decatur example, but he wants to make sure the chaplains resemble the population at large and the makeup of the sheriff's office in particular, so female and African-American chaplains ought to be part of the mix.
Butts said there is everything to gain from a chaplain program and admires the way the Decatur police example has worked. He said deputies need someone to talk to sometimes as much as city officers: "We're asking officers, often young officers, to go out and make tough decisions, encounter a lot of issues, see a lot of tragedy and see a lot of heartache," said Butts, 52.
"So where do they turn, who do they talk to? We could use some chaplains of our own and I'd make them available for all our staff: records, court security officers, the whole office."
Butt's paper runs to 53 pages on the subject and is a blueprint for how to set up a chaplains' program. He could have implemented it himself as the next sheriff, but he lost a Democratic primary battle with fellow Lt. Tony Brown, who will face another fellow officer, Republican challenger Lt. Jim Root, in the November election.
Butts, a 30-year sheriff's office veteran, isn't sure yet where his own career path will take him, but hopes his paper will catch the eye of the future new sheriff. "It's available for them," he added. "And I really think it would be useful."
Allison Petty of the Herald & Review contributed to this story. 
Contact Tony Reid at (217) 421-7977. Follow him on Twitter: @TonyJReid