DECATUR — Sarah Jones, 29, is the mother of five girls, ages 2, 3, 6 and twin 9-year-olds. Dressing her clan can be expensive and challenging.
During her latest visit, the family was on the hunt for school clothes.
"Usually when we come here, it's to get us to the next size," Jones said. "They grow like weeds."
The Children's Clothing Room is on the second floor of the Prairie Avenue Christian Church, at 2201 E. Prairie St., Decatur. A volunteer directs families after they have been welcomed into the church. The clothing room is open to the public from 1 to 3:30 p.m., Monday through Thursday.
No criteria is needed to visit the Children's Clothing Room. Families register before each monthly visit, providing the gender and ages of their children. "They let us know if they need a coat at that time," said Charlie Gillespie, director for Dove Inc. RSVP program.
The free clothing is available for children from birth to 18 years old.
Families can choose up to three items per child. "With kids, they outgrow things so quickly," Gillespie said. "They definitely utilize that."
Dove Inc. provides volunteers for the program.
"Our mission is to serve," Gillespie said. "If they feel they need to use this clothing room, we welcome them."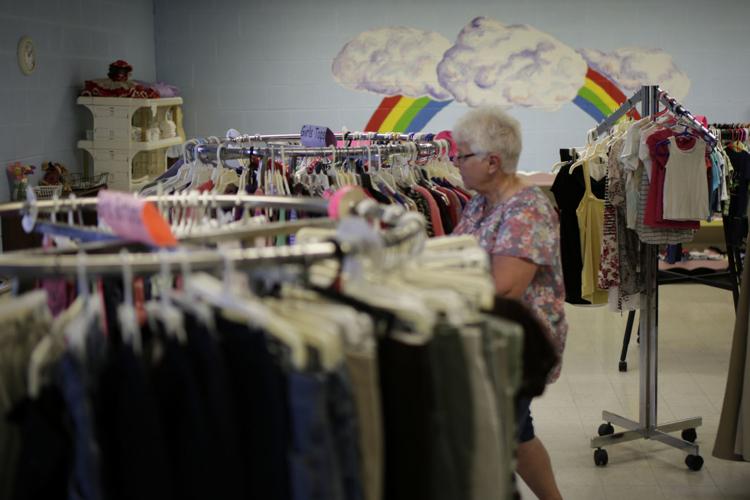 Volunteers sort the clothing in two rooms provided by the church. A third room is available during the winter season devoted to coats. The clothing is sorted by gender and sizes.
You have free articles remaining.
"The volunteers take a lot of time to make it very nice," Gillespie said. "That way the people coming in don't feel like they are coming in to a thrift store they have to rummage through. They are shopping."
The volunteers are able to provide new underwear and socks for families. Otherwise the clothing available at the Children's Clothing Room is clean and gentle worn.
The church has housed the Children's Clothing Room for about 10 years.
Last year the volunteers served 2,164 families. "That's about 180 a month," Gillespie said.
The organization relies on donations to provide clean clothing. Sponsorships from other organizations or businesses have benefited the clothing room as well. "They have helped us with socks or underwear drives," Gillespie said. "And they have collected gently used clothes."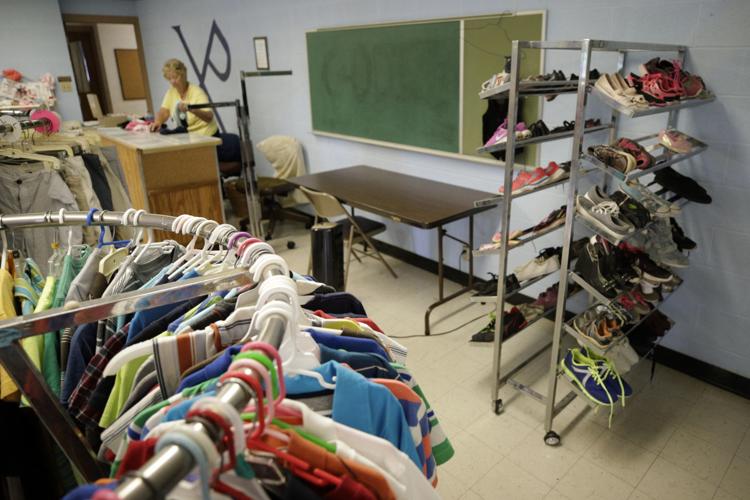 When a family is unable to find a specific article of clothing, volunteers recommend a local thrift store. "But a lot of the thrift stores that give away for free need a referral," Gillespie said. "We don't need a referral."
Paige Reynolds, program specialist for Dove, Inc., said volunteers receive donations on a daily basis. "Five or maybe seven days a week, we find a donation in the donation box," she said.
Donations can be dropped off at the blue box located near the church parking lot. "It's locked, but the two windows are open," Reynolds said. "At anytime they can drop off a donation bag or box."
According to Reynolds, the lack of requirements is an appeal for families visiting the Children's Clothing Room. Dove, Inc. communicates with social workers, case managers and other agencies to inform families about the resource.
"If they are feeling they are in crisis, it is nice that we can serve them," she said.
Cash donations are accepted but must be sent to Dove, Inc. for the Children's Clothing Room.
"I come to the clothing room about once a month," Jones said. "But if you don't find anything, they write your name down and let you come back."
Jones said the resource has been helpful, because clothing can be a financial strain. "There are times when me and my family can't afford to buy brand new clothing with the kids growing so rapidly," she said. "This place has been a blessing, especially when the season changes."
Contact Donnette Beckett at (217) 421-6983. Follow her on Twitter: @donnettebHR