DECATUR — Sometimes, life takes off and our dreams take a step back.
For runner Jeff Bennett, it took more than 30 years, but, when he realized what he had been missing — step by step, mile by mile — he found his stride again. No longer a dream, running a marathon — and all the training that requires — has awakened a healthier lifestyle and and outlook as he catches up.
"I do love to run, but it has become a passion of mine now," the 55-year-old Bennett said.
On Nov. 4, the Decatur resident was among 52,700 runners on the streets of New York City for the TCS New York City Marathon. Bennett placed fourth and was the second American out of 2,248 runners in the 55 to 59 age group.
His official time was 2 hours, 50 minutes and 31 seconds, a mile pace of 6:31. For a man who had only started running again five years ago, the time spanned far more than the 26.2 miles of the marathon.
In the late 1970s and early 1980s, Bennett ran cross country as a student at Eisenhower High School and Rice University in Houston, Texas. As with many people, life happened and Bennett stopped running. He began again when he was 50 years old.
"It was something I was missing. It is a community thing, too," said Bennett, noting how much he enjoys meeting other runners. "We help each other and support each other."
Bennett works at the Springfield Running Center, but previously had jobs in the software and healthcare sales industry. Before he took up running again, his cholesterol was high and his health needed a new path, he said.
"After a fairly cautious approach to this, it is now into an excellent range," he said. "I just needed to be more healthy."
His Eisenhower classmates knew the kid with a passion for running and saw it daily.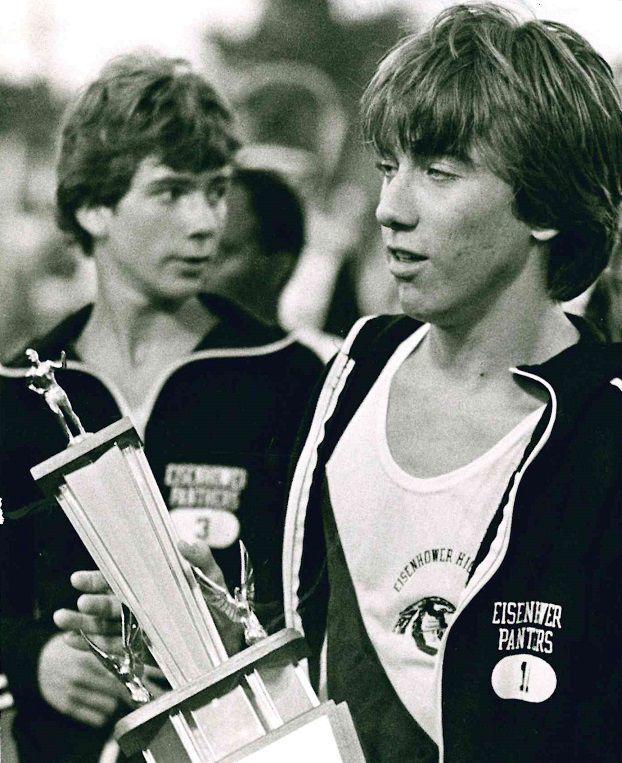 Kelly McCourt Springman was an Eisenhower classmate of Bennett's and knows how much running means to him.
"He and his brother Greg were called the 'Running Brothers.' They were our track stars," she said of their school days.
Springman and Bennett became friends through music and the musicals in which they participated, "but we thought the running would never stop," she said.
As Bennett restarted, training for a 26.2-mile marathon required dedication he had not needed to summon for a few decades. The daily miles were inspired by the scenery and that satisfying feeling of a few good miles.
"Decatur is great city to get outside to experience nature and the lake," he said. "I just get the right gear on and get out there."
Each day of his 18-week training is planned. Some "easier" days are the 10- to 14-miles runs, while others require faster paces or longer distances, in addition strength training, and yes, resting.
"I don't usually take days off, but if you need one, I would do that," he said. "You have to listen to the body."
His training was also important for his well being: "To be happy, to be alive and finding things I enjoy," Bennett said.
He said he loves running in Decatur, particularly the scenery of Fairview Park, Nelson Park and the Shoreline Classic course are among his favorites.
"I love running around Lake Decatur when the sun is coming up," he said. "It's awesome."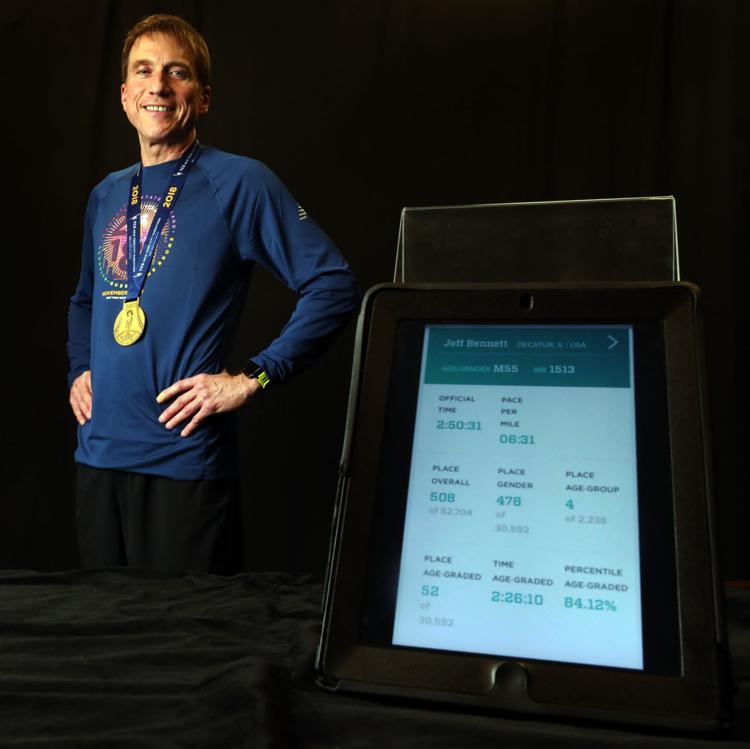 His first marathon was two years ago in Indianapolis, during the Monumental Marathon, where he qualified for this year's Boston Marathon. Because of his qualifying time, he was also able to sign up for the New York Marathon earlier this year, which would be his third.
Bennett said he learned quickly that running in the big races with tens of thousands of people and crazy weather only adds to the challenge of the course itself.
"It was the worst weather in Boston in the history of the race," he said. "It was like a torrential downpour with high winds and 37 degrees."
He ran the Boston Marathon, but did not finish. He was accidentally tripped by another runner at mile four, but he jumped back up and continued for another 11 miles.
"I was down on the pavement and took a roll," he said. "But the adrenaline kicked in and I bounced back up."
Bennett said that after his fall he was bleeding throughout the race and eventually began suffering from hypothermia.
"I realized this one isn't going to happen," he said.
Unable to finish in Boston, Bennett said was happy he had already signed up for the New York Marathon. He knew his training had been going well, and about six months later, he was on the run again.
New York weather was more helpful with clear skies, and ideal running temperatures from the high 40s to the low 50s. He had time to recover from the Boston Marathon and knew this race would be different, but even he was surprised by how much his work would pay off.
Springman and a few of their classmates followed Bennett's progress throughout the day of the New York race. It wasn't just the running that had their attention.
"It was a risk and an endurance that he put himself through," she said. "Age takes that away sometimes. I'm proud of Jeff; he won a life lesson through the race."
The New York City Marathon is one of six Abbott World Marathon Majors, along with Boston, Chicago, London, Berlin and Tokyo. Bennett plans to run the Chicago Marathon in October 2019.
Bennett ran through several hills in New York's Central Park, over five bridges and through other sites in The City That Never Sleeps, but his favorite was seeing his sister and her family at the end of the race.
"When I found my folks, that was awesome," he said.
Bennett's journey has been an inspiration to many others, including Springman and their friends. The miles he has run don't compare to the ground he has covered catching up to life. 
"As we age, it is important to reach triumphs," Springman said. "He is an inspiration that life happens, look at our lives and do the things we dream of doing. (To say) I made it happen and God made it happen."