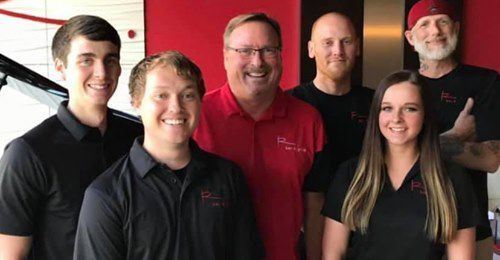 DECATUR — When fellow restaurant and bar owners heard about the death of Randy West, owner of R Bar and Grille, they knew the future of his employees was in question.
"We're all small business owners and when something like this happens, we want to help," said Zach Keck, who owns Notorious P.I.G. with his partner, Seth Black. "Randy was a friend of all of ours, a mentor to Seth and I and a customer of Lori (Morlan) at Paco's and Sliderz. It's just a tragedy.
"We're sitting here thinking, we've lost Randy and it's just as hard or more hard for his employees. They've been, furloughed since Nov. 18, and we wanted to put something together."
Keck, Black, Morlan, Craig "Woody" Wilson, the owner of Sliderz and part owner of BC Wings, and Brent Sloan, who is part owner of BC Wings and owner of Sloan's Calzones, decided on a Go Fund Me to raise money for the employees of R Bar and Grille, to help them get by financially. Their goal is $15,000 so they can give the employees $3,000 apiece, and they hope to have that much raised by Jan. 24.
Keck said he hopes enough donations come in to help employees of other shuttered restaurants, bars and small business in addition to the employees of R Bar and Grille.
"We want to do a special of some kind," Keck said. "Sloan's will do something, BC Wings will have a special, Sliderz is working with the bartender to come up with a signature cocktail, and 100% of the proceeds will go to the Go Fund Me. Seth and I are working on some packages of the spices we offer."
The link to the Go Fund Me account is on the Facebook pages of Sliderz and Notorious P.I.G.
---
Looking back at 10 Decatur-area restaurants of the past
Contact Valerie Wells at (217) 421-7982. Follow her on Twitter: @modgirlreporter