DECATUR – A new Del Carmen's Pizza location could be coming to Decatur as early as this summer, one owner told the Herald & Review. 
"We're going to try to open towards the end of June. That's our goal," said owner Roger Taylor.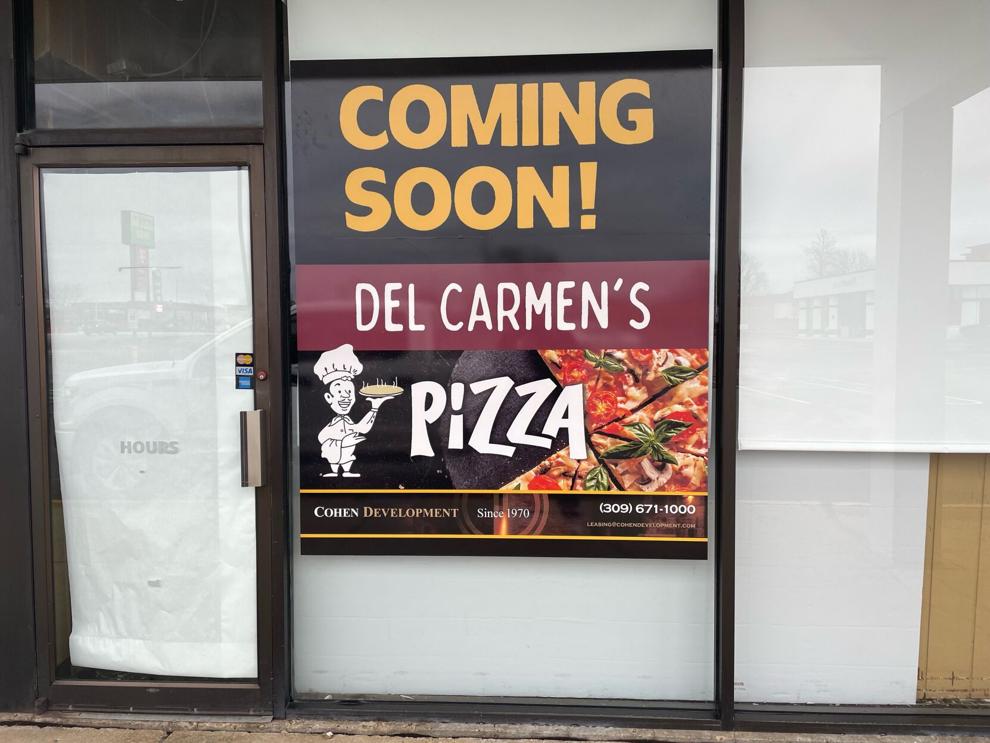 A sign promising a new location "coming soon" appeared at the strip mall on Decatur's Mount Zion Road last week. It will be located in the storefront vacated by LaGondola Spaghetti House.
Taylor said the new location will seat anywhere from 40 to 60 guests in the main dining room and will also feature a private party room that can seat an additional 40 guests. The room will be available to rent for events, he said. 
The strip mall is owned by Peoria-based Cohen Development, which sees the Decatur pizza chain as a chance to boost its other businesses. 
"I think that when you add a restaurant or something in there, I think it helps with foot traffic," said Jen Daniel, bookkeeper at Cohen Development.
Taylor, who purchased the Del Carmen's on North Water Street in July 2022, said they'll likely begin hiring for the new location starting in May. Most of all, he wants future guests to remember one thing in particular. 
"We're the original Del Carmen's Pizza," he said. "It's the original stuff."
Biggest pizza chains in the US
Biggest pizza chains in the US
#50. Aurelio's Pizza
#49. Pizza Boli's
#48. Oregano's Pizza Bistro
#47. Giovanni's Pizza
#46. Monical's Pizza
#45. Paisano's Pizza
#44. Pizza Factory
#43. Papa Gino's Pizzeria
#42. Toppers Pizza
#41. Villa Italian Kitchen
#40. Simple Simon's Pizza
#39. Pizza Guys
#38. Lou Malnati's
#37. Imo's Pizza
#36. Mr. Gatti's Pizza
#35. Shakey's Pizza Parlor
#34. Pizza Inn
#33. Bertucci's
#32. Dion's Pizza
#31. Grimaldi's Coal Brick-Oven Pizzeria
#30. Fox's Pizza Den
#29. Mazzio's Italian Eatery
#28. Anthony's Coal Fired Pizza
#27. Pieology Pizzeria
#26. Ledo Pizza
#25. Rosati's Pizza
#24. Uno Pizzeria & Grill
#23. LaRosa's Pizzeria
#22. Old Chicago Pizza + Taproom
#21. Giordano's
#20. Chuck E. Cheese
#19. Sbarro
#18. Pizza Ranch
#17. Donatos Pizza
#16. Mountain Mike's Pizza
#15. Cicis
#14. Godfather's Pizza
#13. Blaze Pizza
#12. Mellow Mushroom
#11. Jet's Pizza
#10. California Pizza Kitchen
#9. Round Table Pizza
#8. Hungry Howie's Pizza
#7. MOD Pizza
#6. Marco's Pizza
#5. Papa Murphy's Pizza
#4. Papa Johns
#3. Little Caesars
#2. Pizza Hut
#1. Domino's