DECATUR – Video gamers have long been competitive, playing against each other over the internet and at home. Now the Illinois High School Association has recognized gaming as an emerging high school sport and Eisenhower High School will be the first school locally to have one.
"I feel lucky," said Scott Mullinix, who will be a sophomore in the fall and has signed up to be on the team. "Colleges across the country are recognizing high schools with esports teams. I feel lucky to be given this chance."
Michael Karas, who teaches economics and social studies, and Matt Gremos, an English teacher, have stepped up to coach the Eisenhower group. The season will be October through January, with practices beginning in August after school begins for the year. More than 32 students have already signed up and attended an organizational meeting.
Teams compete in multiplayer games over the internet until state level competition, when they will travel to play in person. Young people who play on school teams learn sportsmanship, teamwork and responsibility just as they do on other sports teams, Gremos said, and will be required to maintain the same grade-point average required for other extracurricular activities.
LeAnna Mutchler, of the Illinois High School Association, which regulates most interscholastic sports in the state, said the group is looking to gauge the popularity. 
"Esports have not yet been sanctioned by the IHSA as a state sport/activity," she said. "It has been added to our Emerging Sports list to gauge the interest from our schools in making this a sanctioned sport/activity in the future. We have not made any decisions on the format of a potential tournament."
Varsity college esports programs began in 2014 at Robert Morris University in Chicago. Since then, the sport has boomed, with about 50 programs and a governing body, the National Association of Collegiate Esports. ESPN updates the list weekly and tournaments recently began being held in the United Kingdom, increasing accessibility for both fans and players. The list of colleges and universities already on board includes Illinois College and Illinois Wesleyan University.
The increasing acceptance means that colleges can offer scholarships to outstanding players, just the same as they do with other sports. The teams will have jerseys, practices and championships. The closest high school teams are in Peoria and Chicago, but none nearer, Gremos said.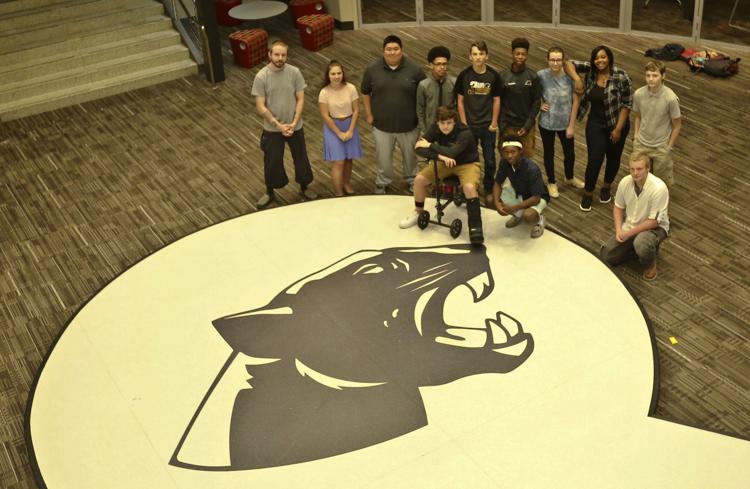 At the high school level, Karas said, shooting games are not allowed. Though they don't yet know which games will be used, a couple of names have been under discussion. One is "League of Legends," a fantasy team game, and the other is "Rocket League," which is cars that play soccer.
"The last five years is when it's become a very large thing, even outside of the gaming community, it's become a spectator sport," Gremos said. "They actually fill up arenas. Around the end of April, it was all over ESPN that they were going to have a competitive high school league."
Two years ago, the "League of Legends" world championship matched the Super Bowl in viewer numbers, Karas said.
"All the games are team-based games," he said. "'League of Legends' has five players and one sub, like a regular games. They all have different roles, so you can't just have five attackers. You have to have people who can heal people and do magic and do different types of jobs."
Scott has been playing competitively for three years.
"The biggest tournaments are housed in Germany and South Korea," Scott said. "On a local level, we don't have much. There are third-party web sites that will set up games and you can play money matches online with other people. It's also a grassroots scene, built up by the players themselves, but now there are endorsements from other countries that play the games."
For the Eisenhower team, practices will begin with the students choosing the characters they will play from the ones available in the game. A lot of training will be practicing what works best for strategy within the game, practice matches against other schools, reviewing videos of games to see what went well and what didn't.
"It will all be done after school," Karas said. "All the games will be played after school and they said it should last about an hour. It's not a huge time investment. They will have a state championship. They're looking at an arena, setting up chairs so families can come and cheer for their players, the whole nine yards."
Once recognized by the IHSA, a sport becomes governed by the association's development, support and oversight to ensure equitable participation to enhance the academic experience, while the IHSA governs the rules, officials, tournaments and enforcement of by-laws. 
Principal Amy Zahm-Duncheon was on board from the beginning, Gremos said, and one of the reasons why is that the team will give students another opportunity at an extra-curricular activity, especially for those students who aren't interested or talented in areas that would fit into other available activities.
"They'll be streaming this, so if we get a 'League of Legends' team into the championship, the whole school can watch," Gremos said.