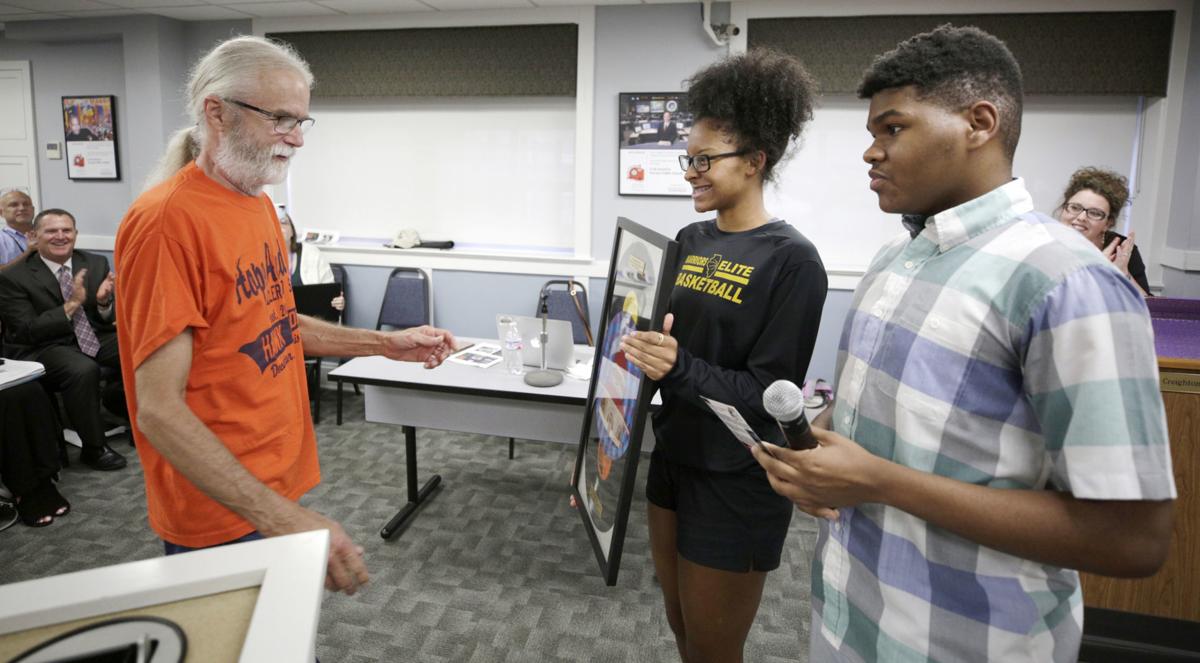 DECATUR — The year that Chris Barnett began working in Decatur public schools, NASA astronauts landed on the moon for the first time. The Rolling Stones were No. 1 on the Billboard charts. Filling a gas tank in Decatur cost less than 35 cents per gallon.
Barnett has been the district's go-to person for anything and everything related to audio and visual technology for the last half-century. During Tuesday's school board meeting, the electronics technician was recognized by school district leaders for the role he's played in Decatur schools' success since 1969.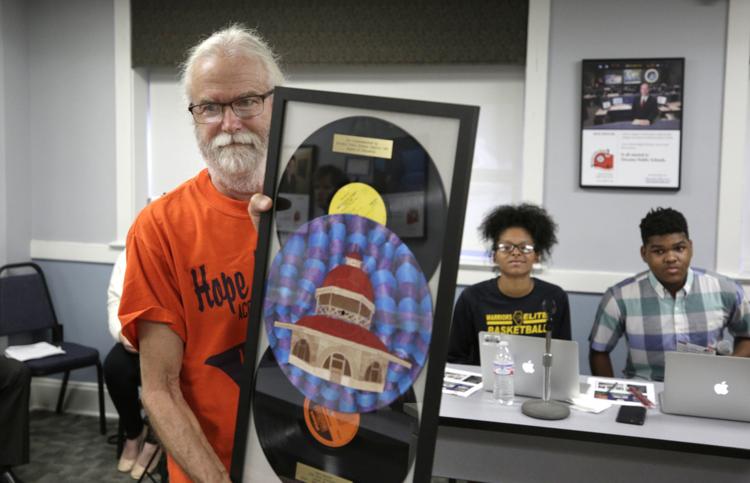 "He exudes humility, kindness, gentleness, generosity, respect and humanity," said Mike Sotiroff, former director of the district's buildings and grounds department. "He is a behind-the-scenes guy who gets his affirmation from seeing the relief of a teacher after he fixed a dimly lit Promethean projector; the smiles and excitement of the students who can now see the bright screen and the thumbs up from Mel Roustio for the great sound from the PA system at the Turkey Tournament."
True to his reputation for humility, Barnett was taken aback by Tuesday's presentation. Sotiroff was part of the surprise: The two worked together for 30 years, but Sotiroff retired in 2016. He came back Tuesday to help recognize his former colleague and friend.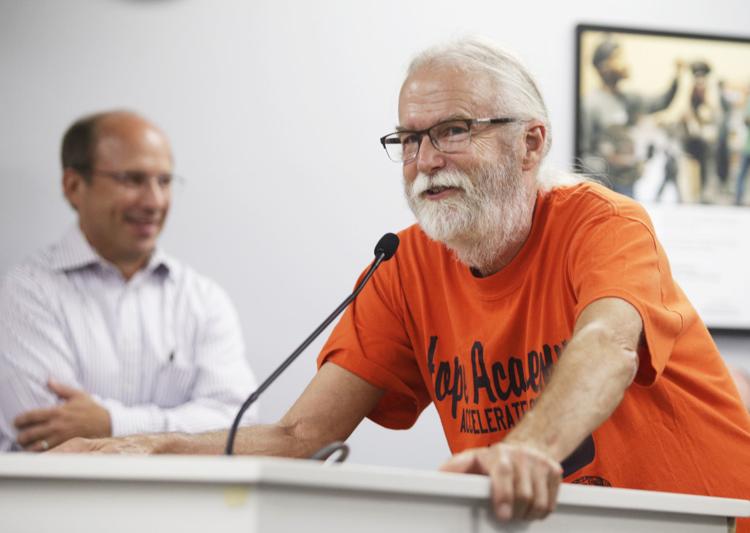 "I'm rather speechless," said Barnett, 69. "To everybody, this has been a good ride all the way. It's a public service, I enjoy it, I still enjoy it. So thanks."
Speaking after the meeting, Barnett said he never intended to stay for 50 years. "I just love what I do," he said. 
Barnett was originally hired to maintain the audio-visual equipment and intercom systems in the district. At that time, the district had over 20,000 students housed in 40 school buildings, Sotiroff said. Sotiroff began overseeing Barnett's work in 1986 when the district supplied Barnett with a larger, better equipped shop that would support the increasing demands on his department.
"His commitment to improving the services provided by his department and his passion for making sure the staff had the tools they needed to instruct our students was evident in everything Chris touched," Sotiroff said. Now, Barnett manages more equipment for the district in addition to projectors at Avon Theatre and the caroling bell towers at Lincoln College.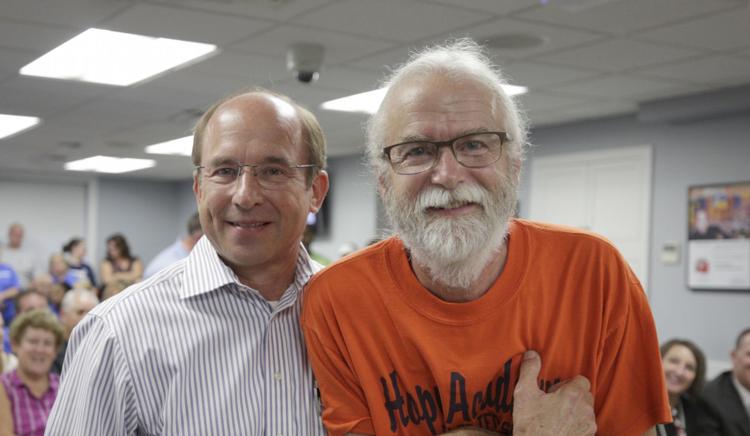 Decatur student ambassadors also presented Barnett with a piece of art commissioned by Makayla Rogers, a senior at Eisenhower High School. Because Barnett has an extensive vinyl record collection, Rogers overlapped three records vertically. On the center record, she painted a picture of the iconic transfer house in downtown Decatur, connecting Barnett's love of music and a rich piece of the city's history.
School board President Beth Nolan also presented Barnett with a $5,000 bonus check and thanked him for his time with the district. 
Amy Zahm, Eisenhower High School principal, said Barnett has been a key player in the success of the district.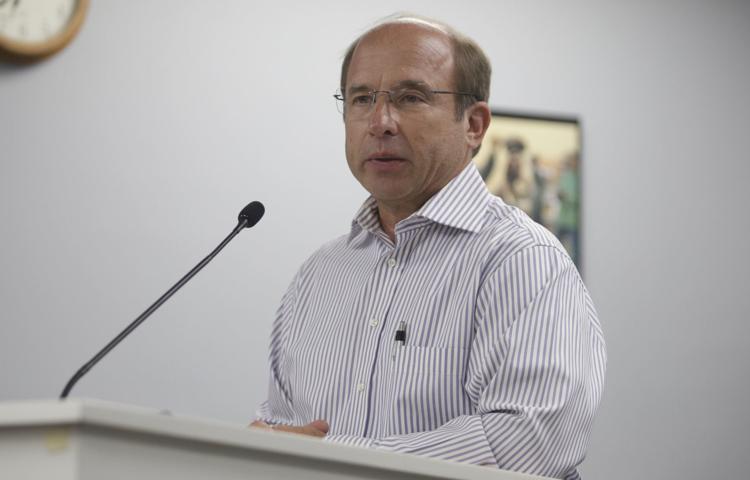 "He (Barnett) is everywhere," Zahm said. "If we need something done, he makes sure it is done to the absolute best of his ability."
Todd Covault, the district's chief operational officer, helped to organize Tuesday's celebration.
"I've never worked with anyone who has worked somewhere for 50 years," Covault said. "This is to show him how much we appreciate him."
Contact Analisa Trofimuk at (217) 421-7985. Follow her on Twitter: @AnalisaTro
Be the first to know
Get local news delivered to your inbox!