BETHANY — Okaw Valley High School's senior class has only 41 students, but they have accumulated an impressive 300 college credit hours among them.
The school has offered dual-credit classes for several years, said Principal Matt Shoaff, through cooperative agreements with Lake Land College and, in the last two years, with Eastern Illinois University. Students from Okaw Valley who attend Heartland Technical Academy also earn dual credits through Richland Community College.
Students can take three semesters of college English classes, including Composition I and II and speech, calculus and trigonometry. The ones who attend Heartland can study welding, cosmetology, auto body repair, culinary arts and other trades and in some cases leave high school with a certificate, ready for employment. In the 41-member class, 30 students have earned college credit. Okaw Valley's 12 seniors who attend the tech academy have a combined 85 dual credits earned there.
"That's probably a small amount compared to Cerro Gordo or Decatur public schools," Shoaff said. "It's an unbelievable experience. Some of those kids will come out of there with welding certificates, OSHA-certified."
Depending on the class, Okaw Valley teachers can create their own curriculum or use a a syllabus that matches the one used at the college or university sponsoring the class, said Martin Call, who teaches two of the English classes. He holds a master's degree and is qualified to teach those college-level classes without having to seek extra certification.
Bella Benning has 21 college credits with plans to major in biology and minor in music at Millikin University. She hopes to eventually complete the veterinary technician program at Heartland Community College and teach music on the side.
You have free articles remaining.
"It's really nice to have your (high school) teacher there, because you can have one on one time with them, and you're really close to teachers and they can help you out," Bella said. "You have your classmates around you who can also help you."
With 22 credits earned already, Sadie Zimmerman plans to head to Lake Land College in the fall, to begin studying pre-med. Eventually she wants to be a physician assistant. After Lake Land, she's looking at Southern Illinois University at Edwardsville. Calculus was the toughest class so far.
"I just wanted to get (these classes) out of the way, and I'd have my teachers here that I'm familiar with, and my classmates, too," Sadie said.
"I'm going to the (University of Illinois) and majoring in media and cinema studies and kind of seeing what opportunities that opens up for me and where it leads me," said Shelby Hagerman, who has earned 23 credits already. She doesn't have a specific career in mind at this point, she said.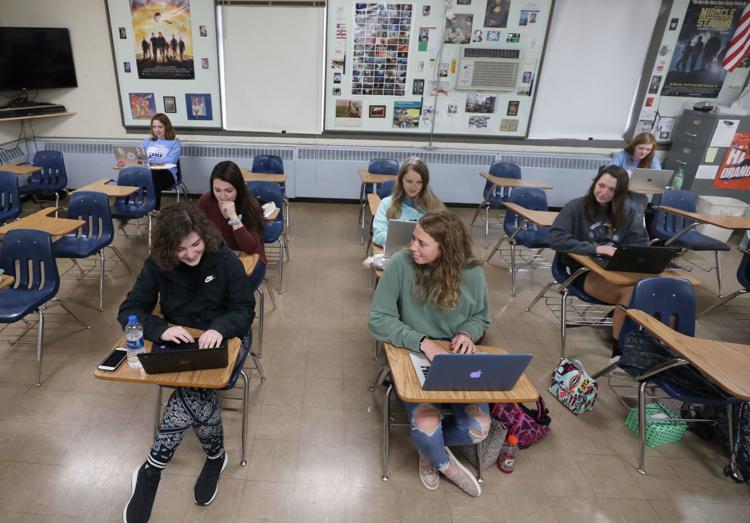 Shelby and Sadie are both following older sisters into college and chose their schools because they were familiar with them through their sisters. In Shelby's case, she was also sold on the U of I because it's "not too close and not too far away" from her hometown, she said.
While the classes are rigorous, Bella said, the fact that they're small and in familiar surroundings makes it a little less intimidating. She'll still be a freshman upon entering Millikin, she said, but they will accept the credits she's earned.
"And it's a whole lot cheaper (to earn them in high school)," she said. "That's nice."