DECATUR — First-grader Sebastian Pride wasted no time getting a closer look at the tractor at Enterprise School on Thursday, climbing right up in to the driver's seat and tried moving one of the levers, which operated the bucket, even though the tractor wasn't running.
The tractor represented more than a piece of machinery. Agricultural education in Decatur schools is branching out quickly, cultivating a future generation invested in Central Illinois' prime economic driver.
The occasion Thursday was the presentation of a donation from ADM Cares to the Macon County 4-H Foundation of $15,000 and $45,000 to the Decatur Public Schools Foundation to support agriculture-related education.
"ADM Cares has been a continual supporter of the Decatur Public Schools Foundation," said Regan Deering, chairwoman of the foundation board. "This year, their money is being dedicated to 4-H curriculum, which is really exciting, because we're trying to make the elementary and middle schools feed into our ag academy programming at the high school level."
Deering is the granddaughter of Dwayne O. Andreas, chairman of ADM from 1971 to 1997, for whom the Ag Academy is named. The funds to support it came from a $1.65 million grant from the Howard G. Buffett Foundation. The aim of the academy is to introduce students to the variety of careers available in the agriculture industry. Only a small fraction of ag jobs are in farming, with the rest in fields ranging from engineering to science to transportation.
Full-time teachers at MacArthur and Eisenhower high schools will lead a formal academic and field-based National FFA Organization curriculum, and MacArthur also has a horticulture class.
Decatur Board of Education President Dan Oakes attended the ceremony with board member Courtney Carson.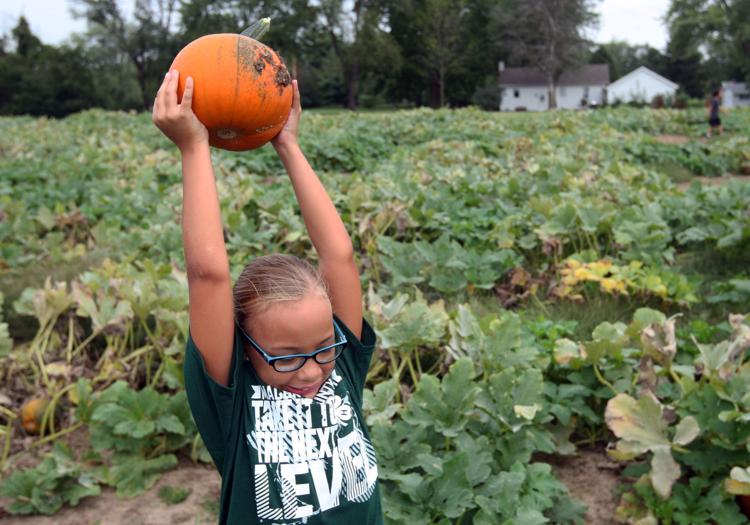 One of the features of the 15 acres surrounding Enterprise, which the district has already begun using as a Living Science Farm, is the pumpkin patch. Enterprise students waded into the field to choose pumpkins after the ceremony.
"We have more pumpkins than the Western world will ever need," Oakes quipped, watching them. "It's going well so far. We have a lot going on and a lot of good things going on, like that new tractor."
The tractor will play a big part in the Living Science Farm, which will include an orchard, a berry patch, and eventually live animals, though at the moment the pumpkin patch and a few apple trees are all that's growing.
Josh Ray, an employee of the district's maintenance department, lives across the road from Enterprise and is a beekeeper. He plans to move some of his bees to the farm and train the high school Ag Academy students to care for them and harvest the honey, and the bees will be able to pollinate the fruit trees and berry plants. He also has a place to store the tractor until the district can get a shed or barn built on the grounds at Enterprise.
Elementary and middle school teachers will be able to choose from among five 4-H projects to get started in the program, said Jamie Boas, a 4-H educator from Macon County Extension: embryology, aerospace, horticulture, electricity and horses.
"Teachers can contact us and get started on the project," Boas said. "They have access to all our materials and all our resources."
The hope, said Zach Shields, executive director of the Decatur Public Schools Foundation, is that the kids now in the Ag Academy will be mentors and teachers for the younger students as the program grows, and the younger kids in 4-H will join the Ag Academy when they get to high school, creating a pipeline throughout their school years.
MacArthur High School students Elizabeth Schwenk and Trinity Mata have been in 4-H since they were small children, and are looking forward to introducing their classmates and Eisenhower students, too.
"I just like all the opportunities we have (in 4-H) and you can pick what you're interested in and try new things," Elizabeth said.
Jennifer Ballinger, director of ADM Cares, said the organization wanted to help bring a new kind of education to Decatur students.
"(4-H) is going to help you understand where your food comes from and what farming means to your community and to the world on a global scale," Ballinger said. "I think what will be great and what 4-H does so well is they bring in a lot of those STEM (science, technology, engineering and math) components.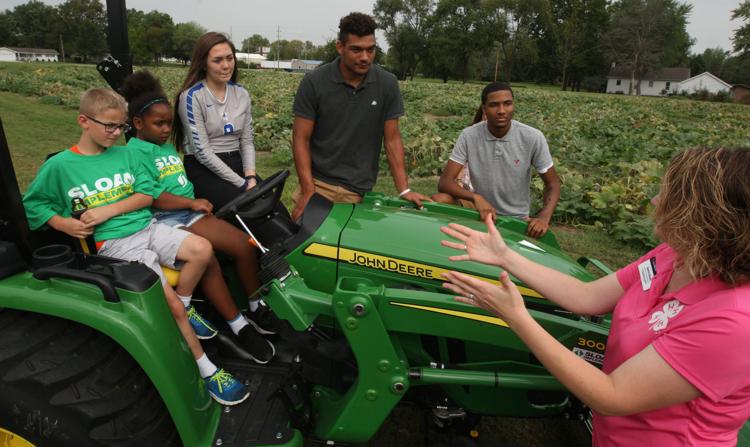 "I think sometimes there's a misconception with the public about 4-H, that it's taking your bunny and showing your bunny at the fair, and it's really grown to so much more than that."
Having the Living Science Farm on the grounds of Enterprise is a boon for Montessori education, too, said Ann Mathieson, the principal. Montessori puts a lot of emphasis on practical learning and hands-on experience, and the students already had four raised gardens, but expanding that and including them in the ag programs will only make that better.
"Last summer, we had a retreat with our staff, and I invited 4-H to come and share curriculum and how we could incorporate the agriculture into the classroom," she said. "That generated all these wonderful ideas and we started thinking and planning what we are going to do.
"We're developing a science lab inside and we're bringing the classroom outside with all of this donation and wonderful support."