DECATUR — After an on-the-spot interview Wednesday morning, Taylor Edwards walked away with two job offers, both from Decatur elementary schools. 
She could be one of dozens of teachers hired this year by the Decatur School District, which held a job fair at its Keil Building on Wednesday to seek out candidates. Like districts across Illinois and the country, Decatur is looking for ways to navigate an ongoing teacher shortage. 
"We're lucky to have five applicants for one position, and that's how bad the shortage has hit us," said district recruiter Jey Owens. "I'd say five to 10 applicants." 
The problem stretches far beyond Decatur. A study from the nonprofit Learning Policy Institute said last year that teachers nationwide are leaving the profession at a rate of 7.7 percent annually. In Oklahoma, a report released earlier this month found that 30,000 teachers in that state had left the field in the last six years. Data released in 2017 showed that more than half of teachers who started teaching in Utah during the 2007-08 school year weren't classroom teachers by 2014-15.
At a teacher boot camp held Tuesday at Millikin University, Owens said, a larger school district said it was only getting 50 applicants per position, rather than the usual 250. 
The Decatur School District currently employs 657 teachers. It hired 76 last year and 85 in 2017. Owens said it is hard to tell how many teachers will be hired this year, but it will likely be a similar number. More than 50 positions are available on the school district's application website. 
Owens wanted to have the job fair before recruitment season, which is typically March and April, to attract "cream of the crop" candidates.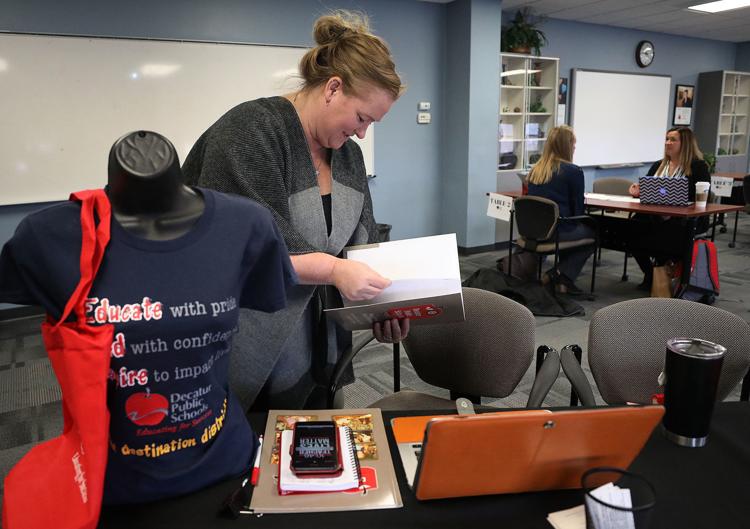 "The goal would be that we are able to find quality candidates to fill positions going into next year so we're fully staffed," said Matt Frost, principal of Stephen Decatur Middle School. 
Edwards, of Decatur, is a developmental therapist who said she enjoys educating children and is looking to change environments. "Why not Decatur?" she asked.
You have free articles remaining.
She described the teacher shortage as a sad situation. "Teachers shape everyone," she said. "I have a job because I had teachers, so it kind of pushes me to want to teach a little bit more."
Owens said the turnover among Decatur teaching positions hasn't been huge, and teachers are not leaving because of issues with the district. Some have retired, and some leave because of other factors, she said. 
Last year, the district had a job fair in late May, so it was geared more toward those who had not yet found employment, Owens said. At that fair, the district was able to hire 10 applicants out of the 30 candidates who attended.
"Being able to hire 10 people in one day from 10 a.m. to 2 p.m. is pretty awesome," Owens said.
She said another strategy the school district has tried includes virtual career fairs.
"Those also give me an opportunity to meet someone and sit right in the comfort of my own desk, and speak to somebody in Kansas City, or Atlanta or whatever the case may be," Owens said.
The district plans to have another job fair for non-certified staff this spring.
"We're trying to keep our money and our focus local," she said. 
The district started a pilot program with high school students and paraprofessionals, encouraging them to go back to school, she said.
"I do believe that those who are wanting to stay in the area will come and work for DPS," Owens said.