Michelle Hollon's grandfather is a veteran, and she never forgets what that means.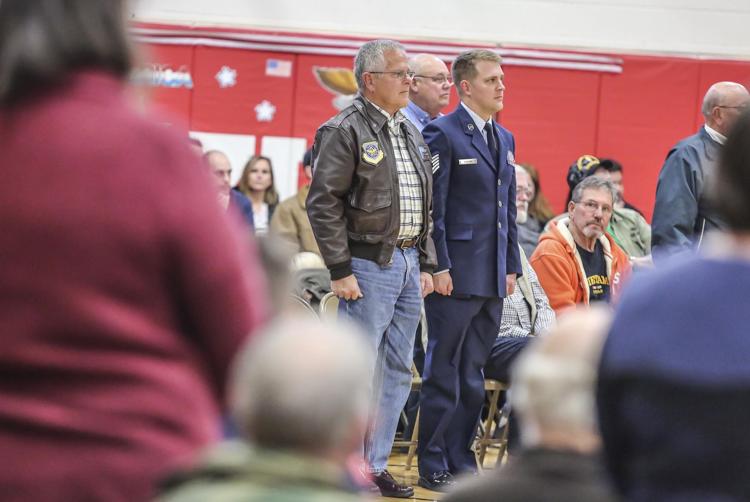 "I feel like (veterans) deserve the most respect and the most, just everything, because they did so much for us," said the Argenta-Oreana Middle School eighth-grader, who spoke at the Veterans Day assembly the middle and high schools held on Friday. "This is one way we can give back to them."
Her grandparents, Calvin and Nancy Hollon, attended the assembly, an annual observance at the school. High school Principal Sean German asked students and adults to stand if they had a family member who had served, and almost everyone did.
"Look around you," German said. "Every person here is connected to a veteran. What a great example to our students."
At Mount Zion Grade School, the gym was crowded with veterans, family and friends for its ninth annual Veterans Day assembly. Schools throughout Decatur and Macon County held Veterans Day events Friday.
The holiday is actually today, and was originally called Armistice Day to mark the end of World War I at the 11th hour of the 11th day of the 11th month in 1917. In May 1954, Congress changed the name to Veterans Day, to honor veterans of all branches in wartime and in peace.
At graduation ceremonies every year, German said, students who are going into military service are formally recognized for their willingness to serve. A large number of veterans attended the assembly, many in uniform, and the program included several pages of names of veterans with students in the district schools.
"They risked their lives for us," said eighth-grader Sophia Thomas, who said during the assembly that if she had prepared a 70-page speech, it wouldn't be enough to adequately thank the veterans. "They left everything they knew and loved to go and fight for our freedom, so we didn't have to be scared of our future and worry, and I'm just so thankful for them."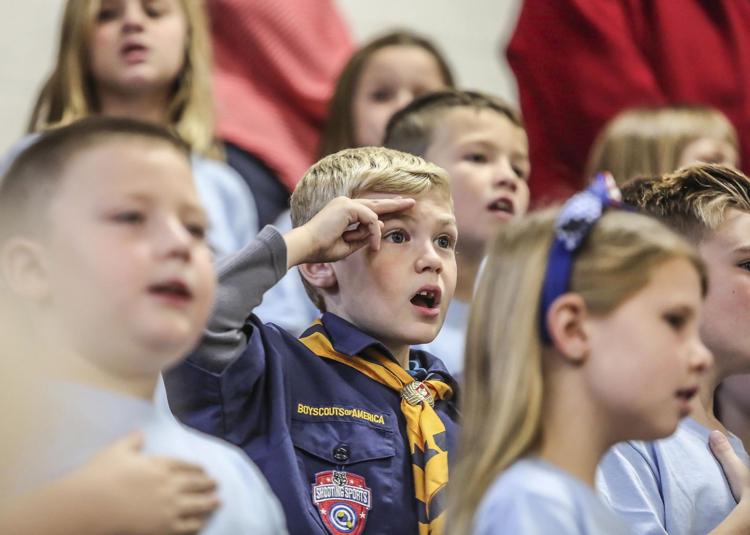 By tradition, Mount Zion second-graders invite a veteran from their family to the event and learn about Veterans Day in the days leading up to it, said teacher Jessica Peters.
In her class, Quincy Petersen was the youngest of three generations of Petersens, with grandfather Bill and dad Will both attending. The eldest Petersen served in the Marines in Vietnam from January 1965 to December 1968, while Quincy's father Will served in the Army from 1998 to 2007, including two tours of duty in Iraq.
While Will Petersen was in Iraq, the family sent him lots of macaroni and cheese, he said with a chuckle. He loves it, and it wasn't available there.
Quincy wore his Cub Scout uniform to school Friday, which is part of the day's observance, Peters said. Girls and boys in Scouts wear their uniforms, while the other children made T-shirts to wear.
Each second-grader took their veteran guest back to their classroom to visit and answer questions about their service. One of Quincy's questions was about his dad's macaroni and cheese and the other was "What job did you have before your service?"
Under the direction of RaeAnn DeSutter, the Argenta-Oreana middle and high school combined chorus sang an alternate version of Leonard Cohen's "Hallelujah," with veterans-specific lyrics written by singer/songwriter Sailor Jerri, a YouTube artist who is a Navy veteran:
"You packed your bags and shut the door/You cross the sea in a fight of war/You didn't know just what would happen to ya/Stepped in the dirt boots on the ground, and gunfire was the only sound/And to yourself you whispered 'Hallelujah.'" 
Cohen's song has been covered by many artists, and DeSutter said she found this version on YouTube and knew it was perfect for the Veterans Day event.
"The kids love 'Hallelujah' and love to sing it," she said. "It's a beautiful song."