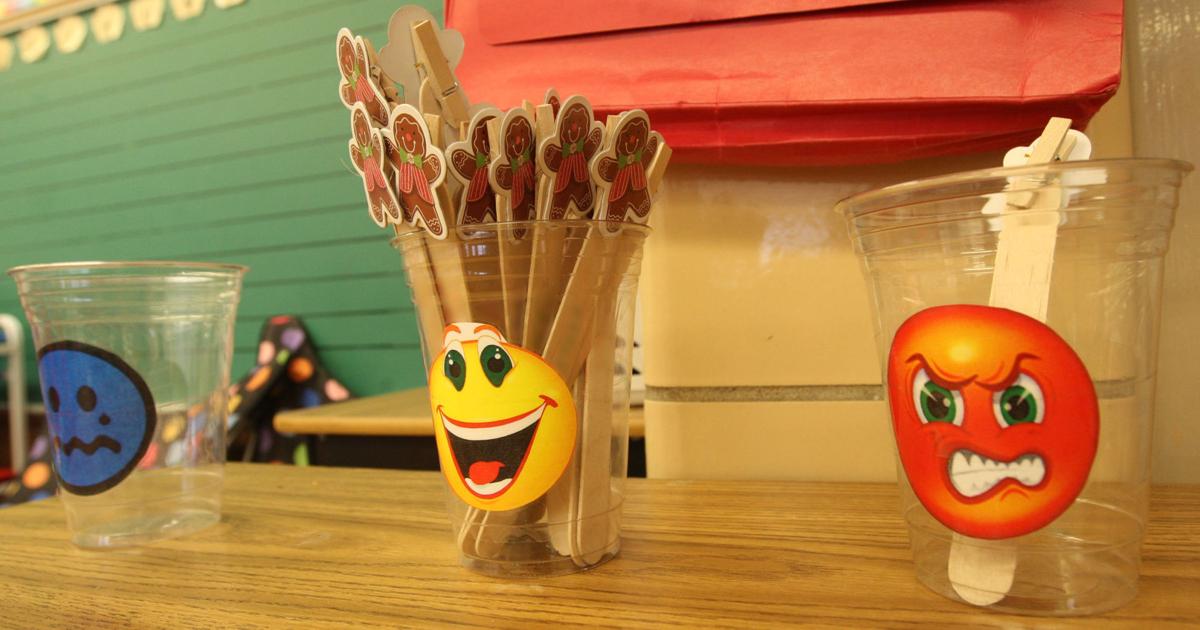 DECATUR – Sometimes, children just need somebody willing to listen.
That's the idea behind the row of cups in Kristin Portis' classroom at Franklin School. Each cup represents a different mood, and each child has a Popsicle stick with his or her name on it to place inside the cups in the morning to show how they feel. 
"If I notice that kids are mad or upset, I will pull them aside one by one first thing in the morning and have a conversation with them about their feelings, so they can express their emotions," Portis said."We get on a personal level and build relationships, so they know we're not just teachers. We're also people that care about them."
Six schools in Central Illinois are part of a pilot project in trauma-informed schools, helping not only teachers and administrators, but all adults who work with kids, to see through a "trauma-informed lens," as it's known. The schools are Franklin and Muffley Schools, Phoenix Academy, Argenta-Oreana, Sangamon Valley and Deland-Weldon schools. The hope is to expand the pilot project next year until all area schools are involved.
Kids who are affected by trauma react differently. Their brains develop and are wired differently from children who have not dealt with trauma.
"It's not just one incident," said Stephanie Strang, principal at Franklin. "It's a series of incidents. We're all trying to get our minds around it. It's complicated."
Heather England, also a teacher at Franklin, uses tried-and-true card games like Go Fish as a way to engage students' brains and have some fun with them. She said that when kids act out in class, she first tries talking to them, letting them tell her what's upsetting them, instead of sending them out of class. It could be as serious as that their parents are divorcing, or as simple as they had an argument with another child, but upset kids can't concentrate on learning.
"Sometimes I just want someone to listen to me," she said. "I just want to complain for a minute and I'll move on, and the kids are the same way. They just want to hear that their feelings are acknowledged. I'll tell them, 'I'm really sorry that happened to you.'"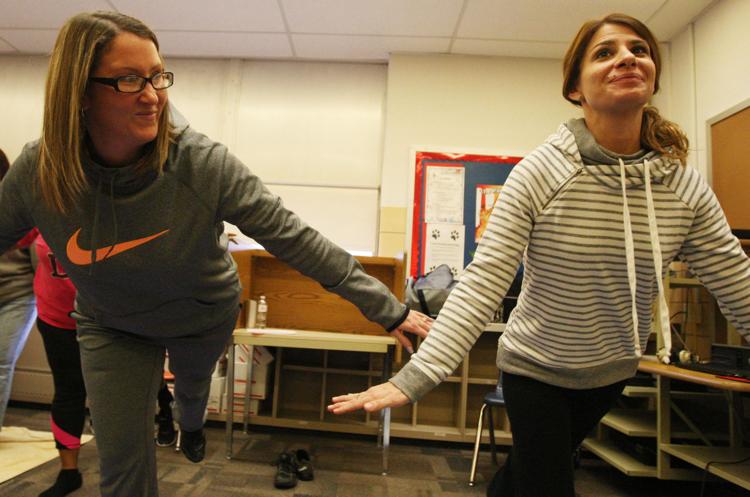 The Substance Abuse Mental Health Services Administration has awarded a grant to provide training and awareness activities to teach school district personnel and community members how to approach their work with this awareness. Trauma can affect brain development, emotional and physical health, and weaken the immune system.
The agency's statistics show that nationally, six in 10 youth have been exposed to violence in the past year. That includes witnessing violence, assault with a weapon, sexual victimization, child maltreatment, and dating violence, with 1 in 10 suffering an injury. Cost to the health care system as a result of violence and abuse is $333 billion to $750 billion annually, and 75 to 93 percent of youth in the juvenile justice system have experienced some degree of trauma.
Social worker Frances Godfrey at Enterprise School has had to help an abused child who was removed from his home, who is no longer attending Enterprise, and other kids facing trauma of all kinds. Listening is the main way to help, she said, recognizing that a child is having a particularly hard day, and letting that boy or girl sit in her office and talk it out.
"They just need to know that somebody cares," she said. "For some of them, school is their only safe place."
You have free articles remaining.
The grant for Project Aware has two components, said Brooke Harris, project manager for Decatur's schools. The first is providing mental health services, including prevention and early intervention. The second is teaching adults about Youth Mental Health First Aid, training them to spot red flags that something may be going on with a child. It's not diagnosing or treating in any way. Harris likened the process to knowing CPR and handing the person over to the professionals as soon as they can get there, but providing first aid until then.
An eight-hour training curriculum is free to anyone interested in it, thanks to the grant, she said. They've reached out to teachers, churches, the Boys and Girls Club, everywhere kids might spend time, and parents are encouraged to consider it, too.
"It's really about creating trauma-sensitive environments," Harris said. "It's making sure our students are able to receive the care and access the care they'll get in the school system. We want to make sure they know they can get that care outside the school system."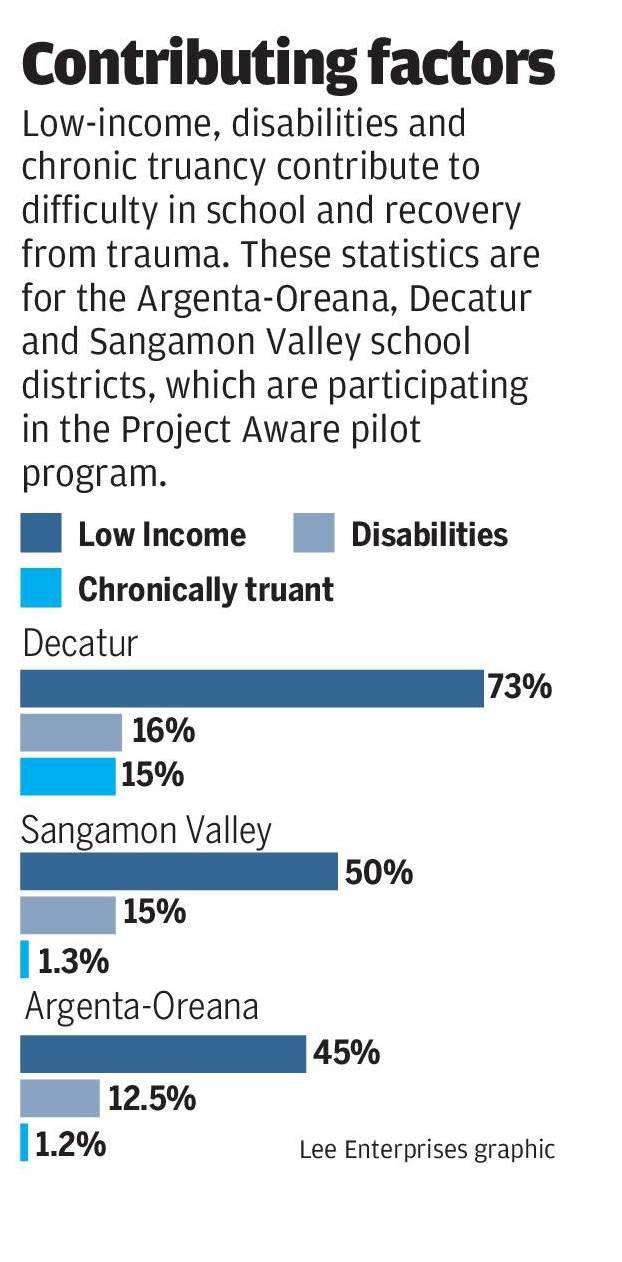 "Trauma," as it's being used in this context, doesn't necessarily mean a big life event, though it can. It's not only applicable if a child's parent has died, or the family has had a house fire, or the child is the victim of abuse or neglect. Children growing up in poverty, who worry about having clean clothes, enough to eat and whether the electricity will still be on when they go home from school, are also experiencing trauma. Children and adults who are under unrelenting stress, no matter the cause, react differently, and a situation or event that they might otherwise handle easily can cause a violent flight-fight-flee reaction due to stress-related changes in brain chemistry.
Decatur schools have 70 percent poverty on average, said Lawrence Trimble, director of Student Services, and while many people believe that county and rural schools escape most of the problems of an urban district, those areas have a lot of the same problems with poverty and chaotic home lives that Decatur has.
Adults have coping skills that children lack, techniques to calm toxic stress reactions. Kids often lack "executive function," using the frontal cortex, and instead react emotionally and instinctively. Trauma can cause post-traumatic stress disorder in children, too, which is defined as anxiety and flashbacks triggered by a traumatic event.
It's not that schools are being instructed to not correct misbehavior, Harris said. It's that the trauma-informed mindset will help the adults recognize that the behavior might well be a symptom and not the problem, and to deal with it accordingly.
"It's discipline versus punishment," Trimble said. "(Senate Bill 100) is about restoring and repairing, not labeling."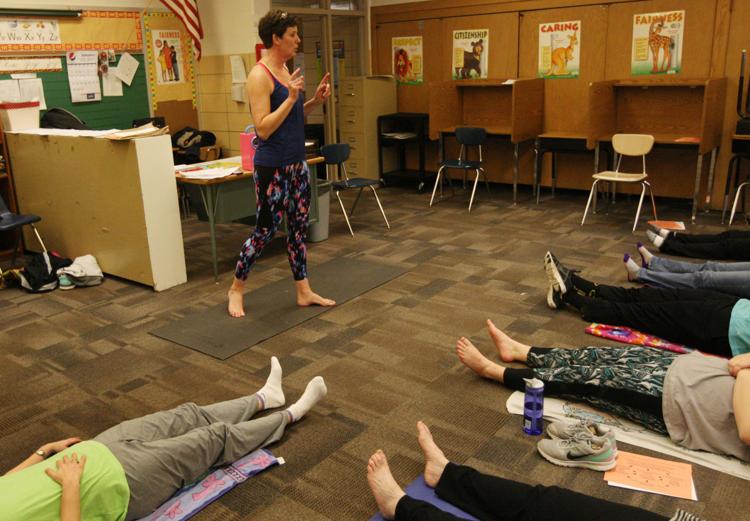 That bill, which sharply curtails suspension and expulsion and went into effect last year, requires schools to exhaust all other avenues before resorting to those measures. When a kid's behavior is not willful disobedience and disruption, but emotional distress he or she lacks the tools to handle, punishment doesn't help. It only adds to the distress the child is already feeling.
At the same time, Trimble said, teachers and other adults risk "compassion burnout," pouring so much into trying to help that they deplete their own reserves, and that's not good, either. Part of the training is to teach the helpers how to avoid that, with mindfulness and rest for themselves as needed. Teachers learn relaxation techniques and yoga.
Books that help create the trauma-informed mindset, which are being used in training at the pilot schools, include "Lost at School" by Ross W. Greene, "The Boy Who Was Raised as a Dog," by child psychiatrist Bruce D. Perry and "Help for Billy" by Heather T. Forbes.
"All kids can do well," Trimble said. "This is a lens, not a program. It's a theory of thought, a way of doing business, a viewpoint and a mind shift."