OREANA — Emily Castelli's cheeks were pink and she was breathing faster after a go-round in one of two bounce houses in the gym at Argenta-Oreana Elementary School.
Emily and the other students at the school have spent recent weeks raising money for the American Heart Association through the Kids Heart Challenge, formerly known as Jump Rope for Heart. The focus has changed, said physical education teacher Gwyn Jones, to focus on whole-body wellness and activities that appeal to a wider range of ages.
"When you think of jumping rope, you tend to think of elementary (age) kids," Jones said.
Now, the challenge includes any activity that raises the heart rate, so students at Argenta-Oreana played basketball, four-square in the air, danced, bounced in the bounce houses, and enjoyed snow cones. And yes, they jumped rope.
"My afternoon classes have been jumping rope and my morning classes have been playing basketball," Jones said. "(The American Heart Association) is just encouraging any heart-healthy activity. The culminating event of the whole thing is this. It's kind of a relax time, to celebrate."
Jones spent some of her class time during January teaching the kids about hearts and healthy habits, and that not everyone's heart is healthy, but because the students are so young, she couldn't go into as much detail as she might have otherwise.
You have free articles remaining.
"They learn about different heart issues that kids are born with, or that they've developed over time and what the American Heart Association does and where the money goes," Jones said.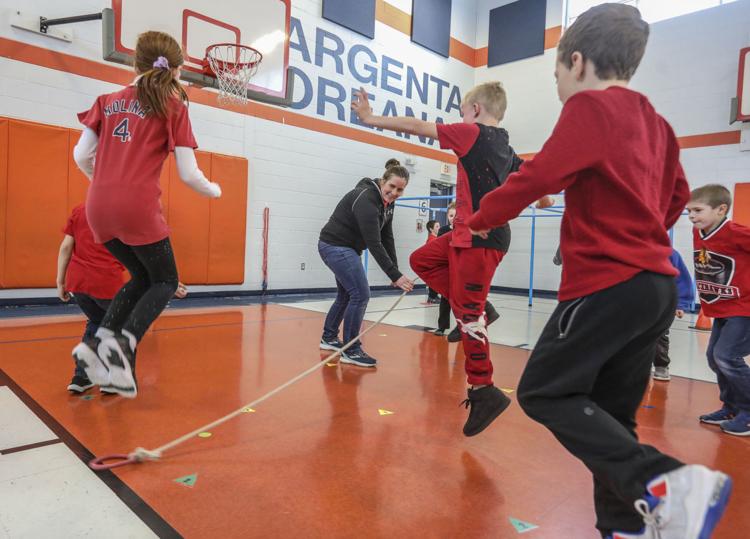 Most of the youngsters have T-shirts that read, "1 Heart Saving Many." While they were collecting donations, they set up online donation sites through the Kids Heart Challenge where family and friends could donate, said fifth-grader Holly Rood. 
The website on Monday registered total donations of $3,721, raised by 66 team members.  
Emily liked the bounce houses best, while Holly liked the basketball and four-square in the air, which is a game played under a PVC-pipe frame and both of them liked the fact that they had a boom box and music.
"It would be boring without music," Holly said.
______________________________________________________________
PHOTOS: A-O Jump Rope for Heart
Contact Valerie Wells at (217) 421-7982. Follow her on Twitter: @modgirlreporter