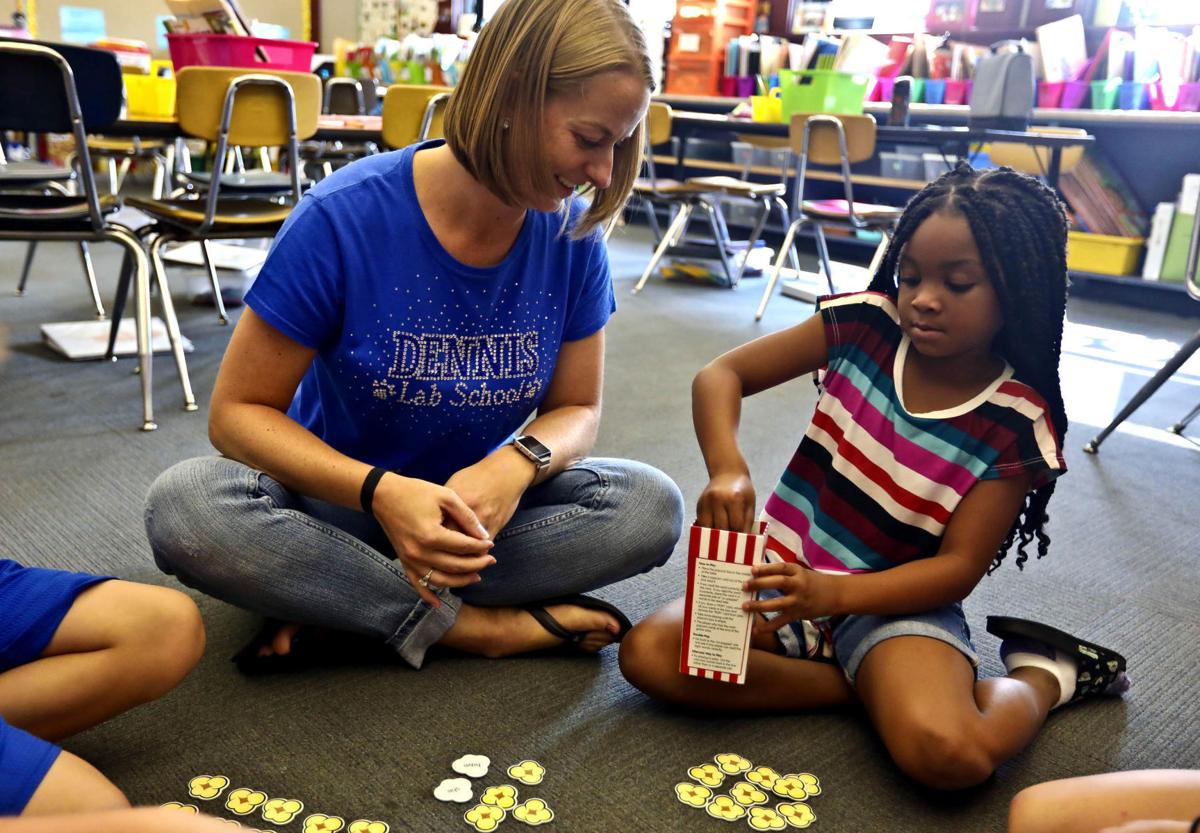 DECATUR — State lawmakers and Macon County superintendents are finding new ways to grapple with an ongoing Illinois teacher shortage that has left some districts struggling to fill open positions.
New legislation signed this year took some steps to address the problem, and some districts, like Decatur Public Schools District 61, have launched incentive and training programs to attract and retain teachers. But with hundreds of estimated unfilled classroom positions across the state, many agree that more needs to be done.
"We are still just talking about school districts fighting over the same few teachers coming out of college," said Travis Roundcount, Mount Zion Community Unit School District 3 superintendent, "and there isn't enough for everyone."
It's a far-reaching issue. The Illinois State Board of Education estimated there were more than 1,400 unfilled classroom positions at the start of the last school year.
A statewide survey of school districts, released in March by the Illinois Association of Regional Superintendents, found that 89% of respondents in Central Illinois had trouble filling teaching positions with qualified candidates. The survey also found that 85% of responding superintendents said they had either a major or minor problem with teacher shortages.
Last month, Gov. J.B. Pritzker signed several bills designed to target the problem, eliminating a requirement that prospective teachers pass a test of basic skills and setting a new minimum wage for educators. The moves were seen by advocates as a positive step. But local district leaders say Illinois teaching requirements remain more strict compared to other states, and the problem lies not only in attracting new teachers but also in keeping them.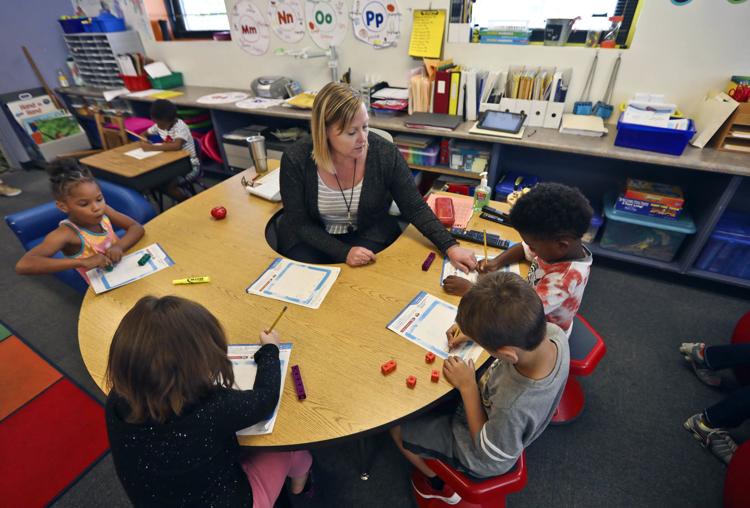 "This isn't just about attracting teachers to Illinois; it is also a retention issue," said Matt Snyder, Macon County Regional Superintendent of Schools. "How do we support them once they are here is one aspect of this as well."
Local challenges
As the largest public district in Macon County, Decatur feels the impact of the shortage the most. Decatur Public Schools had 68 vacant teaching positions as of Sept. 11, according to Deanne Hillman, a human resource representative for the district. That's at a district with more than 600 teachers overall and a total student population of about 8,900, spread over more than 20 buildings.
Officials from surrounding districts with far fewer buildings and students said they have also found it challenging to hire new teachers. But most said their districts had not experienced more than a few vacant positions at a time.
Decatur district leaders have long identified the need to use innovative paths to hire and keep teachers. The district in February held a job fair at its Keil Administration Building in hopes of drawing in new teachers. "DPS is always researching non-traditional ways to recruit," said Jey Owens, the district's recruitment and retention specialist. Those include working with student teachers and closing the gaps with college and university partners to create a pipeline.
District leaders also aims to make those who are hired feel supported with a weeklong orientation, which allows teachers to learn what to expect while allowing the district to coordinate a warm welcome. Owens said the week consists of educational sessions and a chance to explore the community.
"We get them out into the community and let them see what Decatur has to offer," said Decatur Superintendent Paul Fregeau.
District officials are also looking into a mentor program that would help first- and second-year teachers function in their classrooms. Fregeau said the program will pair the new teachers with those who have more experience so that they feel supported and can have someone to turn to for guidance.
Attracting and retaining "talented and invested staff" is also one of the five key strategies of the district's five-year strategic plan, which aims to turn Decatur into a "destination district" for families. Another major component of the strategic plan is a facilities overhaul, consolidating some buildings and updating others, over the course of several years.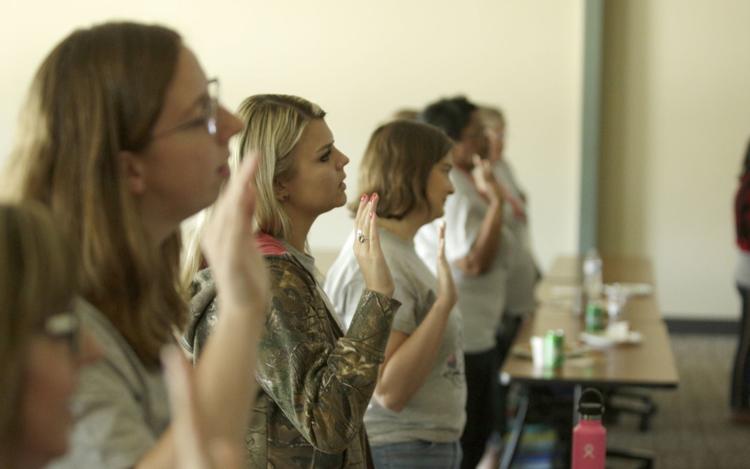 "It gets difficult to find substitutes when all of the schools in the county have to compete with one another," Snyder said.
Long-term substitutes are currently filling the gap in Decatur while the hiring process continues and no classes had to be canceled due to the shortage, district officials say. The district has recently changed its terminology to the term "guest teachers" to signal that the substitutes are valued members of the team.
Fregeau said there are several hoops people have to jump through to become a substitute teacher in Illinois. The district is looking to make the process easier by creating a program that would provide the license application, fingerprinting and additional required services in one time and place, Fregeau said.
The Meridian Community District 15 had one vacant teaching position for a middle school math teacher, which is being taught in the meantime by a long-term substitute, according to Superintendent Andy Pygott. The district has two schools and 1,039 students, state records show.
You have free articles remaining.
Teachers coming to Illinois is one challenge, but getting them to Central Illinois is another. Pygott said there are many factors that play into making young education professionals feel supported.
"Infrastructure, housing availability, comfortable living in regards to taxes that come out of their paychecks are all things that come into play when millennials are trying to figure out what their quality of living will be like in certain areas," Pygott said.
Robert Meadows, superintendent of schools at Sangamon Valley CUSD 9, said school districts should offer a competitive benefit retirement package comparable to districts that surround the larger metro areas. The district has four schools with 724 students, according to state records. Meadows said they did not have any vacant positions at the start of the school year.
Chrissy Petitt, president of the Decatur Education Association, said individual districts can take steps to address the teacher shortage.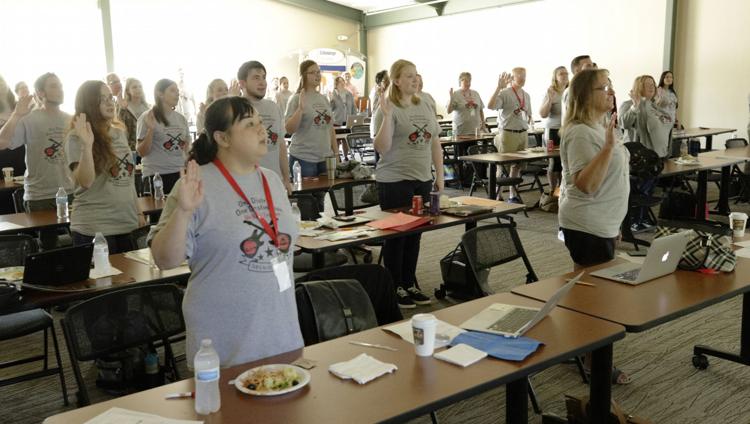 "School districts can increase salaries and benefits if adjustments should be made," she said. "School districts can also provide working conditions that entice teachers to stay in that particular district. They can continue providing academic and social emotional support as needed."
State-level solutions
Fregeau cited Pritzker's recent change in the state's teaching requirements as a step toward improving the reciprocity to out-of-state license holders. "There hadn't been any studies that linked the outcome of the basic skills test to someone being a great teacher or not," Fregeau said.
The Illinois State Board of Education previously identified 246 pending license applications that will be updated so that applicants may receive a license or continue fulfilling the other requirements. The new law also allowed approximately 1,300 teaching candidates to begin student teaching this fall.
"When someone is licensed in another state, Illinois has a lot more hoops they have to jump through to teach here," said Kristen Kendrick-Weikle, superintendent of schools at Warrensburg Latham CUSD 11.
Kendrick-Weikle gave the example of a former potential teacher who has a master's degree in physical wellness and fitness but could not teach without a degree with a teacher education component.
"It would make sense that with her professional experience she could teach and we could offer extensive education training to bridge the gap," Kendrick-Weikle said. "In order to teach in Illinois, she would have to go back and take a bunch of education classes. I'm not saying it should be easy to become a teacher, but we could be missing out on tapping into the potential that is out there."
Warrensburg Latham CUSD 11 has three schools and is fully staffed this year with 65 teachers. Kendrick-Weikle said there is also a need for social workers and the state should re-evaluate those requirements as well.
She said more funds for mental health or lessening the requirements in this aspect could help districts as well. In Illinois, school social workers are required to have a Professional Educator License with a school social work endorsement. The state board of education requires an internship of at least 400 hours, working at least two days a week in a school.
"Someone with a master's in social work cannot come into a school and be a social worker," she said. "I want to help all of our kids, and my immediate concern is meeting their social emotional needs. I think someone with a master's degree in social work can achieve that and we could provide additional training."
Roundcount said the state could offer more support to educators.
"The state could support educators and the education system instead of every year adding more requirements and less benefits to being a teacher," Roundcount said.
The Mount Zion district has five schools and 140 teachers. Officials were unable to fill one vacant physical education teacher position before the school year began.
"We currently have a lot of great teachers," he said, "but the only way our future generation will have a lot of great teachers will be if we support the education system as a whole."
Fregeau said there are a few things lawmakers can do to help attract and retain Illinois teachers but they won't happen overnight. One idea he said he's communicated to state representatives is to create a state college education program that helps recent graduates mitigate student loan debt.
Snyder said the state can do more, and some of those potential solutions are already being looked into.
"We just need to do what we can to support our educators," he said, "because they play an important role in the lives of our students."
Contact Analisa Trofimuk at (217) 421-7985. Follow her on Twitter: @AnalisaTro