DECATUR — Darren Dukeman had a very important question for Jacques Nuzzo after the Illinois Raptor Center's program at the Decatur Public Library on Monday. 
"How can a bald eagle be a baby and be so big?"
The question was inspired by the appearance of Laura, a juvenile bald eagle, during the program sponsored by Friends of the Decatur Public Library. Laura is a full-size eagle, but she doesn't yet have the white head characteristic of a bald eagle because eagles don't get the white head until they're 5 years old. Until then, they're mostly black with some white speckles.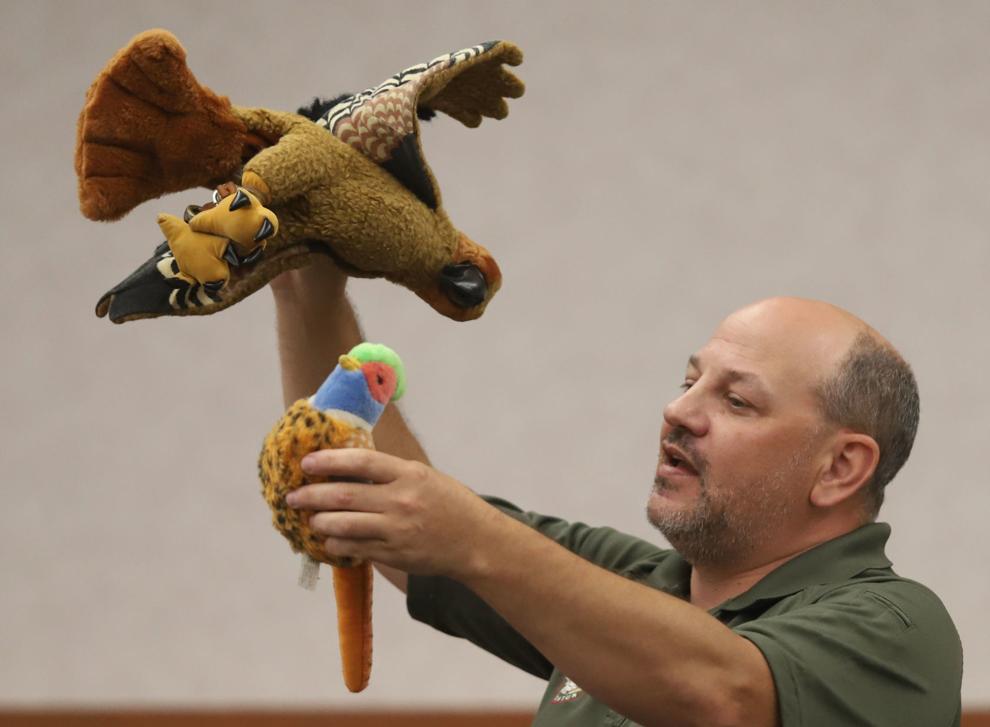 Darren, his sister Dinah and their mom, Ashton, attended the program because Ashton Dukeman's parents live in the country near Lake Shelbyville, and the family often visits the nearby nature center there, where the youngsters have developed an interest in wildlife.
Bald eagles have recovered from near-extinction in the 1970s, Nuzzo told the full house at the presentation.
"When I look at bald eagles, I see one of the greatest conservation successes known to man," Nuzzo said. "In my lifetime, I've seen this bird recover."
When the pesticide DDT was popular, Nuzzo said, it was used everywhere. Trucks even went down streets and sprayed it into yards. The pesticide didn't obviously harm adult eagles, but when those adults laid eggs, the shells were brittle and broke easily, even when the mother eagle tried to sit on them. As a result, babies didn't survive and eagle numbers dropped radically. Once scientists figured out that DDT was harming wildlife, it was banned and eagle numbers have risen to the point where you can see bald eagles right here in Decatur, Nuzzo said.
Nuzzo told the audience that he developed his love for the outdoors and wildlife as a boy, roaming around the woods with his brother. When people ask him what they should study in college to have a job like his as program director for the Illinois Raptor Center, he tells them what they need to do is go outside.
He related one story of his boyhood adventures about a blue racer snake. His grandfather told him if he chased one, it would chase him back, and he and his brother tried it, but the snake went into a neighbor's house. Years later, he saw one at the Illinois Raptor Center and he got executive director Jane Seitz to videotape him chasing it.
"The snake rose up like a cobra," Nuzzo said. "Jane got the whole thing on film."
"He screamed like a girl," Seitz said, making the audience laugh.
All that time in the outdoors, observing animals, Nuzzo said, inspired him to go to the library to get information about them. One book suggested to him by the children's librarian at the time was "My Side of the Mountain," a book about a boy trying to live in the forest. That boy, Sam, had a peregrine falcon and the falcon Nuzzo and Seitz brought to the program on Monday is named Sam in his honor.
Before bringing out any of the birds, however, Nuzzo cautioned his audience that the birds of prey know him and Seitz, but would not know or trust a room full of strangers. He asked that everyone sit down and be quiet. Some of the birds, like Solo the red-tailed hawk, are veterans of such programs and crowds don't disturb her. But Reaper, the barn owl, is new to programs and requires more consideration. Reaper is trained to fly from Seitz to Nuzzo and back again for treats, and Nuzzo cautioned the audience to keep their hands in their laps. If they put their hands or arms up, Reaper might think he was supposed to fly to them.
As he closed the program, Nuzzo asked the youngsters, "How do you get more outdoor experience?"
Most of them knew the correct answer: "Spend more time outdoors."
Nuzzo asked them to promise they'd go outside this summer and observe nature firsthand.
Contact Valerie Wells at (217) 421-7982. Follow her on Twitter: @modgirlreporter