DECATUR — Students who couldn't resist a conference session called "Let's Hit Things" with Millikin University Associate Professor Neal Smith sat in a row in Kaeuper Hall banging on hand drums.
Smith played piano and his fellow professor Melissa Miller pointed to students in turn to take a drum solo to give them a feel for what a music class in a school might be like if they pursue a career in music education. The session was one of many in Millikin's annual Tomorrow's Teachers conference offered to high school juniors and seniors considering a teaching career.
"Our music ed program at Millikin is four years, but if you look at some other schools and programs, all very good with different qualities, we manage to keep ours at four years," Smith told the students. "That is fairly rare in music education because there are lots of course requirements, some by the state, some by us here at Millikin. Music ed majors are kind of a double major plus."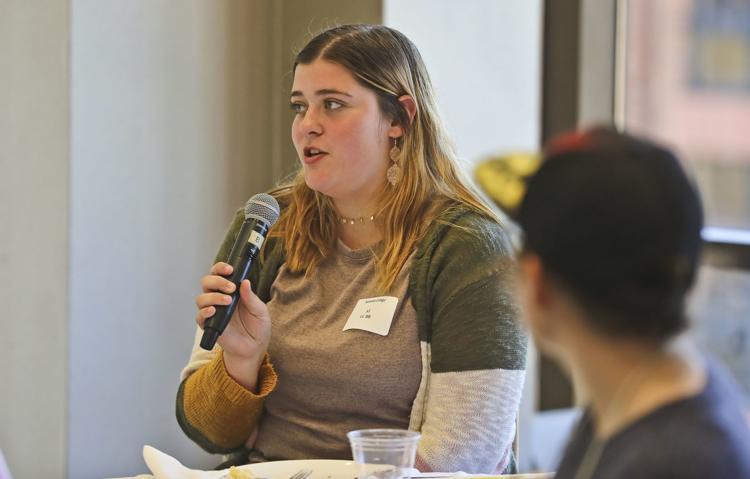 That's because students who plan to be music teachers have to take all the same music classes a music major takes — theory, ear training, playing instruments, playing in ensembles, singing — but that student also has to take all the courses an education major is taking. Millikin worked hard to squeeze all that into four years, Smith said, and nearly all students manage to accomplish it.
And if the high school students were hesitant about pursuing a career in teaching music, he said, due to hearing that such programs are often on the cutting block in cash-strapped districts, don't be. The teacher shortage is so acute that plenty of jobs are available. Music teachers are required to be ready to teach any level from K-12, and to teach everything from band to choir to orchestra.
In Macon County alone, there are 70 unfilled teaching positions, covering all subject areas from elementary classroom teachers to Spanish, math and science teachers at middle and high school levels. Special education is another high-need area, with 11 openings in Decatur schools and 10 openings in the Macon-Piatt Special Education District, including social workers and speech-language pathologists. 
More than 70 high school students attended the conference, with some coming from as far away as Elgin, said Pamela Barnes, director of Millikin's school of education. That's the highest number they've had so far, she added, and the event has grown every year.
For the students who came from a distance, there's an overnight option in the "living and learning community," which is specifically for education students. It gives them a chance to spend time with and talk to Millikin students to find out what the teacher training program is like, and some of those students also spoke at the luncheon during the event to answer questions.
"The students get to see the campus and how beautiful the campus is," Barnes said. "Some of them have never been to Millikin and some of them may have never heard of Millikin before. They get to come here and spend the day and see students walking around campus and see faculty and staff interacting with students. If I'm escorting a group and I see (Millikin) students, I stop and talk to them, so (the high school students) can see how kind and caring we are and that this is not a scary place to go to college."
You have free articles remaining.
Breakout sessions included topics like bilingual education, technology in the classroom, STEAM (science, technology, engineering, arts and math) experiments, early childhood education, Spanish education, a tour of Dennis School, which has a partnership with Millikin, and English language arts. Millikin faculty led those sessions.
The visit to Dennis School was particularly important, Barnes said, because Millikin's performance learning focus puts students into situations where they gain practical, hands-on experience from the start of their college years, including those studying to be teachers. They don't wait until their student-teaching experience in their senior year.
Barnes has only been the school of education director for two months, and she wanted to know how effective the conference is.
"I'm a data person," she said. "I guess because there's been a switchover in our systems of data collection, admissions has some data on longitudinally, looking back to see who (of the students) has come (to Millikin for college). It's just pulling it out of the system has been a bit difficult. But I can say anectodally, speaking with students who have been to this event, I was surprised at how many (Millikin) students said 'I came to this conference when I was in high school, can I help out? Can I sit on the student panel at lunch?'"
Zhanigh Rice, a senior at MacArthur High School, loves music and performing, so becoming a music teacher interests him. One of the things he enjoyed at the conference was the session that showed how a teacher can draw all the students into a musical game or activity and make everyone feel included and important.
"Anything in the music area, I go towards the light," he said.
Melissa Miller led a session on yoga and movement, and laughingly said the music students are always up for anything like that, but the activities would be suitable for any subject at any grade level. When kids get restless or need a brain break, such activities are just the thing, she said.
Raegan White, a senior at Eisenhower, would like to teach band because she loves her own choir and band classes so much.
"It really is inspiring and gets me through the day," she said. "I want to be able to teach that to other kids."
---
Slideshow: Where Decatur school buildings got their names
Contact Valerie Wells at (217) 421-7982. Follow her on Twitter: @modgirlreporter