WARRENSBURG — Patricia Polacco grew up in a family of storytellers. From the time she was a small child, her parents and grandparents told stories every night as they could not afford a television.
Polacco said she struggled with reading and dyslexia and did not learn how to write until she was 14, however, she would create mini books entirely made of her own drawings as birthday gifts for friends. Now 74, Polacco has written and illustrated more than 115 children's books and has lectured at schools across the country. 
The best-selling author and illustrator brought her stories to six schools in the span of about a week, including schools in Warrensburg-Latham and Clinton. Warrensburg-Latham Elementary K-5 students on Tuesday hung on Polacco's every word, listening to her tell stories of magical dolls and shooting stars — family stories complete with Russian and Irish legends which she turned into books. 
"Art is like breathing," Polacco said. 
The students were well-versed in her stories, and some of them eager to finish her sentences as she read aloud. A favorite among the students was her book "Meteor!" the story of a shooting star that landed in the front yard of her grandfather's farm many years ago. Polacco brought in a piece of the meteor for children to make a wish on one condition.
"You can make as many wishes as you want as long as the first wish is for someone else," she said. "The first wish should be something you can do for someone else like being a good friend to someone you know needs one."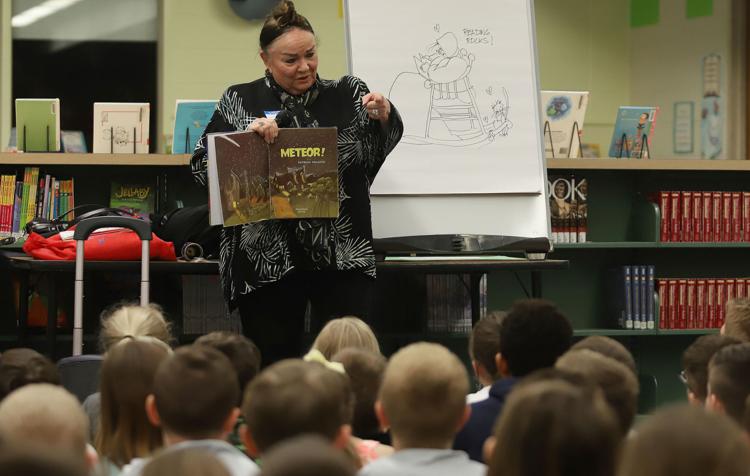 The concept tied in well with the school's 15-day Kindness Challenge. Principal Laura Anderson said Polacco solidified what the students were currently learning in their lessons on kindness.
"The students are so engaged when she speaks and she shows them how they have the power to change another child's life through kindness," Anderson said. 
Polacco is an advocate for kindness and has written books about bullying based on her own experiences as a child with learning disabilities. She said she struggled with reading, dyslexia and other challenges. She earned a bachelor's degree, master's and Ph.D. in art and art history and has studied in the United States, France, Russia, England and Australia. 
"My hope is that children who are struggling with any of these things can see that it gets better," she said.
Polacco said she plans on continuing to speak in schools.
"Nothing brings me greater joy than talking with youth. I want to do this for as long as I can as often as I can until I can't do it anymore," Polacco said.