DECATUR — Brenda Herron retired at the end of last school year, but she was back on Wednesday, as she had promised, to greet the Garfield Montessori School students on their first day.
"I blame my plants," said Herron, better known as Peanut, who served as the building custodian for more than 20 years, beginning when it was still John Adams School. "I have to come in and water them and check up on my kids."
"Her" kids are the students, many of whom are second- or even third-generation Garfield students who were so glad to see their "Miss Peanut" that they gave her bear hugs as they entered the school.
"It really is a family here," Herron said.
Decatur students had a smooth first day back, with a few tears from small students but, Garfield Principal Mary Anderson said, none from parents that she saw.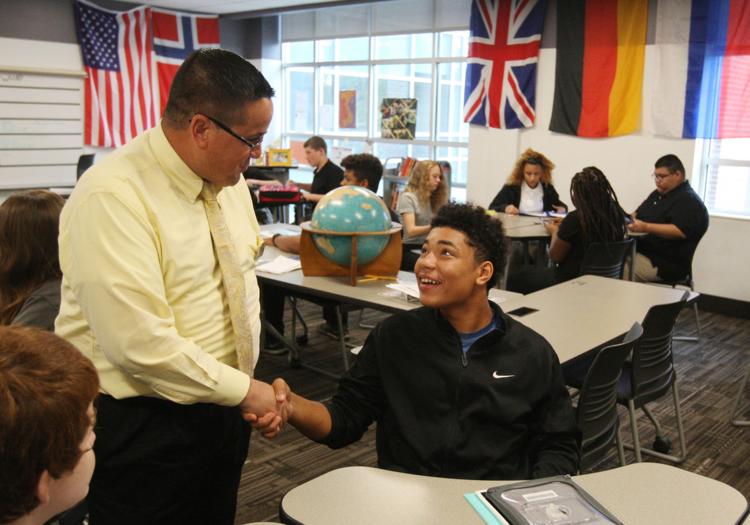 A new bus service, Alltown, is transporting students this year, and Anderson said she was impressed with the drivers and the buses.
The first day of school is usually a bit chaotic, with kids trying to find their way around, parents either celebrating or weeping over handing their youngsters back to the daily routine, and new staff figuring out who everybody is.
Owen Connelley's two children attend Hope Academy, Ciara in seventh grade and Brayden in first.
"I felt good taking them to school," Connelley said. "It's a big weight off my chest, actually, being a single parent and having a break."
Ciara's been at Hope for two years, and this is Brayden's first year there, and Connelley said he thinks his son was more excited than his daughter for school to begin.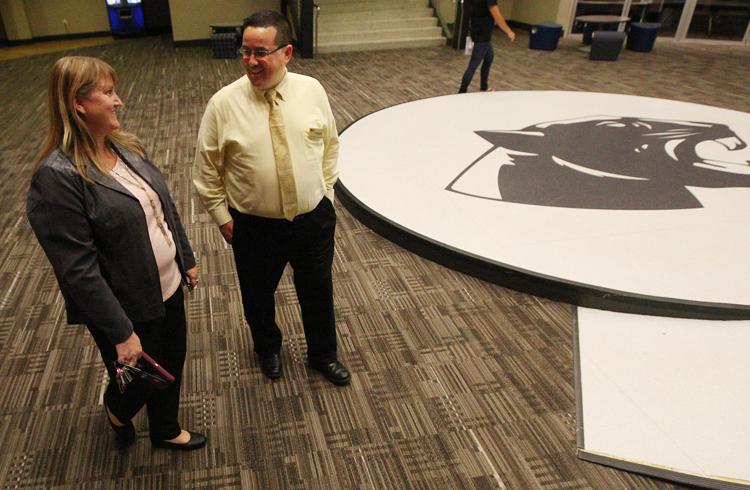 "Today is full of emotions," said Jonathan Downing, who was principal of Parsons School until June, when he took a job with the Illinois Education Association. "Besides the professional/financial growth my new job brings, the top reason was being able to do this, taking a more present role in the lives of my children."
This is the first time he's been able to take his daughter Noelani, a seventh-grader, to school on her first day, and this year, she was accompanied by younger sister Emmaline, who began kindergarten. Both girls attend Garfield, and their mother, Aubrey, teaches there. One brother is off to Millikin University this year, and the other is a junior at MacArthur High School.
"The best thing about working in education is the start of a new school year," said new Superintendent Paul Fregeau, who spent Wednesday visiting buildings. "It's an opportunity for a fresh start. The first day of school comes with lots of excitement, meeting new faces or reconnecting with familiar ones.
"We can't wait to have our buildings filled with staff and students again and are ready to work towards making some great strides for a successful school year in Decatur public schools."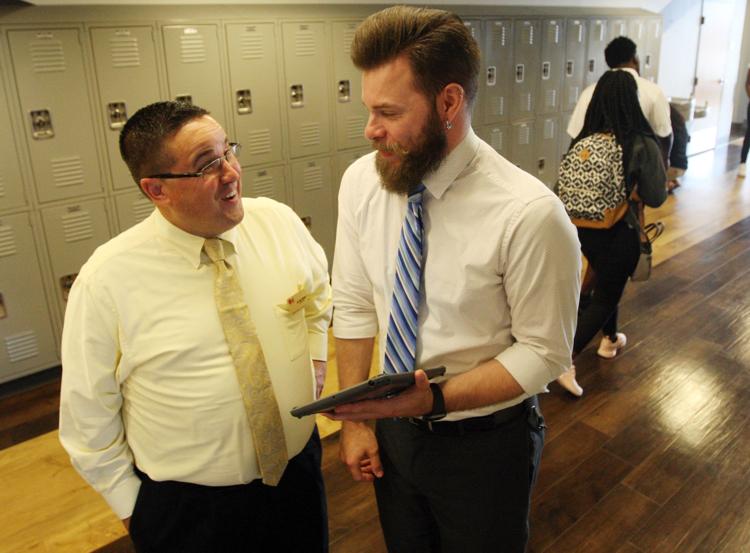 "It's the same every year, getting new kindergartners in, showing them around the building, explaining our (Positive Behavior Interventions and Supports) expectations," said Rob Prange, principal of Johns Hill Magnet School. "(The buses) will get a little faster tomorrow and a little faster the next day and on Monday, there'll be no problem at all."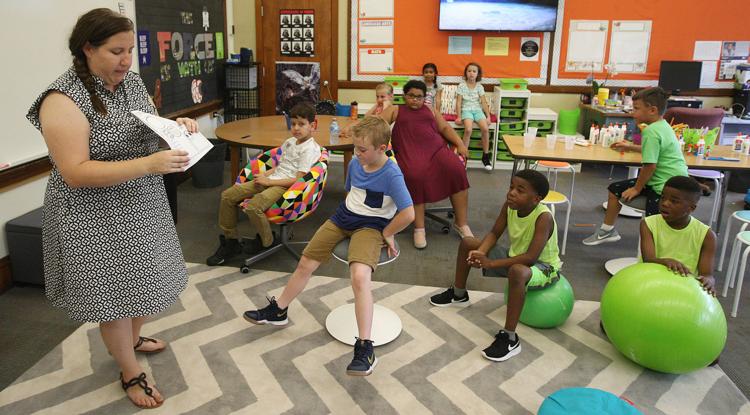 Liz Harding and some of her fellow teachers at Johns Hill went to a conference over the summer and were inspired to try nontraditional classroom seating. In her third-grade room, she has exercise ball chairs, swivel chairs, stools, cushions, and cocoon chairs, which have folding canopies that allow a child to, basically, disappear into the chair.
"We can go from whole group to individual groups in about a second's time," Harding said of the new configuration. "It's leveled. I tried to make sure there's ground level, medium levels, the idea of being able to stand. It's a way to kind of keep them moving so they're working at the same time."
The exercise balls take a bit of getting used to. One child scooted off his and ended up on the floor, but he just laughed about it and climbed back on. Those seats, and the ones with an exercise ball in a frame with a back on it, give the kids a "squishy" seat, as Avery Harrison, 8, described hers.
Avery and classmates Alaina Folmnsbee and Summer Bond, 8, sat together at a low table doing worksheets. All three said they approved of Harding's new classroom design. Harding said she had been a little worried that the kids would think the bright colors were too "kindergarten" for them, but the girls didn't feel that way at all.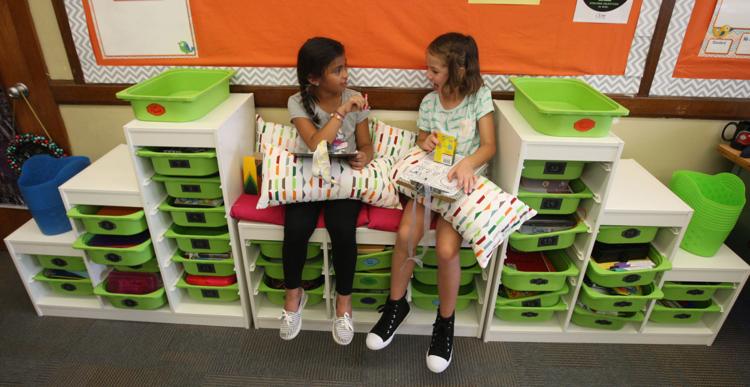 "I like the colors," Alaina said.
Summer, like her friends, said she was ready to come back to school. "I spent all summer playing with my dog," she said. "He wants to play fetch all the time."