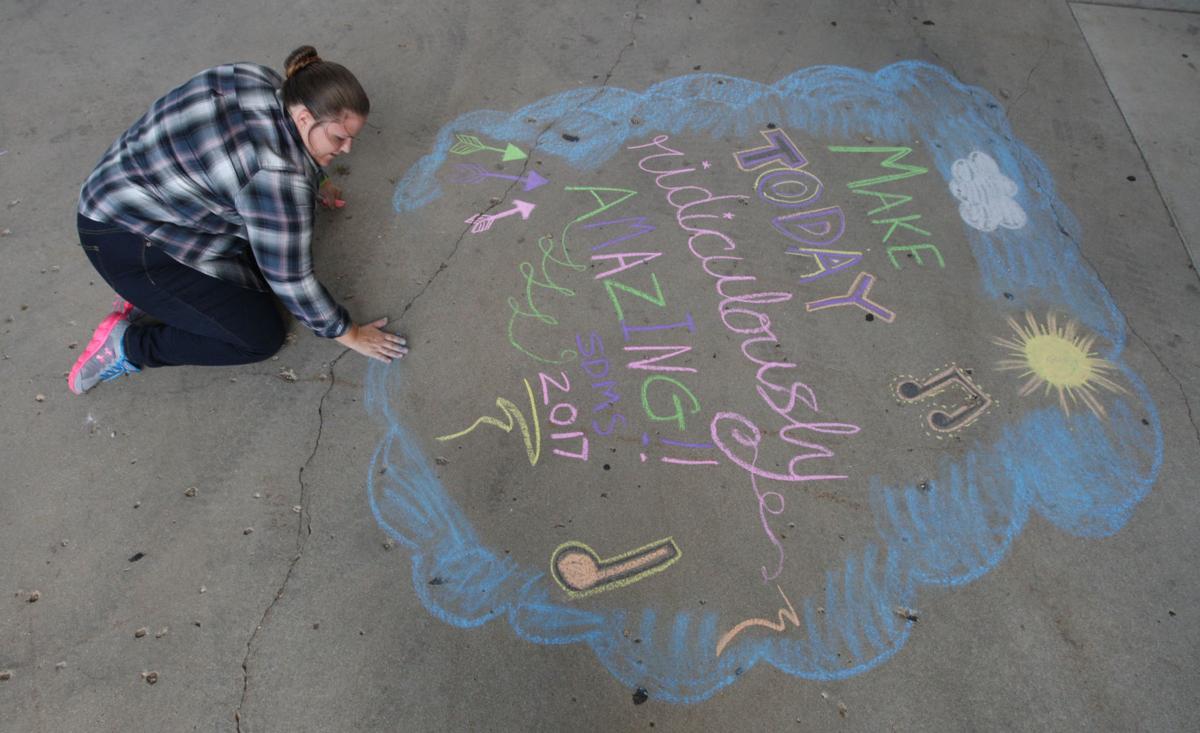 DECATUR — Three Eisenhower High School students sat on a bench in front of Baum School on Tuesday debating the best messages to chalk onto the walks leading to the door.
"The principal (Tanya Young) gave us some ideas," said sophomore Kandrey Cogan.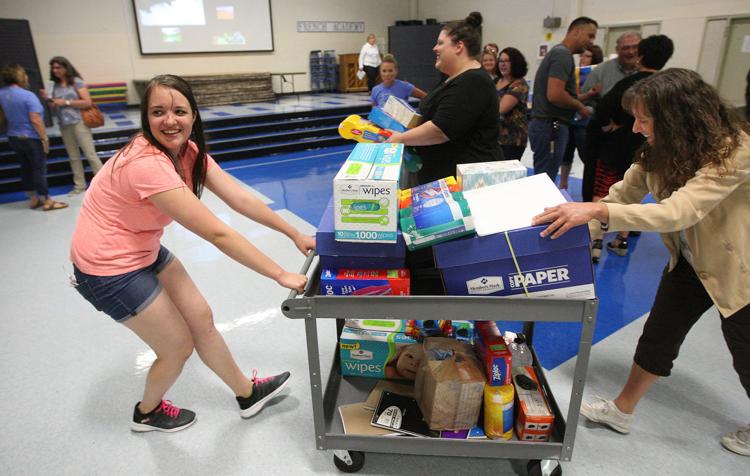 After further discussion, freshman Ethan Greene took an orange piece of chalk, because they didn't have a yellow one, and drew a large star. Inside, Kandrey wrote "Be a star," then she and her sister, Hayleigh, also a freshman, drew multicolored streamers to make it look like a shooting star.
On Tuesday, schools all over Decatur got the same treatment, as teachers, parents, students and community volunteers visited buildings to write encouraging messages on the walks for the kids who return to classes today.
Organized on Facebook by Jennifer Panganiban, who taught at Decatur schools before moving on to Illinois State University, "Chalk the Walks of Decatur Public Schools" grew almost overnight from her original message into an event with people at every building stepping up to organize their own volunteers.
"We keep talking about making our community a better place so this is one chance for you to take action," Panganiban wrote on the Facebook page. "Chalk the Walks is all about spreading joy, optimism and inspiration through the magical power of sidewalk chalk!"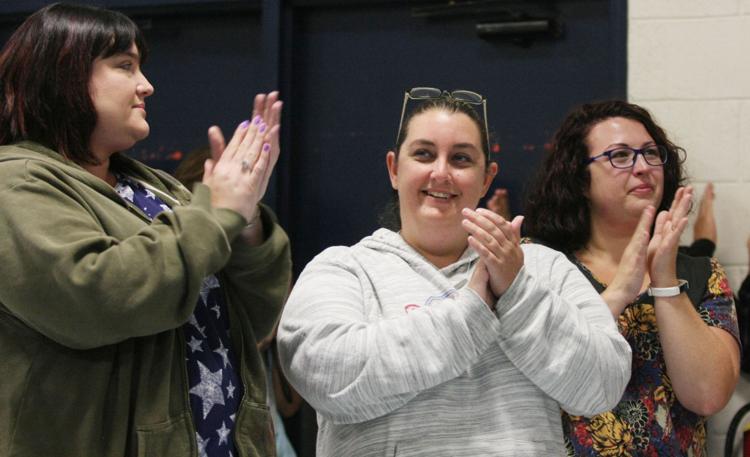 At Thomas Jefferson Middle School, teacher Penny Jones marshaled her troops from the student council members and former students, like Kandrey, Hayleigh and Ethan, who planned to come to Thomas Jefferson to help get ready for today's first day anyway.
"I have kids who always come and help on teacher work day," Jones said.
Those kids fanned out all over Thomas Jefferson's grounds and wrote messages such as "Today is a good day to have a good day" and "Read like a champion," which is the school's theme this year, on the walkway between where buses unload and the student entrance.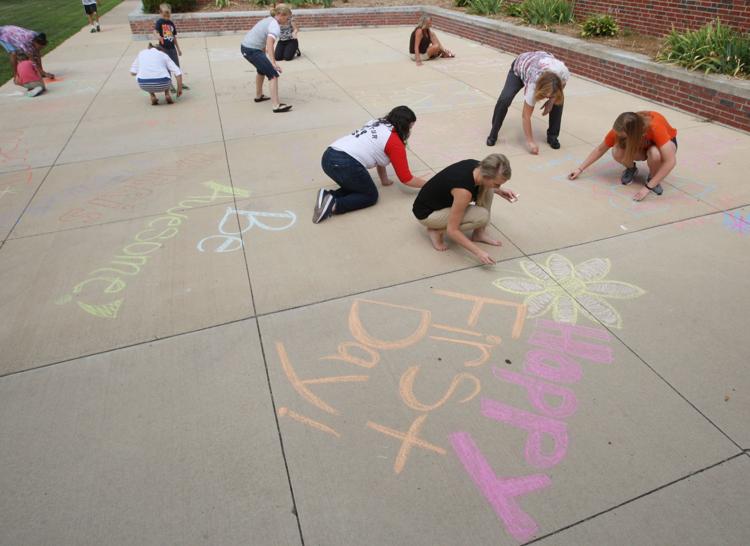 They didn't forget teachers, either, who have their own entrance. Written on that walk and the stoop in front of the door are messages like "Don't forget to smile" and "Be patient," and "Welcome back!"
The hope is that coming back to school and finding such messages on the walk, which should last a few days, will get the year off to a positive start and remind the students that people are rooting for their success.
Many of the buildings didn't have a formally organized time for volunteers to write messages. People were encouraged to show up whenever they could and write a message.
DCC Marketing employees chose Eisenhower, partly because their artistic director, E.J. Panganiban, is a 2000 graduate of the school, and Jennifer's husband. He created a stylized logo that reads "EHS" right in front of the student entrance.
"(The renovations) have been pretty exciting to see, knowing when I was here at the school and what is now offered to the students," E.J. Panganiban said. "We thought we had a lot when I was in school, and now they're offering so much more."
"Especially with us being in marketing (Jennifer Panganiban) thought we would think of some pretty cool things," said Hannah Guske of DCC. "We wanted to show some encouragement to the kids on the first day of school. School can be nerve-wracking, especially the first day and we wanted to come out and give back to our community because we love it so much."
Almost the entire agency turned out for the event, Guske said.
Perhaps the biggest surprise was reserved for French Academy's staff. Principal Julie Fane banned the entire staff from the all-purpose room because Life Foursquare Church was in there cooking up a surprise.
Thanks to the Emerging Leadership Network — students studying for ministry — the congregation fulfilled a wish list from French's staff and even went beyond that to buying the school a washer and dryer.
PHOTOS: Decatur Public Schools Chalk the Walk
Valerie Pries, who oversees the internship program those students participate in, sent the students to French during the spring semester to work with kids at the school. The interns were so enamored of the school that they offered to continue during the summer months, which is where the wish list came in.
"I called Julie and asked her, how can we bless you?" Pries said.
Fane tricked her staff into telling her what they needed.
"When I sent the email out about what were some things that you'd like to have for your classroom, I know that you spend hundreds and even thousands out of your own pocket through the course of the year," Fane said. 
Teachers walked into the all-purpose room to find tables loaded down with school supplies and beaming members of the church who had come to deliver the things and chalk the sidewalks.
Church members will also be on hand in the morning to help greet students on the first day. The Rev. Mark Cooper told the staff that the church is adopting French and plans to volunteer throughout the year, do what they can to fill kids' and teachers' needs and pray for students and staff.
"Thank you for what you're doing for our babies, and not just our babies, but our whole team," Fane said
Be the first to know
Get local news delivered to your inbox!