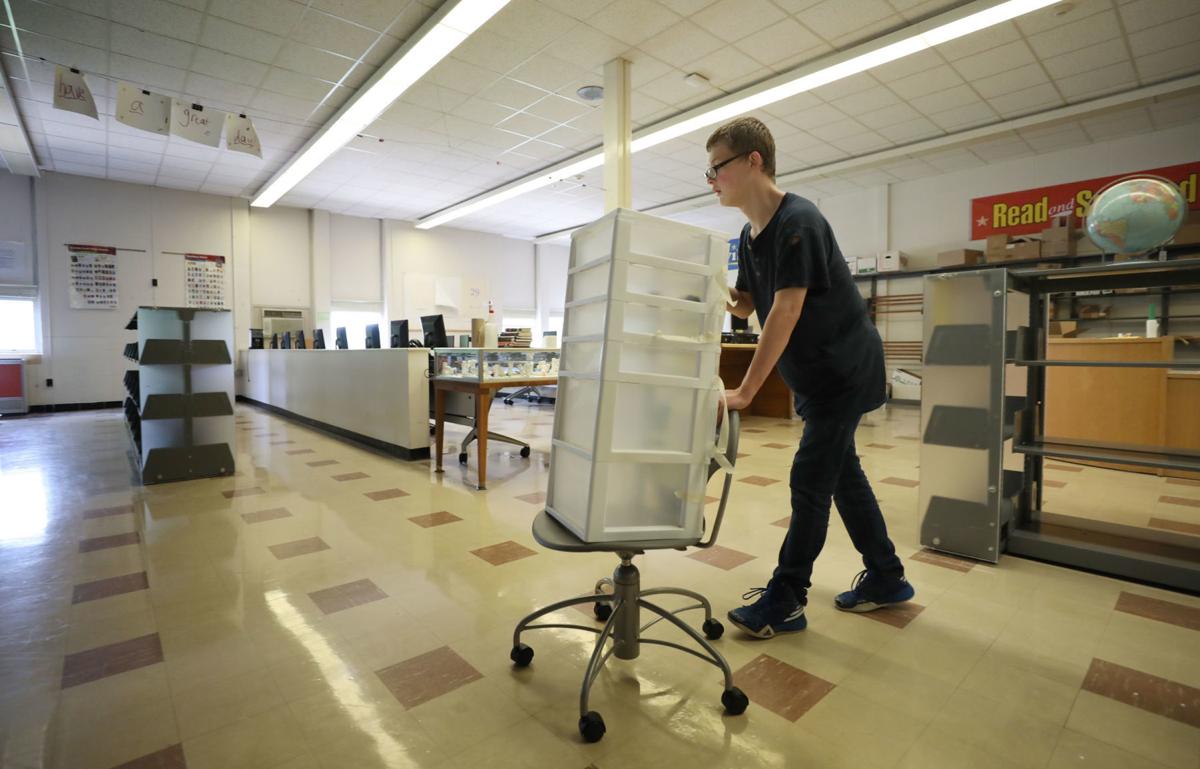 DECATUR — The last day of school is bittersweet for staff and students every year. Everyone's ready for a break, but they're also saying goodbye, sometimes forever.
At Thomas Jefferson Middle School on Friday, as teachers packed up their rooms and students earned service hours by helping, it was more than a summer break. The middle school closed for good on Friday, though the building will live on as part of the Decatur School District's $55 million strategic plan.
The Thomas Jefferson building will soon undergo extensive remodeling to accommodate the Montessori programs at Garfield and Enterprise schools and will reopen in August 2020 as the district's Montessori school. Stephen Decatur Middle School will be the district's only middle school as of August this year.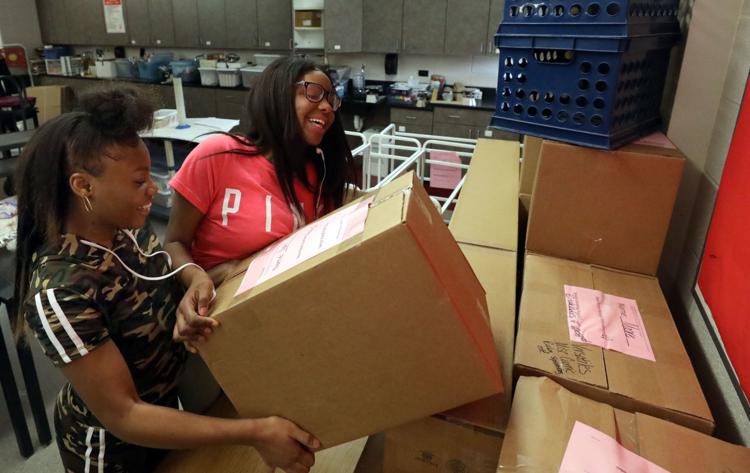 The marquee sign in front of the building reads, "Thanks for the memories. 1966-2019," a message echoed on the T-shirts worn by several staff members.
"It's sad," said Kieara Marshall, a seventh-grader at Thomas Jefferson, whose cousins in fifth and sixth grade had been looking forward to attending Thomas Jefferson. "We just have to move forward the best we can."
Classmate Nicholas Freeman said he'd made some good friends at Thomas Jefferson. He hopes they'll remain close next year, but in a school with twice the number of students split up into three academies there's no guarantee they'll be able to spend much time together.
Principal Nate Sheppard will be an assistant principal at Eisenhower High School next year. He joked that he plans to answer questions with "You have to ask Dr. (Amy) Zahm (the principal)," but he's going to miss his staff and students. Staff planned a get-together after the students left on Friday, but there was nothing planned for the school as a whole.
"Nobody really made a decision one way or the other," Sheppard said. "It was just such a busy year. We've been running full steam and just didn't get anything planned."
Sheppard has been at Thomas Jefferson for eight years.
"It's mixed emotions, because the design for the new middle school is a neat design, and it'll be beneficial for the students," he said. "It's always sad, especially when you're not carrying the name of your building with you."
Superintendent Paul Fregeau said from his earliest days in the job that the district needed a strategic plan and that part of that plan should be to consolidate buildings and streamline. With 22 buildings in the district and enrollment of fewer than 9,000 students, consolidation into 17 buildings could save the district as much as $1 million a year.
You have free articles remaining.
The plan, developed over several months, was approved in August last year, and one of the first parts to be implemented is the merging of the two middle schools.
"This is our first step to changing the district, and changing the trajectory of what this district looks like," Fregeau told the board at that meeting.
As of August, Harris School, formerly a K-6 building that also housed a number of students in special education, will be the alternative education center. Most Harris students have been reassigned to Hope Academy.
The district is also moving forward with installing air conditioning in all buildings that lack it, a few at a time, with the goal of all schools having air conditioning by August 2021.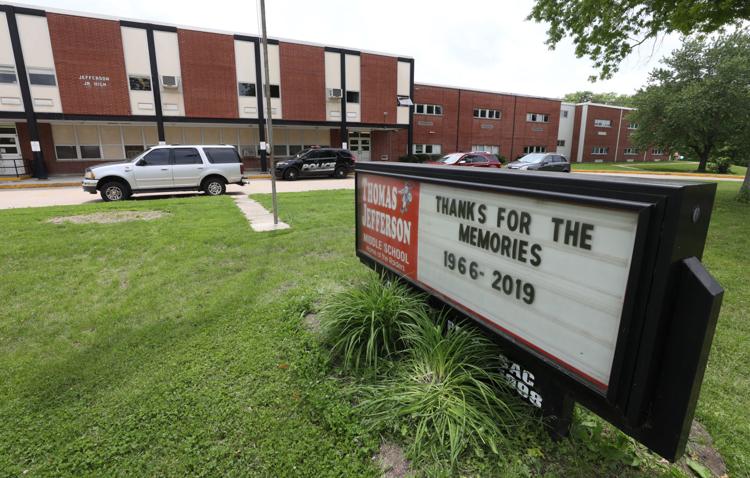 Teacher Penny Jones has been at Thomas Jefferson for 15 years and will be moving to Stephen Decatur in August. It's hard to say goodbye, she said.
"This morning, we just packed a bunch of stuff and had kids help out," she said. "They're said. We're sad. We haven't planned anything. I don't know, it's just too emotional."
Brianna Davidson has a younger sister who was looking forward to attending Thomas Jefferson, but that's not possible now. An eighth-grader, Brianna will be at Eisenhower next year, but knowing she won't be able to come back and visit her old middle school is tough.
"I feel like it's kind of sad that we're the last graduating class here," said Julia Shepard, who will attend Mount Zion High School next year. "We still had a good day today."
"It's sad that things aren't the way I thought they were going to be," said Alicia Mallernee, who is also headed to Eisenhower next year. "I thought I'd be able to come back here and visit and go to the concerts and everything. It's not that Stephen Decatur's a bad school. It's just not this school."
---
Class is in: These former school buildings are still in use
Contact Valerie Wells at (217) 421-7982. Follow her on Twitter: @modgirlreporter