DECATUR — The new Clean Water exhibit in the Children's Museum of Illinois has any number of features that kids will love, but one of the favorites of Rotary President John Mahaffey is the "tinkle."
Blue tennis balls stand in for water, and children can "drill" for water, which then flows into an oversize "child" with all its organs marked. At the bottom, the tennis balls/water drop out of the body and bump into a wind chime when the child "tinkles."
"Kids love that stuff, for some reason," Mahaffey said with a chuckle.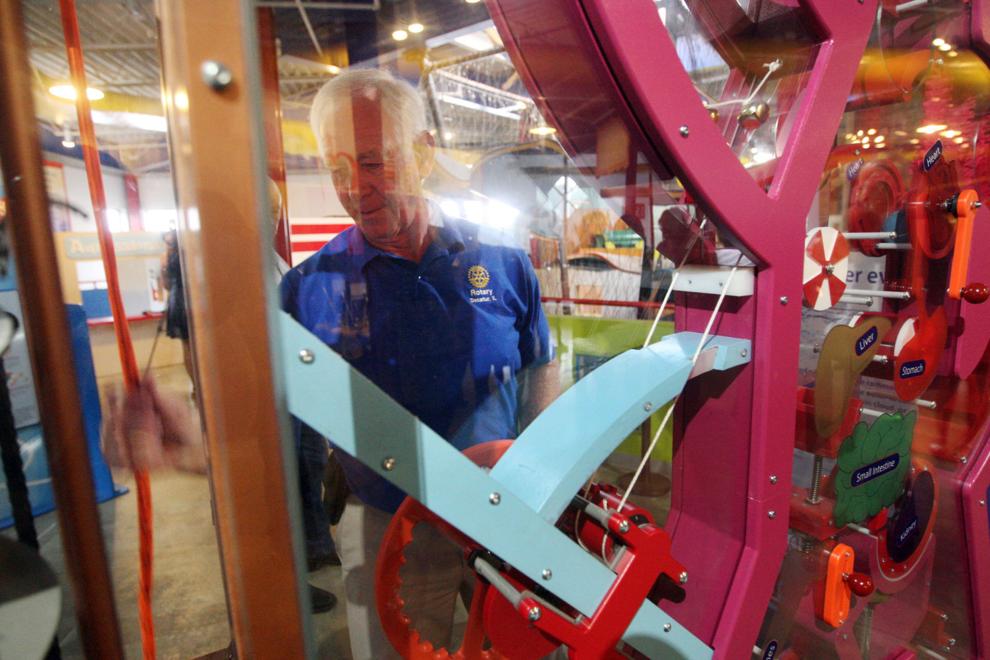 On Monday, Mahaffey and past presidents Stacey Young and Susan Keane were part of the dedication of the Clean Water exhibit, and Rotary presented the museum's executive director, Amber Kaylor, with a check for $50,000.
A project two years in the making, the Clean Water exhibit serves a twofold purpose: It educates children on the importance of clean water, which includes drinking plenty of it, and teaches them that clean water is not as readily available everywhere as it is in the United States. Jason Standberg, director of museum experiences, worked with a design firm to create the new exhibit, Kaylor said.
"A few years back, we decided that for our anniversary we wanted to do something big for the community," Mahaffey said. "So, Susan (Keane) was president at the time, and we started working on the project, then Stacey (Young) became president, and now I'm the president, so it was over a two-year period, almost three years."
A lot of Rotary clubs plan big parties for their anniversaries, he said, but Rotary 180 didn't want to do that. They wanted to spend that money on something that would last. Part of the celebration is that the members asked the museum how much it takes in on a typical day, and plans are to donate that amount annually so the museum can offer a free Rotary Day. The first one has yet to be scheduled, but it should be soon.
Mayor Julie Moore Wolfe, also a Rotarian and a past president, was present for the dedication, along with Karen Schneller, director of the Decatur Memorial Hospital Foundation, a project partner.
"A foundation is not a bank," Schneller said. "It is not our intent to save money. We take that money and do something really good for the community with the funds, and this seems to match perfectly with what we want to do. We partnered with Rotary and helped make this project a reality."
Greater Decatur Chamber of Commerce President Mirinda Rothrock brought the ceremonial scissors for the ribbon cutting. The scissors have been used for almost every ribbon-cutting in Decatur for years.
Decatur Rotary was founded on Sept. 1, 1915, while the first Rotary Club was organized in 1905 in Chicago. Today, there are 35,000 clubs worldwide, with members in almost every country. Rotary's motto is "service above self," and its goals are promoting peace, fighting disease, providing clean water, sanitation and hygiene, saving mothers and children, supporting education and growing local economies. Those goals are on a display with the new exhibit.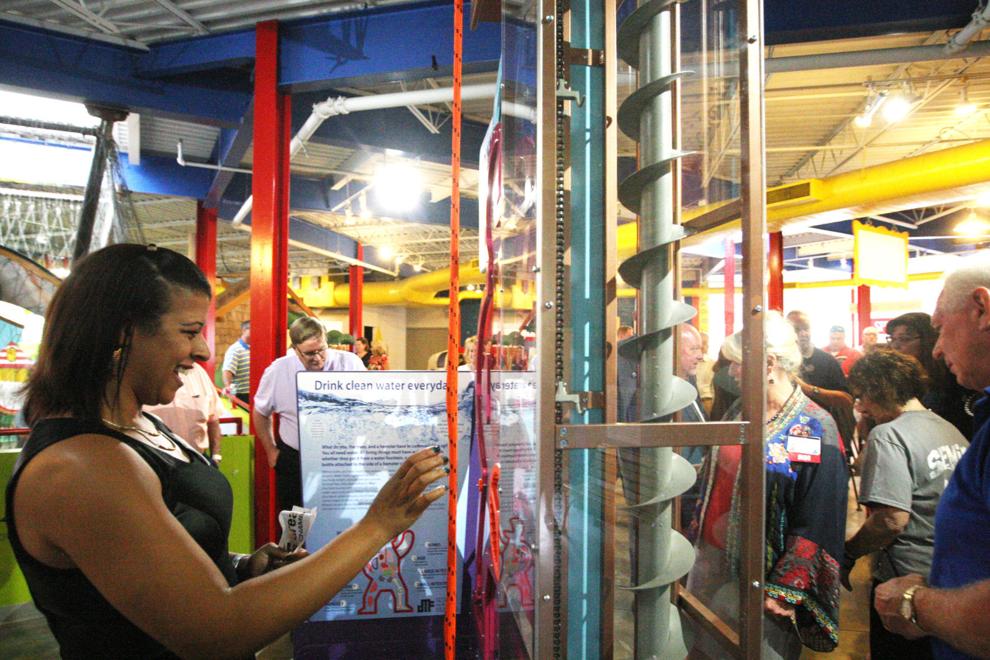 The new exhibit at the Children's Museum, which will be available for kids to use beginning at 9:30 a.m. Tuesday, fulfills two of those, Mahaffey said.
"We're excited that Rotary and the Decatur Memorial Foundation wanted to partner with us and create more educational opportunities for the children in our community," Kaylor said.