DECATUR — Like so many other things this spring, college visits are off the schedule due to coronavirus and social distancing.
For students who were planning those visits to gather information during their search for the right institution, Juanita Morris is offering an online option this week.
"Students typically take a college tour in fall or summer," said Morris, who is the CEO of Juanita Morris Enterprises and offers a summer math camp for Decatur students. She is also involved with the district's Operation Calculus class, which gives students a summer preview of higher math to increase their chances of success during the school year. "What can we do to make sure college-bound students are using their time while they're home (during the shelter in place order)? I worked at different higher education institutions over the years, and I thought I'd see if we could pull off a virtual college fair. I reached out to some colleagues and asked for referrals and connected with schools. Recruiters are not recruiting right now."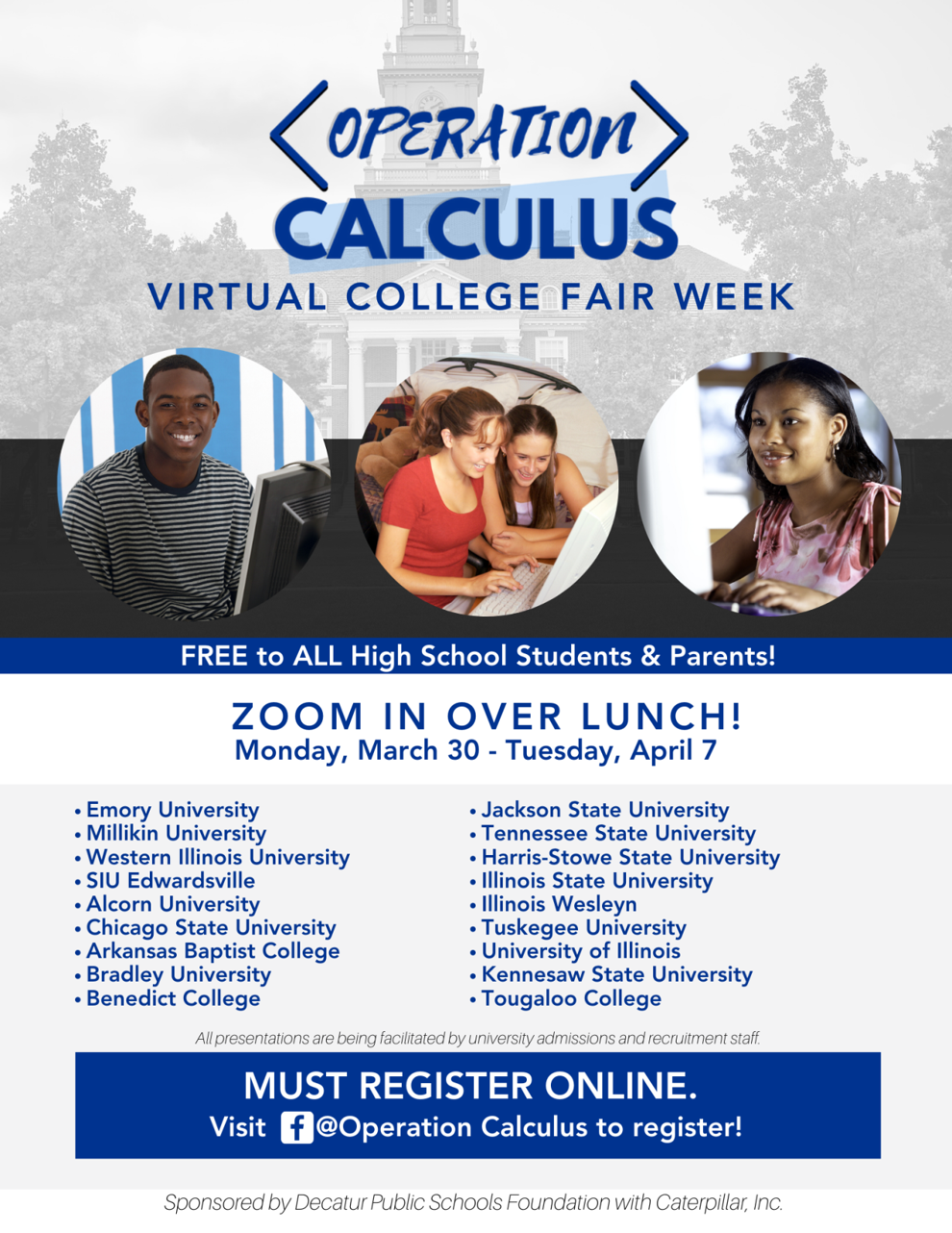 The virtual college fair is held over the Zoom app every day this week over the lunch hour. Students and parents can register for free on Operation Calculus' Facebook page. The event is sponsored by Decatur Public Schools and Caterpillar Inc.
All presentations are made by personnel from colleges that include state schools, historically black colleges and universities and private colleges including Illinois Wesleyan and Bradley University.
Loren Lindsey is a senior at MacArthur High School and though she's already chosen Auburn University in Auburn, Alabama, she is attending the virtual college fair and hopes that other students will, too.
"I think it's important for juniors and everyone to get information, especially given the time we're in where college visits aren't entirely possible," Loren said. She plans to major in biochemistry and go to medical school later. She wants to be a trauma surgeon or work in emergency medicine.
"It's just a matter of making sure students and families are aware of what it takes to transition to college," Morris said. "We don't know what enrollment will look like from a higher education perspective in the fall, as everything shifts and changes. We want to do some things differently and thought this would be a good idea."
____________________________________________________________
8 questions about the coronavirus, answered
Contact Valerie Wells at (217) 421-7982. Follow her on Twitter: @modgirlreporter