DECATUR — Only seven weeks ago, Millikin University professor Martin Atkins had an idea for a conference.
"On March 9, I called a town hall meeting of everybody I knew in Decatur and said, 'Come on down, I've got an idea,'" Atkins said. "I proposed this."
The idea was to bring together arts-related businesses, Millikin students, artists of all kinds from the community, and speakers on topics ranging from album artwork to mental health to the do-it-yourself artist marketing that has taken off in recent years, he said.
Scheduling was juggled to coincide with the Oakwood Street Festival that begins at 5 p.m. today (Saturday), celebrating its 10th anniversary of live music, food and community. The festival happens four times a year, with the next three scheduled for June 29, Aug. 24 and Sept. 28.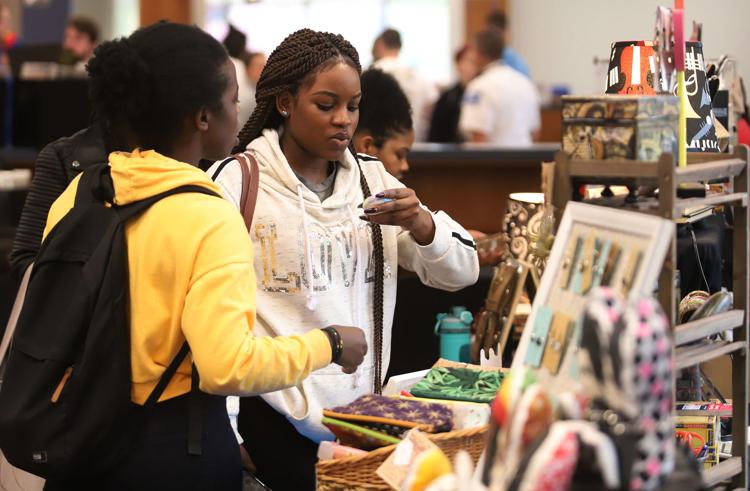 "The Oakwood Street Festival is kind of our crown jewel," said Shawn Schollenbruch of the Oakwood Business Association. "It's been a fantastic community event for the last decade."
He displayed a photo of the first event compared with the packed streets of last year's to show how the crowds have grown. When the Music Expo ends today (Saturday), he said, the plan is to pack up and head for the festival and he hopes most of the Expo attendees will tag along, too.
Atkins wanted to "drag" Millikin into the community and the community into Millikin simultaneously, he said, and his plan is to have such an event twice annually. He wants one in Decatur and one in Chicago each year to help it grow and gain what he calls "critical mass," so that people put it on their calendar and make plans to attend even if they need to travel.
"I'd already started to take my students to Speakeasy Records and Oddities and the River Coffee Shop," Atkins said. "I was taking my class to the River Coffee Shop and buying my students coffee on Thursdays, so it was kind of tragic for us when those businesses burned down.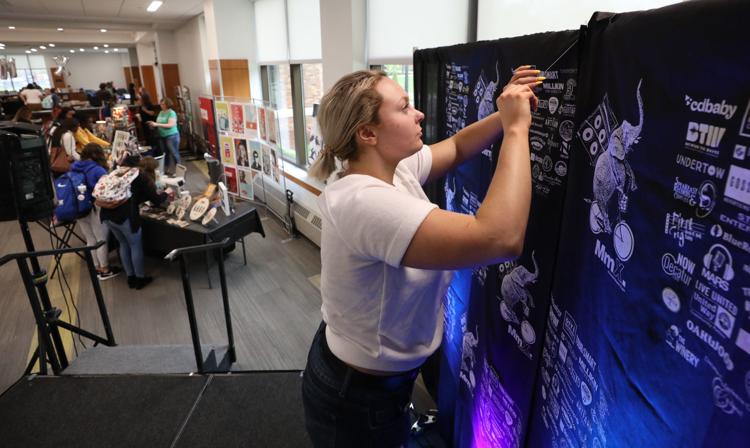 "(Their comebacks) speak to the spirit of this community. This event can merge the university and the community, which I think they should do anyway."
You have free articles remaining.
Music business major Thomas Berthelon, who will graduate in a couple of weeks, said the conference is a way to give "the Martin Atkins flair" to bringing a variety of artists together for networking and showcasing what they do. More than 40 businesses are involved as sponsors and participants, and 52 speakers in panel discussions.
"We tried to get a very wide variety of panels, because we wanted as many people to be involved as possible and not just music people who want to do business or just (visual) artists," Berthelon said. "We wanted to get as many people involved because the industry is so do-it-yourself style now. We need everyone with so many different skills."
With social media, artists can market their own work, build their own fan base, sell their work, book their shows and do everything without the middleman of a record company or manager, if they choose, Atkins said. Those topics were a large part of the planning for panels and speakers.
"There were some panels we didn't end up putting on this year's schedule because we couldn't find the people (to speak) or the people we found weren't able to do it this weekend," Berthelon said. "So we have stuff starting to be planned for the next few conferences already."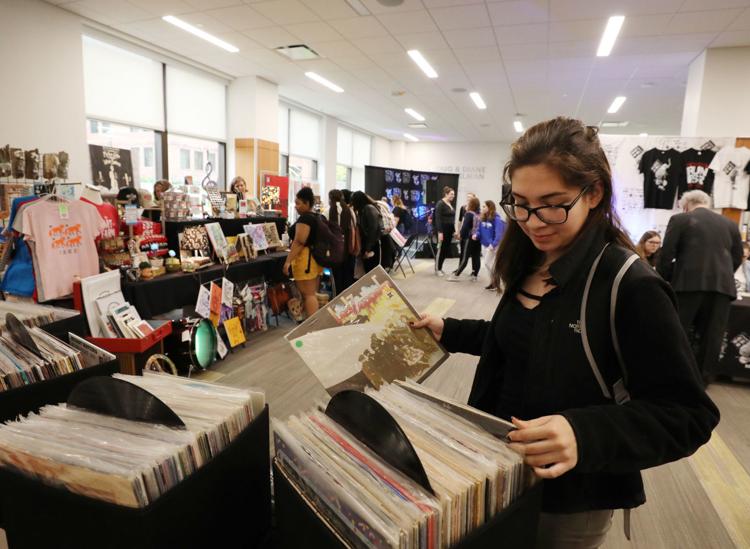 Any arts-related event is a place the Decatur Area Arts Council wants to be, said Executive Director Jerry Johnson, and the expo was a good chance to debut the Arts Council's latest project.
When a new art exhibit opens on the lower floor, the third floor will be available for individuals or groups, whether that's singer, poets, visual artists or dancers, to showcase their talents and draw people in. It's also open to those who make comic art, concert posters, clothing, toys, whatever. Call Sue Powell at (217) 423-3189 or email her at sue@decaturarts.org for information.
Johnson also set up his framed album art. Since the now-defunct Musicland record store opened at Hickory Point Mall in 1979, Johnson has collected vinyl albums and 45s. He has recently begun creating displays by framing the albums, both his own collection for sale and custom jobs for people who want their own vinyl turned into visual art. You can reach him at 33.3plus45@comcast.net or on Facebook as 33.3plus45.
"Just for fun, I made a couple of these for my son, and myself and a buddy, and I thought, 'I'll bet people would pay for that,'" he said.