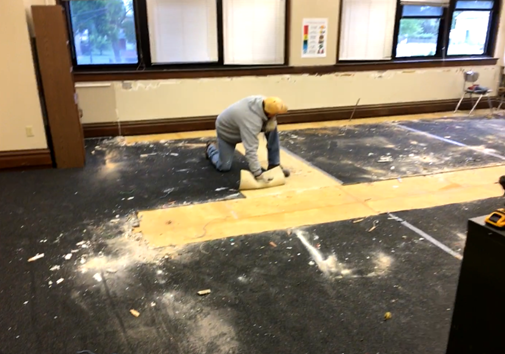 DECATUR — Contractors who were the low bidders on upcoming projects in the Decatur Public Schools' BOLD Facility Plan may have to re-bid.
An item on the board agenda for its Tuesday meeting to award O'Shea Builders a roughly $15 million contract for renovations to Franklin, Muffley and Parsons schools turned to a lengthy discussion of the failure of O'Shea to meet the goal of 15% minority business enterprises among the contractors. O'Shea acts as the construction manager, overseeing the projects with on-site instruction.
As it stands, Franklin's project is 3.45%; Parsons, just under 1%; Muffley 4%; and the upcoming construction of a new Johns Hill Magnet School is 5%, said Tim O'Shea. Board President Beth Nolan said she is not satisfied with that number. 
"It's very important that our students see people that look like them working on these projects," Superintendent Paul Fregeau said. 
The work is part of the district's ongoing BOLD Facilities Plan, which calls for reducing the number of schools from 22 to 17 and performing extensive renovations on a number of buildings. 
O'Shea said he is confident that the number of minority employees on the projects will be much higher, and said that his company made every effort to get the word out to minority-owned contractors to encourage them to bid, but that companies large enough to take on such projects had not always been interested for various reasons. Some were already too busy and some didn't want to do work in this area. 
Nolan suggested starting the bidding process from scratch and requiring that O'Shea reach the goal of 15% minority businesses.
"The bid process requires everybody get their bid in by deadline and that's past now," O'Shea said. "All the work has been bid and is secure. (Rebidding) opens up a can of worms." 
Board member Beth Creighton, who said she knows little about construction, asked for an example of what he meant. 
"A lot of contractors turn in their best number and it's a competitive bid project," O'Shea said. "Those businesses that put in a legitimate bid, they know they had the low bid because we opened them publicly. If they get another chance to bid it, meanwhile the low bidder is disgruntled, because thought they won it fair and square and now you tell them no thanks. The odds of getting the same dollar amount from these bids are slim and none. In some cases, we only had two bids turned in. It's not a pleasant situation."
During the discussion, board attorney Brian Braun told the board members that the 15% goal had been arrived at some years ago when the two high schools were being renovated, and that the discussions had included representatives from many different interested groups who agreed that a goal of 15% was higher than it was possible to actually reach because there weren't enough minority-owned contractors large enough to bid on those jobs. 
"The persons who were present at these meetings understood in the current environment, it would be impossible to meet this goal," he said. "The understanding was there'd be a waiver because it wouldn't be possible. Whether 3% is sufficient or 5% or 10%, I don't know, but you should know everybody understood you'd never get 15% and everybody understood the concept of bidding." 
The decision was finally reached to table the vote until next week. 
Projects underway this summer include sewer work at Stephen Decatur Middle School; landscape of the greenhouse at Eisenhower High School; removing the computer lab at French Academy; extending the fence at Stephen Decatur's softball field; moving Durfee Magnet School's playground equipment to Franklin School and the American Dreamers STEM Academy (Enterprise), as Durfee will no longer be used by the district; preventive maintenance of heating and air equipment at all buildings; decommissioning of Durfee and Garfield's buildings.
Under the BOLD plan, French Academy will move to the Enterprise building and change the name to American Dreamers STEM Academy in August, though remodeling of the building will start in summer 2021; Dennis School will take over the French Academy building in August, in addition to its current location, rename the original building the Mosaic Campus and French will be the Kaleidoscope Campus. Garfield and Enterprise Montessori programs will combine at the former Thomas Jefferson Middle School and become Montessori Academy for Peace. The alternative education program at Harris will become William Harris Learning Academy. Expansion of South Shores School is also underway this summer. 
Next summer, the district will implement expansions to Muffley, Parsons and Franklin, which will consolidate with Baum, Stevenson and Oak Grove respectively. Work has already begun to prepare the site of a new Johns Hill Magnet School, with completion expected in July 2021.
Due to the shutdown of schools during the coronavirus crisis, the district's retirees did not get their usual retirement celebrations this year. A video showing each of the 38 names, their job and years of service was shown during the meeting and Superintendent Paul Fregeau thanked them for their service. 
"We're truly grateful for the contributions each of you has provided over the years and your enduring commitment to our students," Fregeau said. "Enjoy the next steps of your life and your students will miss you greatly and we will miss you." 
"It's been very rewarding to be in this position," said Londarius Hayes, who has served for two years. "It's given me and opportunity to see how the board functions and I've become a better person, a more complex person, and a more critical thinker."
---
Where Decatur school buildings got their names
Contact Valerie Wells at (217) 421-7982. Follow her on Twitter: @modgirlreporter
Be the first to know
Get local news delivered to your inbox!