DECATUR – Decatur is going back to school.
On Saturday, events designed to help families get the kids ready for the start of school on Aug. 15 offered everything the kids need.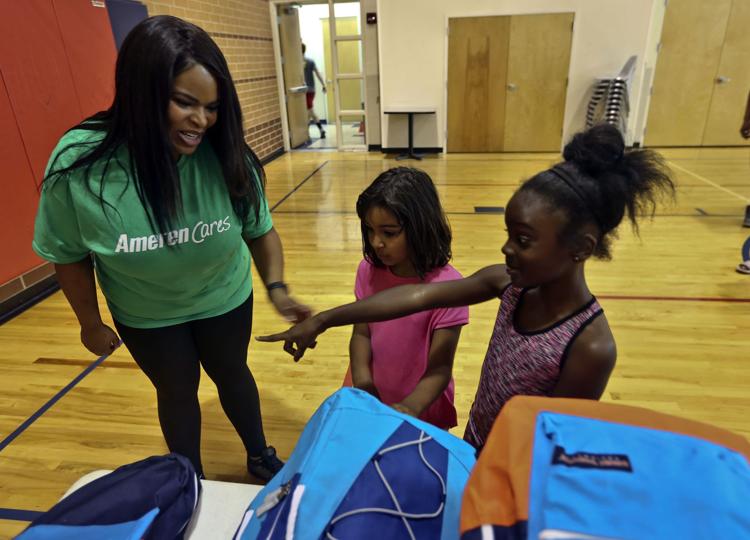 "I work and I don't get off until 5 (p.m.)," said Esther Runyon, who has seven children total, which includes grandchildren. "With all these kids, I just can't do it otherwise."
She took three of hers to the event at First Christian, which had stations set up throughout the building, with volunteers dubbed "advocates" to assist with filling out paperwork.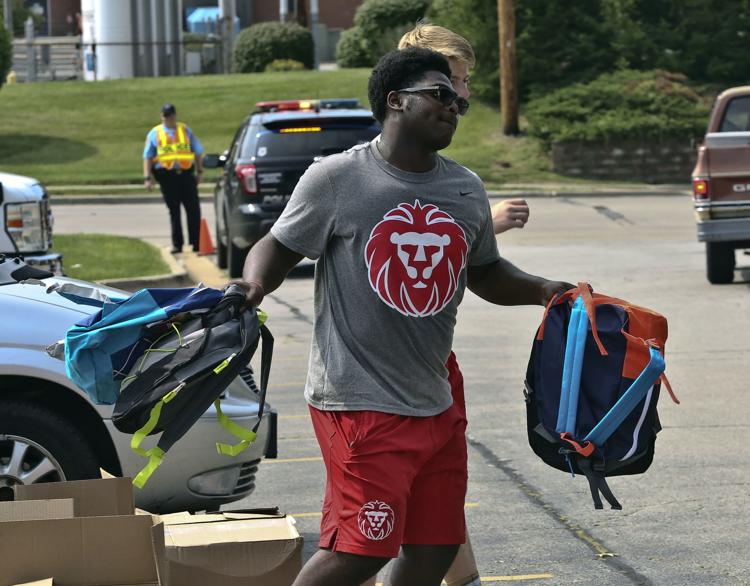 "We're here to help and to make them feel cared for," said church member Courtney Ferriell, one of the advocates, who was helping Runyon.
"We don't want them to have any barriers to starting school, because school is so important," said player Meredith Bundy.
Over 300 volunteers were involved in the project from the start of planning through Saturday just at First Christian, said Amanda Elven, clinic coordinator and a member of the church's Community Missions team. The group begins working on the annual event in January, with the real push starting in March, in order to get everything ready by August.
This year is the first in a while that the clinic has been able to offer vaccinations as well as physicals.
"We've had vaccinations one year, way in the past," Elven said. "But for the past few years, there have been administrative hurdles that kept us from being able to offer them, but the (Macon County) Health Department came through and made everything work so they could be here today and do immunizations on site. It's wonderful."
The vision exams also include a prescription for glasses, if necessary, she said, and the glasses will be mailed to the family's home, free of charge. After all the exams, families could pick up backpacks full of supplies on the way out, with two representatives from the Decatur Family YMCA stationed by the exit.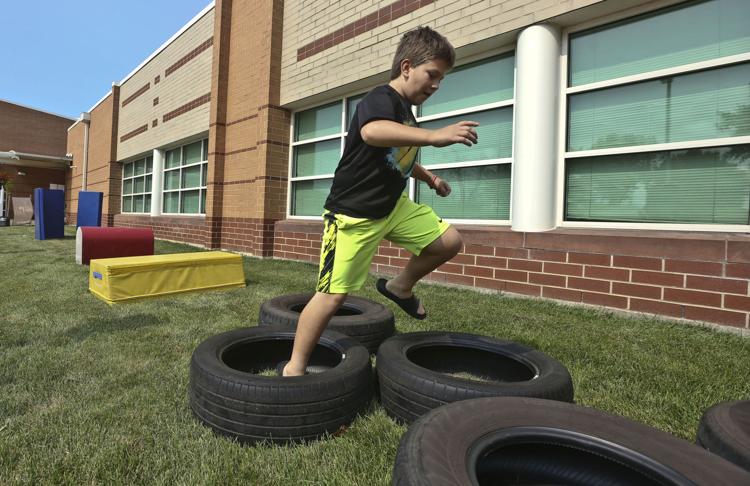 For older students, the backpacks were one-size-fits all colors, said Kristen Casey, who helped hand them out, but for younger children, they had brighter colors and styles suitable to that age group.
At the YMCA, only backpacks filled with supplies were available, but shuttle buses were there to give families a lift to either Crossing Healthcare or First Christian if they also needed physicals, eye or dental exams, said Natalie Beck, director of marketing for the Y. A carnival, with bounce houses and games, was also on site at the Y and all were in demand, with families lining up to take advantage of the fun. The Y's event is in its eighth year, Beck said, and each year runs a little more smoothly than the last. Families could drive through if all they wanted was to pick up a backpack, or they could park and go inside for school supplies and go back outside for the games.
Beck said the Y had 2,000 backpacks and expected as many as 5,000 visitors, counting adults, during the course of the day.
Francisca Sanchez brought her family to the Y for backpacks to equip daughters Leslie Diaz and Isabella Diaz, 11 and 5, for the school year at Johns Hill Magnet School.
"They like to come to the carnival, too," Sanchez said. "We're members here, too."
Decatur schools Superintendent Paul Fregeau made the rounds of the events on Saturday to greet families and students ahead of the start of school.
"We're ready to go," Fregeau said. "Wednesday, the kids will be (in school). I've been to Crossings and it's lined up around the building there."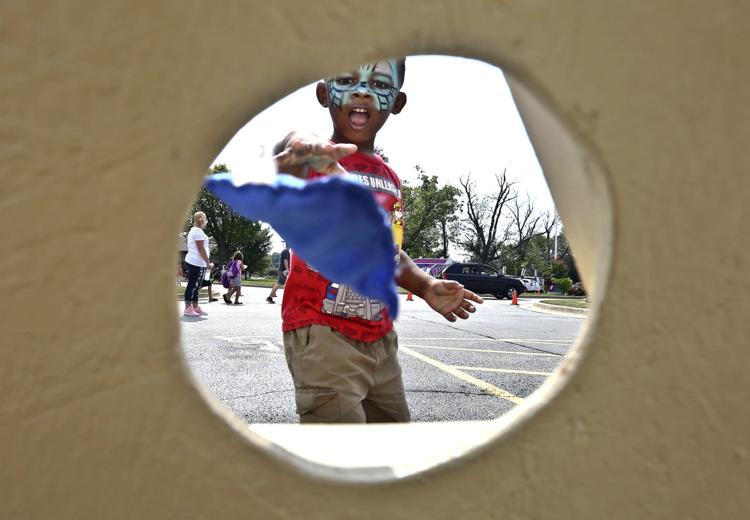 Old Kings Orchard Community Center held a "free rummage sale" on Saturday for back to school, with donations of clothing, shoes and school supplies that families could pick up at no cost.
Center Director Alida Graham said this was the center's second year for the event, organized by the center's Megan Meyrick.
Families were allowed in a few at a time, and checked in with Graham, who gave them colored slips of paper corresponding the their children's ages. Each child could choose six items, with a pair of shoes counting as one item, from any table. The colored papers were to help them find the section with the right sizes.
On Friday, Graham realized they were low on items for little and big boys, and thanks to monetary donations, she made a flying trip to some area thrift stores to make sure there were enough of those sizes.
Michelle Rice brought her three children and her nephew to the event. Her kids were regulars at OKO events when they were younger, she said, and with one at Eisenhower High School and two at Hope Academy, being able to get them some clothes was a big help.
"We can put these things together in several outfits," she said, directing her teenager to check the table devoted to uniform pants and shirts.